It's a return to nostalgia, as Bandai Namco's One Piece Odyssey has unveiled an extended look at a familiar location in its latest gameplay trailer. Shown at Thailand Game Show 2022, the new reel follows the Kingdom of Alabasta teaser released last month, and offers a glimpse into what fans can expect from their expedition.
The space features desert-inspired architectural designs, with sand dwellers like giant scorpions and other creatures roaming in the sandy dunes outside of city walls. Players will be able to interact with the NPCs, take on various quests, and traverse through the world with a grapple hook mechanic that uses the elasticity of Luffy's arm.
Indeed, One Piece Odyssey marks a departure from the open-world structure of World Seeker and hack-and-slash thrill of Pirates Warriors 4. The upcoming title is a full-fledged JPRG, bringing mechanics and elements that genre fans should be familiar with, such as turn-based combat and bounty hunting. You'll be able to switch between different party members in a fight, the entire roster of which includes the main Straw Hat Pirates crew.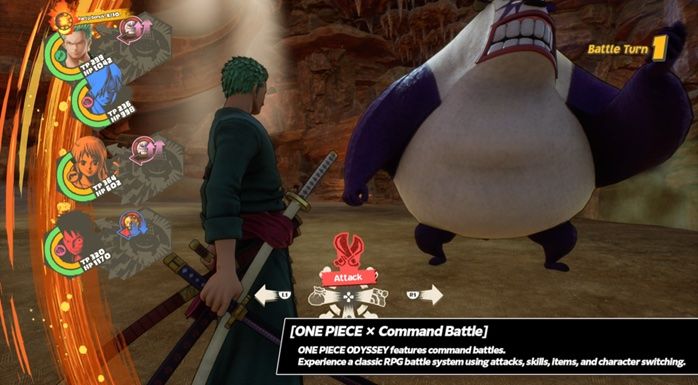 Certain attack types are designed to be more effective against others, with the characters boasting different special abilities from one another. Chopper, for instance, can heal allies, while Zorro is capable of launching a whirlwind of blade attacks. Two new characters, Lim and Audio, are due to make an appearance in the game as well.
One Piece Odyssey is releasing on PS4, PS5, and Xbox Series X|S on 12 January 2023, with the Steam version releasing a day after on 13 January.