Check out all of our TGS 2019 coverage here!
---
The gaming industry is a hard place to make a living, but those who persevere are oftentimes rightfully revered as legends.
The number of larger-than-life characters in the history of the entertainment medium is small, but for the present generation of PlayStation gamers, the likes of Kaz Hirai, Adam Boyles, Andrew House, Mark Cerny, Gio Corsi, and current Chairman of Sony Interactive Entertainment Worldwide Studios, Shawn Layden are familiar faces.
Only one man, however, can command my instant attention and undying adulation whenever he appears or speaks. That man is Shuhei Yoshida, aka @yosp.
Just look at Yoshida-san's new business card which he proudly handed to Geek Culture at TGS 2019. It might look like an ordinary business card with more flavour. But it warrants a closer look.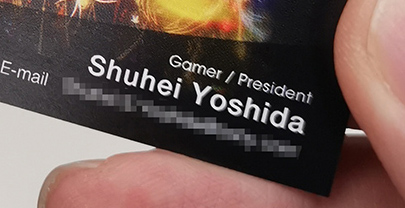 Most cards have an individual's title in the card itself, but @yosp chooses to put "Gamer" before "President".
A veteran since the early days of PlayStation, he first joined Sony Corporation way back in 1986. He has worked on iconic games like Gran Turismo, Ape Escape, and Crash Bandicoot. Moving up the ranks, he is now the President of SIE Worldwide Studios (since 2016) and overseen even more awesome titles like the recent God of War, The Last of Us, the Uncharted Series and much more.
What is most impressive about @yosp is the way he carries himself in both his interactions with peers and the customers alike.
Yoshida largely uses Twitter as a platform to talk shop and interact with fans, developers, and even fellow industry competitors, and putting himself out there as a personality has paid off tremendously.
Guest appearances on official brand videos and plenty of gaming podcasts helped push the marketing of the PS4 at launch to greater heights, and paved the way for more developers to share more on the process of making games in a similar fashion.
Who can forget this video taking a piss out of the Xbox One launch?
Cordial and professional when needed, but more often than not, with a touch of humour that is always more welcome than corporate talk. Of course, the pranks and jibes are all part of the game, and relationships between the competing brands continue to be great and supportive.
You would think someone of his station could easily not get into the trenches, so to speak, but Yoshida seemingly thrives in it.
Here's one more example of his awesomeness involving sidescroller shooter, Broforce:
Voila.
Best of all, we know that Yoshida is a true gamer, and could easily be better than most of us, just witness his badass skills in Bloodborne by taking down one of the harder bosses in the Chalice Dungeons, the Watchdog Of The Old Lords.
Impressive stuff, and having gotten the chance to speak to the man himself on several occasions (including here at TGS 2019), there simply is no better man to help lead PlayStation into the next generation and beyond.
A man who play games, talk to gamers, have respect for the competition, and is undoubtedly one of the nicer people in gaming as a whole. Shuhei Yoshida is simply one of us, and we are all lucky to have him.