It's the week of the annual Tokyo Games Show, and what better way to start it off than with a blowout press conference from Sony PlayStation?
The livestreamed presentation took place at 3pm SGT today at Roppongi Midtown Hall, and it showed off a few nice-if-not-that-mindblowing reveals. Without further ado, here are the highlights of the presentation:
---
A Shiny New Final Fantasy XV-Branded PS4 Console

If you ever wonder if your PS4 console needed a glaringly obvious moon decal on its body, wonder no more as Square Enix and Sony announced this brand new limited edition PlayStation 4.
Dubbed the Luna Edition, this console is Japan-exclusive (but maybe in Asia? *coughPlayStationAsiacough), is priced 39,980 yen, is packed with FFXV and Kingsglaive: FFXV. The console will be released on November 29. Better contact your friendly neighborhood Japan importing online store.
---
The PlayStation Vita Gets More Love
Japan's also getting two new PS Vita colors: Silver and Metallic Red. These will be out on December 1. Not only that, but it's getting a new RPG: SaGa Scarlet Grace by Square Enix, coming soon on December 15.
Any retro-RPG fan worth their salt would salivate at a new entry in the SaGa series. I mean, the last one we got was a mobile port of one of the Super Famicom releases. I think it's high time we got a new Square Enix RPG that doesn't rhyme with "Binal Crantasy".
---
Kingdom Hearts HD 2.8 Gets Delayed
Sorry, fans of Disney and Square Enix crossovers: this next entry before the upcoming third Kingdom Hearts game will only be out next year January 12 in Japan (January 24 worldwide). This remastered collection of Kingdom Hearts: Dream Drop Distance will include a new Kingdom Hearts Birth by Sleep episode and a cinematic entry called Kingdom Hearts Chi: Back Cover.
Basically, more Kingdom Hearts content to keep you at bay.
I'm not surprised if the YouTube stream I'm watching was filled with hatred for Square Enix and Sony from this part of the show until the end. Probably the same folks who sent death threats to the guys who uncovered the FFXV delay before it was made official.
---
A Musou Game To End All Musou Games
So what's better than a Dragon Quest Warriors game or even a Legend of Zelda "Musou" title? How about one where Koei Tecmo crams all of their franchises into one all-star Musou game?
Well, that's what Koei Tecmo did. They now have an action beat-em-up map-scouring stress reliever starring the title character of Atelier Sophie, Dead or Alive's Kasumi, that samurai girl from Toukiden, a couple of guys from the Dynasty Warriors and Samurai Warriors titles, and Ryu Hayabusa. And it's slated for a 2017 release
This is basically the Japanese equivalent of Heroes of the Storm, only in Musou form. I personally hope they can add in more Atelier and DoA characters into the mix.
---
PlayStation VR Surprises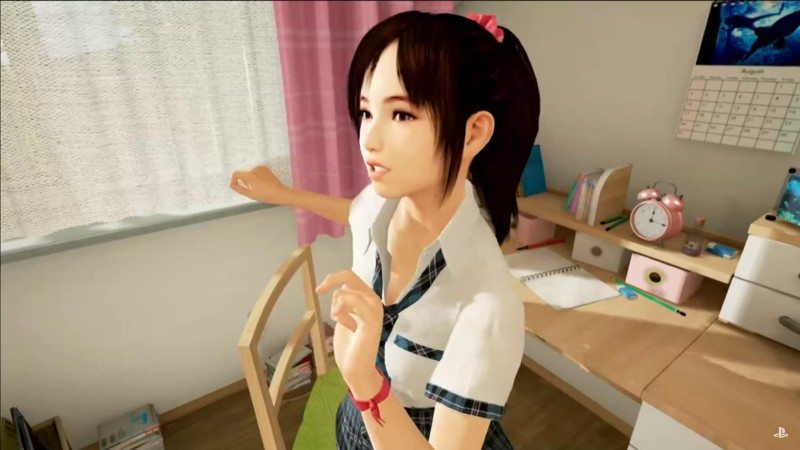 We've also got a slew of VR games coming out. We got a longer-than-usual reveal of Namco Bandai's jailbai..I mean schoolgirl-teaching simulator Summer Lesson (complete with maid and workout gear DLC) slated for October 13. We also have a L'Arc En Ciel and Capcom's Resident Evil collaboration VR music video experience called Don't Be Afraid. There's also an Anywhere VR PlayStation app which is basically a VR helmet-wearing method of surfing the internet and doing other computer-type stuff, but now with a pleasant VR background to calm your nerves.
My personal favorite announcement? The return of the Holy Invasion of Privacy, Badman! PSP simulation franchise, sort of. This new entry is called "V! Yuusha no kuse ni Namaiki da R", and it's a top-down simulator game not unlike Dungeon Keeper but with an even zanier sense of humor. I do hope it'll get localized into English.
---
That Really Popular Mobile Game In Japan Is Making Its Way To PS4
No, I'm not referring to Puzzle & Dragon and Monster Strike. I'm talking about GranBlue Fantasy. Subtitled Project Re:Link, this PS4 version of the game will be playable on 2018. In a nutshell, this game's a turn-based free-to-play RPG with lovely artwork, a Nobuo Uematsu soundtrack, and grindy gameplay with pay-to-acquire character mechanics (ie: "gacha").
I guess since this RPG's also available on PC, having it on PS4 is pretty inevitable if devs CyGames really want that console gamer market exposure.
---
Hideo Kojima Talks A Bit About Death Strand; Not Much Revealed

The man behind Metal Gear says words like strands and online multiplayer, as well as stuff like rods and sticks. But other than that, the whole world still isn't sure what kind of game Death Strand is. Guess we'll have to wait until next year to show off more from his "indie studio" offering.
---
That Funky Rap Intro
https://youtu.be/I5o6hZiksHc?t=15m13s
"Wow. New. Design. Yeah.
Wow. New. Price. Yen.
Wow. Wow. Lineup. Yeah."
Even if you don't understand 80% of the lyrics, you gotta at least hear how catchy it is. Trust us: this opening is the best use of your 3 minutes.
Jonathan is an avid self-proclaimed connoisseur of films, video games, music & comics. Prefers screwdrivers over martinis. Fears oblivion.
---

Drop a Facebook comment below!

---