Gravity Rush 2 left quite an impression with its awesome gravity-defying trailer at Sony's E3 2016 Press Conference earlier this year, but it has gone under the radar since, buried beneath all the hype, by multitudes of big budget AAA game titles.
Fast forward to the Tokyo Game Show 2016, and the game was given ample space at the PlayStation booth, with a playable demo. It's good to see Sony paying more attention to it, and giving it the love the game deserves on their homeground. There's even a life-size Kat (the protagonist) and Raven (her cat companion/sidekick) hanging from the ceiling. Also showcased on the showfloor is a prototype Figma action figure of Kat, which I'd love to add to my geek collection later this year. (Typical TGS. Attend and attempt to bring a girl home)
The Prequel and HD Remaster
Gravity Rush 2 is a direct sequel to 2012's Gravity Rush (known as Gravity Daze in Japan), and it was originally released exclusively on the PS Vita. It was a pity though, as not many gamers took notice of the game back then. That was not the case for me, and it was one of the first couple of PS Vita games I grabbed together with the handheld console. It remains one of my favourite PS Vita exclusive games, as I was immediately drawn into Kat's world with the beautiful art direction, musical score and animated comic strip cutscenes. In 2015, the game was remastered in HD, and released on the PS4.
Oh, yes, here's a piece of good news if you are a PS Plus member on PlayStation Network Asia, Gravity Rush Remastered is FREE this month, so be sure to grab it! It will be well worth your time, I promise.
Welcome to the World of Hekseville
At a closed door presentation, Keiichiro Toyama, the Creative Director of Gravity Rush 2 walked us through the game's new premise and features.
Gravity Rush 2 takes place in the same setting as the first game, in a floating city of Hekseville. Gravity shifters Kat and Raven returns to take on a new enemy that threatens the very fabric of the universe itself. Gamers will also continue to search for clues behind Kat's mysterious origin.
For those of you who have played the original, ex-cop Syd will return to aid Kat in her new adventure, along with a slew of other new characters. One of them is Kali Angel, a superheroine/guardian angel with a wild fighting style, and empowered with crystal magic, which she uses to regenerate health instantly. Other characters include the angel of destruction, Durga Angel, the Hekseville saviour, Dr Brahman and female cyborgs – "Delta Team" Rebels.
Hands-On Impressions
Gravity Rush 2 doesn't mess with the formula, and plays practically identical to the original. It did get a much needed bump in the visuals department and colours are much more vibrant and lively. By making full use of the PS4's graphical prowess, the game looks just like an anime where you are in full control of the character. Hopefully this will appeal to more gamers, as the prequel made use of a much more dreary colour palette.
Kat now has three unique gravity attack styles which will aid her in taking down enemies and massive bosses. The demo didn't quite showcase the new attack styles, but it did give me a taste of what the combat is like, which works in similar fashion to the original. While in the air, Kat locks on to enemies and attacks them with a mid-air dashing kick. Apart from that, she can also launch floating objects that are caught in her gravitational field at her enemies, for those who prefer to attack from a distance. And once her power is maxed out, she can launch into a powerful spin attack which will "drill" through multiple enemies at one go.
One of the issues with the original was that the camera angles could get wonky at times, which can be very disorienting, especially when we're dealing with so much freedom of flight. In the demo build however, I did not experience any of that, so I'd like to think that the developers have successfully addressed the issue.
Navigating around Hekseville remains largely the same, as Kat levitates at will with her gravity powers and glides from mission to mission. Once again, there is a great sense of vertigo as she is able to stand and walk on the side of buildings, and dive from the tallest structures.
The comic strip style cutscenes are back too, this time with subtle animations added to select frames. This is one of my favourite bits of the game, as not many games take this approach to its narrative. It gives the characters a chance to show off their unique personalities and expressions too.
Oh, and there is now the ability to decorate and customize her sewer-pipe hide-out/bedroom. I'm not too sure what the point is, but I suppose some gamers would prefer to have Kat come home to a pretty and cozy bedroom. She can also change her outfits now, which will grant her different additional abilities.
The Anime Prequel
Prior to the launch of Gravity Rush 2, an anime called Gravity Rush The Animation ~ Overture ~ will be released, which will bridge the gap between the original Gravity Rush and the sequel. The anime is being produced by Studio Khara, best known for their work on Rebuild of Evangelion.
Gravity Rush 2 will be released on 2 December 2016, exclusively on the PS4. Pre-order the game now and you'll receive an alternate white costume DLC for Kat, along with a Select Soundtrack featuring 9 tracks from the game. Should you choose to pre-order the digital copy via the PlayStation Store, there's even a bonus instant reward of 10 PSN avatars from the game.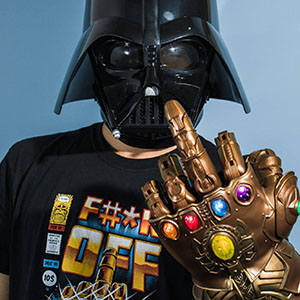 Yonk is a geek who is fortunate enough to have an equally geeky Star Wars fan for a wife, who owns a LEGO Millennium Falcon encased in a glass coffee table as their home's centre-piece.
---

Drop a Facebook comment below!
---