Telecommunications company StarHub will be the first in Southeast Asia and the only local operator in Singapore to introduce cloud gaming service NVIDIA GeForce NOW, setting the stage for next-generation gaming among gamers in the country.
GeForce NOW is essentially a gaming cloud service that offers a whole new gaming experience for players, where they can play over 800 titles of their favourite games on their devices, without the requirements of any storage space or specialized gaming hardware.
Through this service, anyone is set up to play even the most demanding games on their phones, tablets, or devices, including those not meant to run games. Games though this service will be processed via the cloud, through StarHub's 5G network.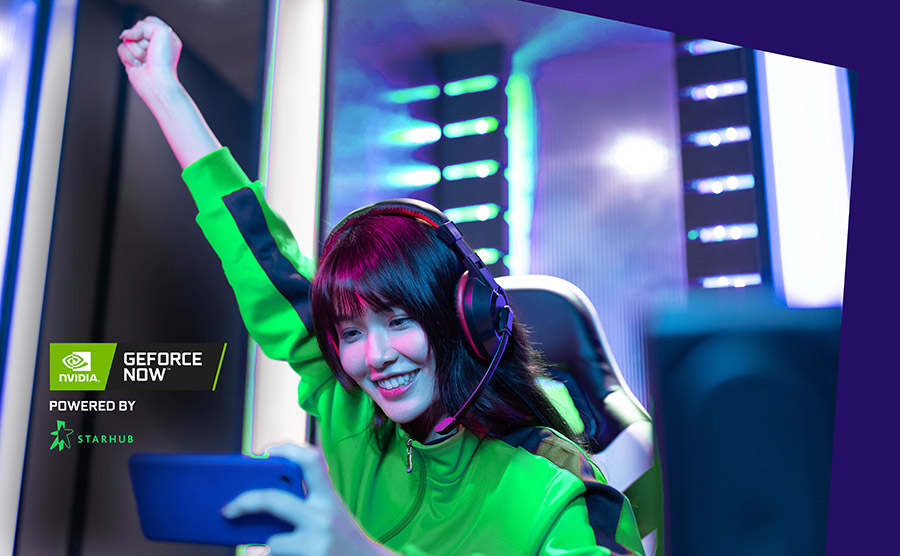 This will take gaming to another level as hefty rigs and space are technically unnecessary if you're using the service. And guess what, this cloud gaming service is available for everyone even if you're not a StarHub subscriber.
Given the shortage of GPUs in the market right now, this would be a boon to Starhub users if they would like to play the latest games at the highest settings on their current rigs.
If release schedules are consistent worldwide, gamers in Singapore can expect to play the following (non-exhaustive) list of games available at launch via GeForce NOW:
Apex Legends
Assassin's Creed: Valhalla
Cyberpunk 2077
Fortnite
Ghostrunner
Rocket League
The Witcher 3: Wild Hunt – Game of the Year Edition
Torchlight
Yes, Your Grace
NVIDIA GeForce NOW will allow users to experience games at 1080p and 60 FPS across all compatible devices, leveling up their whole gaming experience.
As NVIDIA's RTX servers are currently being deployed as we speak, the cloud gaming service will launch in Singapore in the third quarter of 2021 with monthly and yearly subscription plans.
Before signing up for the service, be mindful to check if your games from Steam, GOG, UPLAY, and Epic Game Store are supported on the GeForce NOW subscription.
Register your interest with StarHub to stay up to date with the latest GeForce NOW news.