Pictures from the set of DC's upcoming Titans have sprung up, giving us our first look at Starfire, Beast Boy and Raven! While we've seen some official images of Brenton Thwaites' Robin, as well as Hawk and Dove (all of which look pretty badass), this is the first time we've seen the other members of the Teen Titans.
The first few images feature Beast Boy and Raven, played by Ryan Potter and Teagan Croft respectively. Beast Boy sports his signature green hair, though he's lacking the full green skin that the character is known for. Raven looks great with blue-black hair, and all-around dark outfit.
[BREAKING] First FULL picture of Beast Boy (Ryan Potter) and Raven (Teagan Croft) in their #Titans costumes! pic.twitter.com/jpDuHmGBhG

— STREAM TITANS ON DC UNIVERSE AND NETFLIX (@badpostitans) April 11, 2018
The details on their costumes are pretty cool, too, with Beast Boy wearing a sweater which looks similar to what his character wears in comics. Raven's sporting a pendant, while looks similar to the medallion from her animated Teen Titans counterpart.
We also got to see glimpses of Starfire, played by Anna Diop!
[BREAKING] The first leaked photo of Koriand'r aka Starfire (Anna Diop) in her costume on the set of #Titans ! pic.twitter.com/HRwf3KFOjH

— STREAM TITANS ON DC UNIVERSE AND NETFLIX (@badpostitans) April 11, 2018
To be perfectly honest, the outfit looks kind of tacky. The wig is way too obvious, and the dress….the less said the better.  But don't get too down on the show just yet! The actress tweeted a video of herself getting scanned for visual effects for the show back in October, so they might be replacing some of that stuff in the actual show. Makes sense, since the comics version of Starfire has flaming hair and glowing, orange skin.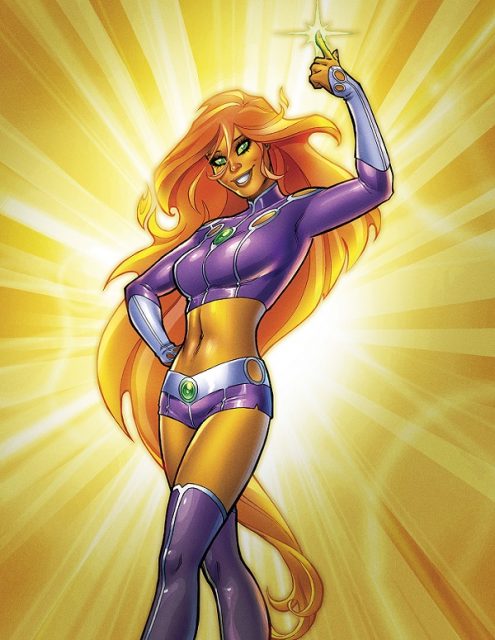 The set photos also included some shots of Brenton Thwaites in full civilian costume, looking mighty fine at that.
[BREAKING] The first leaked photos of Brenton Thwaites as Robin on the set of #Titans pic.twitter.com/wSnafouYza

— STREAM TITANS ON DC UNIVERSE AND NETFLIX (@badpostitans) April 11, 2018
Very little about the show's plot has been released so far, so we can only guess what these characters are doing out and about. Here's hoping that the show will live up to the legacy of the Teen Titans!
What do you think? Are you excited, or turned off by how the characters look?
Titans will be released on DC's upcoming streaming service sometime in 2018 and stars also stars Minka Kelly as Dove and Alan Ritchson as Hawk.
You could call Jeanne a dabbler – anything she isn't yet a fan of, she will be eventually. The list of things she's into is only rivalled by the things she plans on getting into. Overanalysing makes everything fun.
---

Drop a Facebook comment below!