With Star Wars continuing to be of importance to fans around the world, definitely helped by the recent successes of Andor and the Obi-Wan Kenobi series, it seems like the perfect time for the gaming side of things to catch up. Good news then, as Respawn Entertainment, Electronic Arts, and Lucasfilm Games will share the first look at the highly anticipated Star Wars Jedi: Survivor in action at The Game Awards 2022 this 8/9 December.
Star Wars Jedi: Survivor picks up five years after the events of Star Wars Jedi: Fallen Order. Cal Kestis has remained one step ahead of the Empire's constant pursuit as he begins to feel the weight of being one of the last remaining Jedi in the galaxy.
Accompanied by his trusty companion BD-1, Cal will meet and ally himself with unique and interesting characters on his journey. In order to survive, Cal must evolve as a Jedi, learning new skills and growing his connection with the Force.
Revealed during Star Wars Celebration back in May, this gameplay debut will surely set the tone for things to come. For fans who have enjoyed themselves with the first game, the hope is that there will be more of the same action-packed sequences, high stakes, and dramatic storytelling in Star Wars Jedi: Survivor.
It also appears that we won't have to wait that long to rejoin Cal. A Steam page leak ahead of The Game Awards sets the release date to on 15/16 March, 2023, alongside other important details. Players will get to wield new Force abilities and lightsaber fighting styles against an expanded roster of enemies, while new planets and familiar frontiers will be part of the equation.
For those that are set to pre-order Star Wars Jedi: Survivor or the more fancy Deluxe Edition, there are some goodies awaiting as well. They include:
Pre-Order Bonuses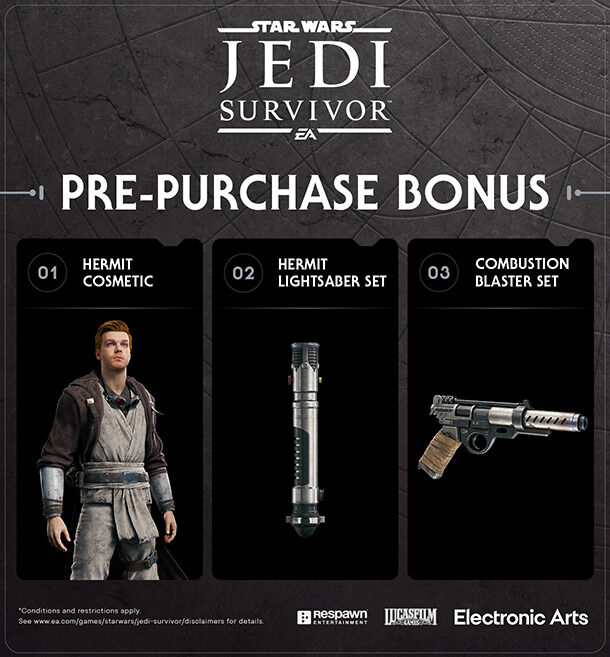 Receive the Obi-Wan Kenobi-inspired "Jedi Survival" Cosmetic Pack:
"Hermit" Cosmetic
"Hermit" Lightsaber Set
"Combustion" Blaster Set
Star Wars Jedi: Survivor Deluxe Edition Bonuses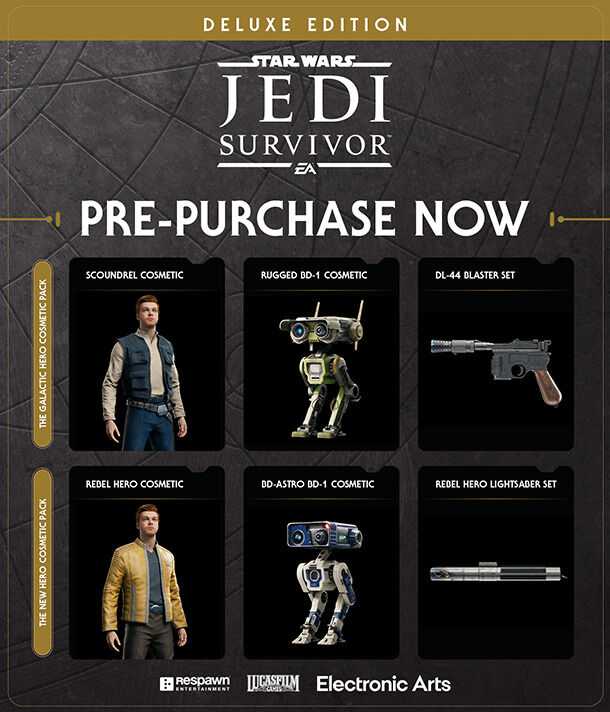 The "Galactic Hero" Cosmetic Pack includes:

"Scoundrel" Cosmetic
"Rugged" BD-1 Cosmetic
"DL-44" Blaster Set

The "New Hero" Cosmetic Pack includes:

"Rebel Hero" Cosmetic
"BD-Astro" BD-1 Cosmetic
"Rebel Hero" Lightsaber Set

"Jedi Survival" Cosmetic Pack:

"Hermit" Cosmetic
"Hermit" Lightsaber Set
"Combustion" Blaster Set