The Martian invasion has landed… at Singapore's Raffles City. Luckily, it's less Tim Burton and more of an army of beautifully designed Marvin the Martian figurines.
The Get Animated Invasion Asia Tour is a charity initiative by Warner Bros. Consumer Products (WBCP) that has traveled across Asia, from Taipei, Beijing, Hong Kong, and now, Singapore.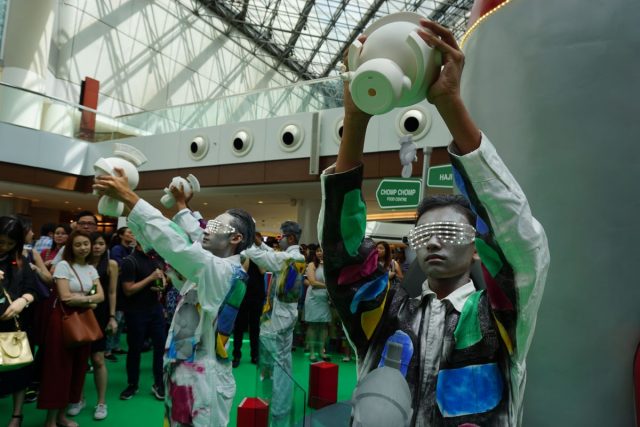 Over 80 renowned musicians, artists, celebrities, influencers and media personalities were given blank Marvin the Martian Funko figures to decorate, giving them full rein to unleash their creativities and the resulting works of art were indeed something to behold.
Some of the celebrities and personalities that have contributed to the Get Animated Invasion Asia Tour include noted Hong Kong singter/actor Aaron Kwok, and K-pop star Amber Liu. Closer to home, celebrities such as Fann Wong, Pierre Png, Nick Shen, and Mark Lee has taken time to decorate their own Marvin the Martian figurines.
Local comedian Mark Lee based his design, which he has named "Little Princess Fighter", after his six-year-old daughter Calynn Lee, who had been diagnosed with a rare kidney disease.
"Our younger daughter Calynn was very brave throughout her health treatments. When everyone was afraid that she would be defeated by the virus, she did the exact opposite. She fought on hard, with a smile on her face and spread love to everyone around her. Her courage and positivity inspired us to design this Little Princess Fighter, explained Lee.
"It was designed in pink and we hope for Calynn to always be like her favourite colour that stands for sweetness, unconditional love and she will always be our little girl."
Here are a few more decorated Marvin the Martian figurines by Singaporean celebrities, artists and personalities.
Figurines decorated by overseas celebrities are also exhibited as part of the tour and can be found on the Level 1 atrium,
A series of Get Animated exclusive merchandise will also be available for purchase in the pop-up store located at Raffles City Singapore, Level 1 Garden Court.
The completed figurines have been making their tour around Asia and will be stopping by Singapore till March 3, 2019. After the exhibition, the figurines will be auctioned off online with 100% of the proceeds going to support the Make-A-Wish International charity foundation.
---

Drop a Facebook comment below!