Decked out in Luffy's easily recognisable garb, of that red vest, knee-length denim shorts, and of course that iconic, practically emblematic, straw hat, editor Takeda Fuyuto burst into a restaurant of eagerly waiting fans (and press), demanding 1,000,000 belis as a 'protection racket' on Singapore's now transformed Sentosa Island – courtesy of the ongoing One Piece Puzzle Hunt.
For those of you unfamiliar with One Piece currency, that's how much a luxury branded shirt would cost in-universe, so we imagine it'll translate to anywhere between S$300 and S$800. What follows is an adorable skit, where the Real Luffy comes in to halt his shenanigans, accompanied by an equally indignant Nami. And after being properly chastised by the duo, Takeda finally greets us proper — introducing himself as an editor from Shueisha, and assuring his delighted audiences that he's playing off Demaro Black from the Return to Sabaody Arc, and that he's not actually a questionable Luffy-masquerading bully.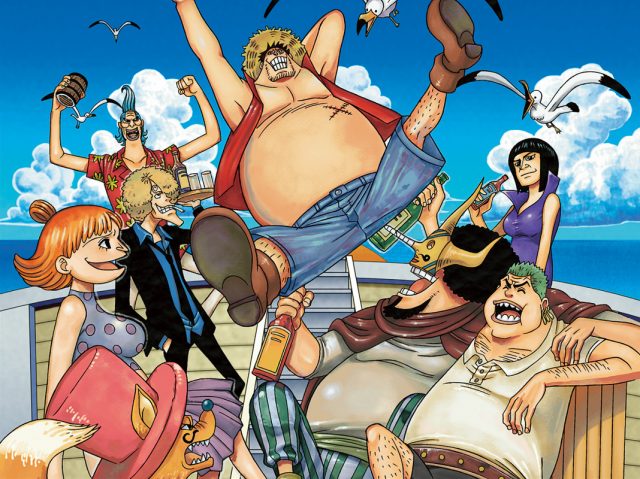 Charmed by his infectious enthusiasm for One Piece, we were really excited to speak with Takeda, as it was extremely apparent that his dedication to his job has been bolstered by a fan's love for the franchise.
As Takeda's been in charge of One Piece's modern tech push, and recent Augmented Reality (AR) and Virtual Reality (VR) exploits, which includes the One Piece Puzzle Hunt, he explained why he thinks these new mediums are necessary, or effective, in furthering the reach of the 21-year-old franchise. That's right. The Pirate King began the story way back in 1997.
"Augmented reality is an extension of reality," Takeda explains, "The way manga is, so the mediums are incredibly compatible. Virtual Reality, on the other hand, lets its audience act within an imagined 'reality', which is also a really suitable way of consuming manga."
When asked what is it about One Piece that still remains exciting and relevant, even after two decades, Takeda immediately quips, "Oda-sensei's limitless imagination."
Clearly, Oda-sensei aka series creator Eiichiro Oda has himself fans on his team.
Takeda continues, "Whatever Oda-sensei comes up with is always half a step ahead of what everyone else imagines. If he's a full step ahead, some readers might not be able to understand the narrative's progression — he's half a step ahead, so that the plot is accessible, but surprising, for all his readers."
Well, that seems like a pretty fair assessment.
Considering the current spate of live anime adaptations helmed by Western studios — just take a look at Netflix — we were curious if such a future might be in store for our favourite pirate-sea-faring franchise (no, that's not Pirates of the Caribbean). Takeda admits that Shukan Shounen Jump has "full control" over the intellectual property, and he's unable to comment on their plans.
Nevertheless, speaking as a fan, he thinks it's definitely possible to see a live action One Piece. "What is the most interesting about One Piece is its characters, and now that we've progressed so far with CGI and tokusatsu technology, it's possible to bring these characters to life."
And his favourite live-action anime adaptation?
"That's a difficult question," Takeda laughs. "Because of my position in the industry, I'm obliged to say that everything is great."
"Ah, but my favourite is definitely Gintama."
Astute decision for the popular manga series about the samurai and savage aliens.
Although if there's ever a One Piece Live Action in the future, we're guessing we might get a different answer.
JoYFQ is a Gryffindor who distracts herself from the pitfalls of capitalism and hegemonic representations by reading fanfiction. Has surprisingly good RNG luck in games. Probably just jinxed herself.
---

Drop a Facebook comment below!

---