If you're like us and have been into the whole Black Friday and Cyber Monday hype all these years, you'd start to find that the deals weren't like they used to. While there might be a steal or two, these are really few and far between. Sales in the US might be slowing down, but things in Singapore and Asia are steadily heating up!
Hot on the heels of 11.11 sales, here's another opportunity to check out some of those deals that you hesitated to pull the trigger on a few weeks back. And this time, Shopee has created two loot boxes that are extremely "value for money". While there might be some controversy over loot boxes in general online, these deals are a steal and without all of that random nonsense. What you see is what you'd get.
Looking at the prices found on Shopee itself before these deals go live, the items within the loot boxes are simply irresistible.
If you're not a Shopee user yet, we have a sweetener just for you. Grab this promo code "BFCMxGC", and you'll score yourself S$7 OFF your first purchase (min. spend S$15) till the end of the year.
You'll want to use the code on some of these following deals.
---
Shopee Cyber Monday Techie Box – S$109.90

Appealing to love their music on the go, the JBL Flip 3 Portable Speaker is the marquee item in this box. Retailing at S$119, you're getting a small discount on this box. To round it all off this box also contains an a-Jays 5 Earphones and Zola Torch 10000 mAH powerbank. The combined retail price for these items would easily cross of S$300 but you'll be getting them at a third of the price.
If you're looking for portable music, this is the box to grab.
---
Shopee Cyber Monday Gamer Box – S$129.90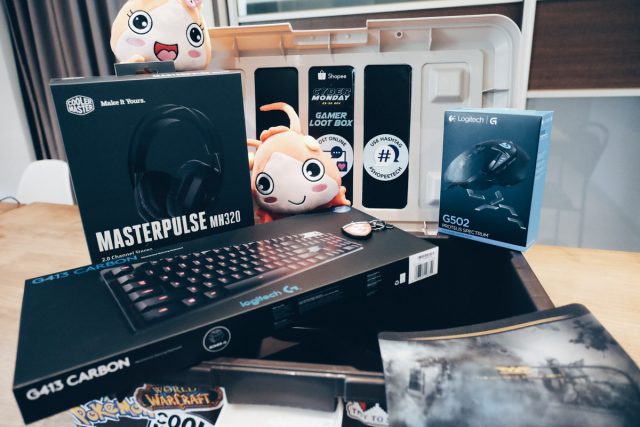 Here's the BIG ONE. Shopee really has the gamer covered, perhaps the only thing missing in this huge crate is a monitor. That should totally be the next item for a seasonal sale.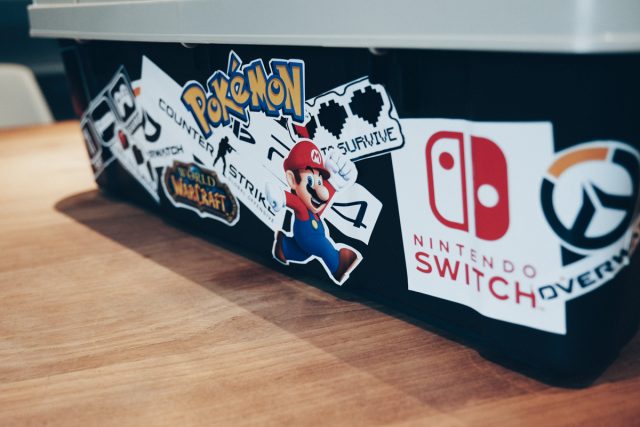 Featuring a Logitech G413 Gaming Keyboard mechanical keyboard, which already retails for S$112 on Shopee, the savings you get on the keyboard gets you one of the best gaming experiences ever. Honestly, once you've used a mechanical keyboard, it's hard to go back.
Wrapping up the combo would be a mouse and headset in the form of a Logitech G502 Proteus Spectrum Mouse and Cooler Master MasterPulse MH320 Gaming Headset. Back in the day, the Logitech G502 Proteus Spectrum Mouse was one of our best reviewed mice on the site, and even in this day it should do fairly well.
---
With so much value on offer the question is, "How does one grab all these deals?"
The best way would be to register for a Shopee account right now and be signed in on the stroke of midnight on 27 November 2017 to the following site:
Shopee Cyber Monday – www.shopee.sg/cybermonday
The page is currently not live yet but will be once the clock strikes 12, or at least that's what Shopee tells us.
But if you've signed in and added your credit card, checking out should be a breeze. After all, if you're reading Geek Culture you're probably a veteran at online sales.
We hear that these loot boxes are coming in at a limited quantity so make sure to snag one with our own Shopee code, BFCMxGC, to make your purchase even sweeter.
---
However, if you are looking for the ultimate deal, then surely you would want either one of these boxes for free. Well, here's your chance!
ENTER NOW TO WIN!
To stand a chance win, simply follow the instructions below!
SHARE THIS POST and TAG a friend you would like to share your loot with. ->
Fill in the form below.
Give us a LIKE below if you haven't done so yet, so you won't miss out on future similar giveaways!
[GIVEAWAY HAS CLOSED]
The giveaway is open to all residents of Singapore. Contest closes on 28 November 2017 @ 23:59hrs (GMT+8). 10 lucky winners with the correct answers will be picked at random. The winners will be notified via email by 29 November 2017. Good luck!
---

Drop a Facebook comment below!