The celebrations for all things in Western and Asian pop culture, from toys, collectibles, comics, eSports to cosplay is making its triumphant return at the nation's leading pop culture event – Singapore Comic Con (SGCC) – to wrap up 2022 from 10 to 11 December. For convention veterans, the challenge is always being able to navigate the crowds, fitting in booth visits, and checking out special guests on stage all on the same day!
For newcomers, splitting up time to shuttle between various activities can be overwhelming, because by the time you've made it past the halfway point during the day, your hands and legs might be in need of some rest after all that shopping and browsing.
Fret not, for we have the lowdown on the upcoming Singapore Comic Con to give you an idea on what panels to aim for. This would also give you some time for a breather and recharge for the next sweep of the convention. Panels are a great way to catch up with your favourite brands or creators, learn a cool new thing or two, and even meet a new friend who shares the same love of a fandom!
Before you make plans for SGCC, here's one major pro tip that we want to leave with you – on event day, there are going to be two stages where panels will take place: The Main Stage and the W.I.P Lab.
It's a short walk between both stages so if you're looking to get to back-to-back panels or stage events, you might arrive late in grabbing a seat. The best way to secure a seat, especially for the W.I.P Lab is via the website to avoid disappointment.
The Main Stage would feature the more mainstream brands and events whereas the W.I.P Lab focuses on the community to take the spotlight. There's a good mix of topics to check out but this is what we think might work best each day.
---
Day 1 – Perfect For Indie Supporters
10:30AM | W.I.P Stage – Meet the Judges
All artists had to start from somewhere and if you're keen on seeing the spark of how some talent might make it in the future, this panel is perfect for that.
In the weeks leading up to SGCC, artists have been encouraged to send in their works and we now will be able to see the top 10 on display!
The top three winners will also make an appearance together with the judges Shreya Acharya and Claire Low from the Difference Engine plus Viency Lee from Asiapac Books to get an understanding what publishers and media companies are looking out for.
---
12PM | W.I.P Stage Creating Worlds – Crafting The Wonderverse Saga manga by Rachta Lin
Artist Rachta Lin has made many appearances at various conventions in Singapore and this would be a good opportunity to see her take the stage!
While she's been pretty popular in the Magic: The Gathering circles, this is a good opportunity to look at what she has up her sleeve. Rachta will be giving the community a preview of her own manga series, The Wonderverse Saga, which has been brewing for some time now.
With a rich portfolio of commissioned works, it's exciting to know that Rachta is bringing her own property to life!
---
1PM | W.I.P Stage – Imposter syndrome for artists: Our drawings aren't good enough for us to have a panel and yet here we are by The Woke Salaryman
As creatives, it's always a struggle to find the line where the work is eventually "good enough". It's a struggle that Goh Wei Choon, the co-founder of The Woke Salaryman, experiences as well despite the personal finance web-comic's success.
The best part of this panel would be the 20-minute open Q&A session where fellow creatives can pick Wei Choon's brain around their own fears about creation. At the same time, do remember to pick up a marshmallow plush as well (if you're able to afford the discretionary spend).
---
1:30PM | The Main Stage – Transformers EarthSpark Voice Talent Appearance
Out of all the panels, the Transformers EarthSpark showcase on the main stage will feature the voice actors from the new TV series.
It's a rare opportunity to witness how the latest Transformers animated series will shape the hearts and minds of kids for a generation to come. The panel will be joined by Jon Jon Briones (Dr. Alex Malto), Benni Latham (Dot Malto), and Diedrich Bader (Dr. Meridian/Mandroid) and will be moderator by Geek Culture's own Bobby Tonelli, so pop on by and say "hi" to us as well!
It might be a trip as you traverse across the convention to squeeze this panel in but we guarantee it's gonna be well worth it!
---
3PM | W.I.P Stage – Breaking into the International Comics Market
This is the one session that everyone should make a beeline for. Featuring the likes of heavyweight illustrators Artgerm, Derrick Chew, Zu Orzu, the panel is a gathering place of a lot of artistic talents, and will also welcome CB Cebulski, editor-in-chief of Marvel Comics, to share his insights.
Moderating the panel is Leslie Lee, who most recently oversaw Kid's content at Cartoon Network in Asia Pacific. If you grew up with shows like We Bare Bears and Adventure Time, these hits were under his scope. Find out what it takes to make it big internationally, or at least hear from the folks who have walked the path, as this is one of the best opportunities at SGCC 2022.
---
5:30PM | The Main Stage – FightSaber Performance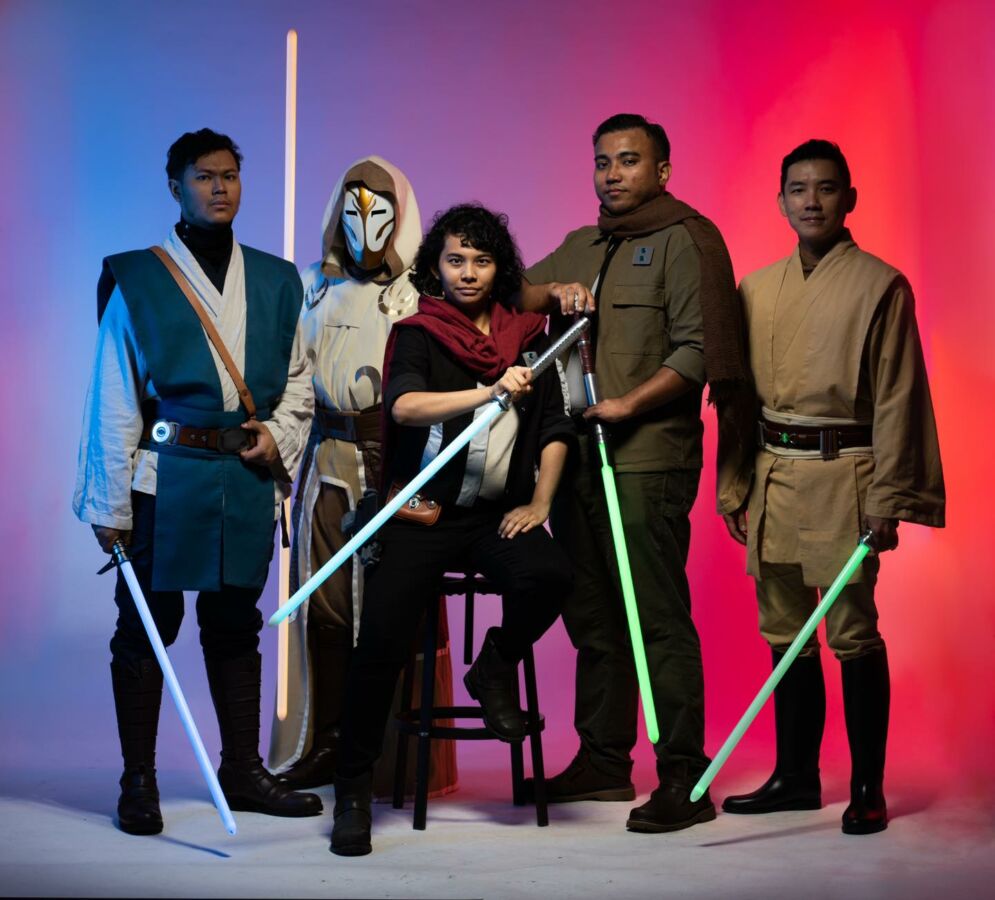 With most of the first day spent at the W.I.P stage, a lightsaber performance from the folks at FightSaber, a recognised Star Wars lightsaber performance and costume organisation, would be a good highlight to end off the day. Bask in the great energy and thrills of the choreography, and recharge yourself for the second day.
---
Day 2 – Main Stage Showcase
With Day 1 mostly spent at the W.I.P Stage, it's time to head back to the main venue and check out the headliner events.
12PM | The Main Stage – Symphonic G-On @ SGCC2022" – by the fans, for the fans!
If you missed their performance on the first day, the PAssionArts AudioImage Wind Ensemble will be cosplaying and performing for a second round with tunes from Star Wars, Spy X Family, and Final Fantasy.
Not only will the XX-minute performance be a good way to kickstart your day at SGCC, it also offers a live listening experience that would evoke a sense of nostalgia when reminiscing about the iconic moments from your favourite series. 
---
1PM | The Main Stage – Dungeons & Dragons: "The Buried Dynasty"
A continuation of a live Dungeons & Dragons (D&D) playthrough from the first day, "The Buried Dynasty" session is an entertaining take on the tabletop roleplaying game, which has seen a resurgence in recent years – even if the experience might differ from group to group.
Featuring the likes of Kimberly Anne Tan, Aaron Khoo, and Mike Tan as our brave adventurers, the adventure will be guided by the Dungeon Master Shao Han as they unravel the secrets to their one-shot module, The Buried Dynasty.
Be sure to drop by their session on Day 1 at 2:30pm for the complete experience, as this playthrough will be played across two days.
---
2PM | Magic: The Gathering ~ Our artist's journey
Wizards of the Coast takes a big bite out of the scheduling with back-to-back appearances of their properties as Magic: The Gathering takes the stage following Dungeons & Dragons.
This session will see Singapore's Magic: The GatheringAPAC League champion crowned live after competing for a grueling 11 months.
But Magic: The Gathering won't be Magic without the amazing art that goes into them and this panel will spotlight two artists whose art has been mainstays in recent times. Darren Tan and Julian Kok will be sharing what are the inner machinations that go into bringing the world of Dominaria and beyond to life!
---
4PM | The Main Stage – Bluey Screening and Live Experience
For any parent, having the right animation for kids can go a long way and Bluey has been able to embody that sentiment perfectly.
A hit not only with the kids, Bluey is a great watch for parents as well as we see Bluey and Bingo drive their parents' Bandit and Chilli insane.
There will be a special screening for full Bluey episodes on stage but the real highlight is being able to win prizes which will be up for grabs. But the fun does not end there as kids will be able to meet Bluey in real life as well!
If there's no better time for a photo opportunity with Bluey, this is going to be it.
---
5PM | SGCC 2022 Cosplay Competition Finals
It's hard not to come across a cosplayer when you're at SGCC and we can expect many brilliant works on the show floor.  But if you've been going about the halls and have no time to catch sight (or grab a picture of the cosplayers) this would be your best opportunity to do so.
In the past, we've seen cosplayers turn out in force for previous conventions so we can expect an especially good turnout after a nice two-year break. The competition will be judged under the watch eye of cosplayers, Drefan, Kiyo, and Robyn Skye.
Here are the prizes which are up for grabs:
First Place

1 x 18UnderGround 'Invites-Only' Private Party with Cosplay Celebrities worth S$3,888 or equivalent
1 x uThrone V Gaming Massage Chair worth S$1,599
2 Nights stay at Mandarin Oriental worth S$1,200
S$500 Cash

Second Place

1 x uThrone S Gaming Chair with Customizable Massage + uCozy 3D Neck and Shoulder Massager worth S$1,198
1 x pair of limited-Edition 18UnderGround Converse Sneaker
S$300 Cash

Third Place

1 x Limited-Edition 18UnderGround Jacket
S$200 Cash
---
While not all the panels are mandatory, we've scoped out what might be the most interesting highlights fans should take note of at SGCC 2022. If you're particularly keen on Dungeons & Dragons, be sure to check out both sessions on both days in order to not miss out on epic dice roll moments.
Making it to the end of this article is not a small feat given the amount of content to clear at SGCC. For an aspiring creator, there are two panels which will be of particular interest – Crowdfunding – the journey of your idea to market (10 Dec 1PM, WIP Stage) and Adding Fantasy Elements to a Digital Portrait with bearbrickjia (10 Dec 5PM, WIP Stage). These two panels would be great to get an understanding how to bring works to life with bearbrickjia (Karmen Loh) and putting it out into the market via crowdfunding. From the description of the panel, attendees will essentially get an intimate masterclass with bearbrickjia at no cost!
Protip: Make sure to register for your WIP sessions in order to avoid disappointment!
With all conventions, a small adjustment to the schedule might take place, so make sure to double-check on the ground on the latest happenings. Tickets for SGCC 2022 are now available online via Klook, with prices starting at S$28 for the one-day ticket.
---
This article is brought to you together with Singapore Comic Con. SGCC is organised by GenXP, part of the Singapore Media Festival, supported by IMDA and STB with Mediacorp as official media.
Gerald currently straddles between his love of video games and board gaming. There's nothing that interests him more than trying out the newest and fanciest gadget in town as well. He dreams of publishing a board game sometime in the future!