The streets are lined with festive decorations, and the spirit of the holidays is in the air. But so are the jingles on repeat in malls, and there's one sure way of getting your year-end shopping done without worry about the hassle, with Lazada's 12.12 All Out Year-End Sale.
Yes, online shopping will carry us into the New Year, but if you do some planning, you'll realise that shopping on 12 December is probably the last chance to get the best deals, and still have gifts delivered in time for your Christmas gatherings and parties.
Lazada is giving everyone a headstart to start collecting their vouchers from 6 December 2022 onwards, so mark your calendars. With Lazada Bonus, shoppers will enjoy S$4 off S$40, or S$12 off S$200 on selected items when the 3-day sale kicks in from 12 December – 14 December.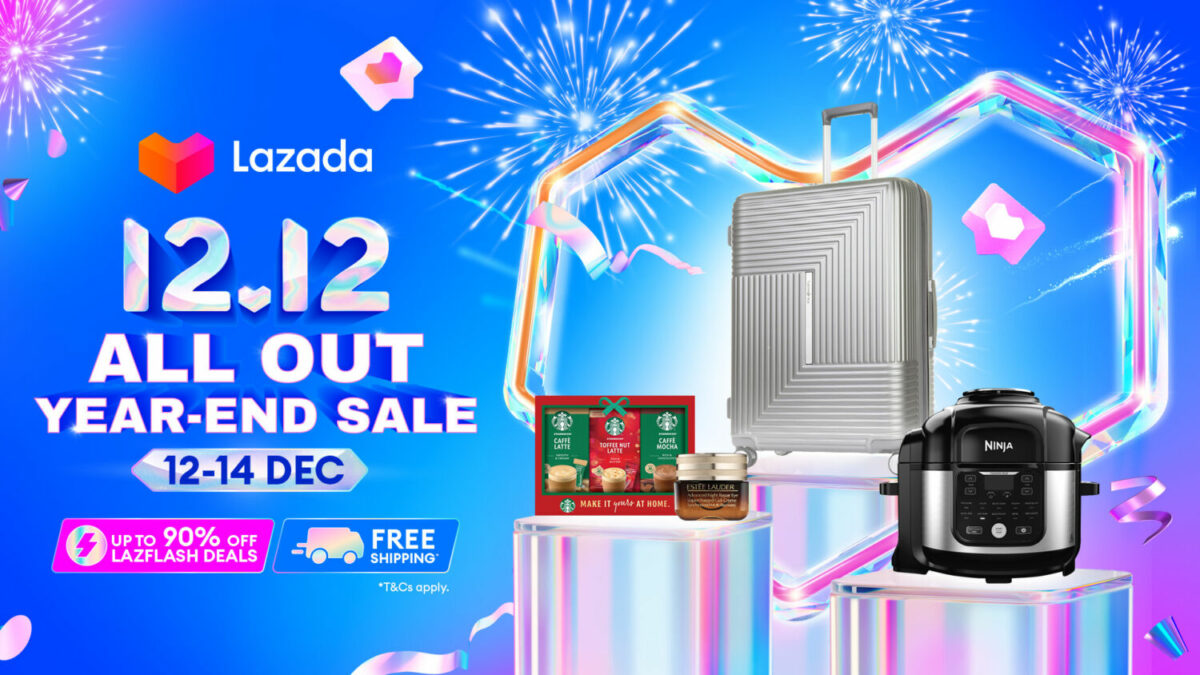 Featuring top brands including Nike, LEGO, Dyson, Sulwhasoo, Lancome and more, this year-end event is the best time to shop, and take advantage of Lazada's Everyday Cashback, that offers up to 12% rebates across all purchases, so why not save some money as a reward for buying gifts for friends and family? Just remember to collect the Everyday Cashback vouchers on the app, and watch those savings come rolling in.
Lazada is also a choice for brands to launch new products, at attractive prices. For example, LEGO just announced the new Eiffel Tower set, and it will be available at a special price come 12.12.
If you've been a dedicated and loyal customer with Lazada since 11.11, be sure to persist in collecting Heartgrams that gets you into their lucky draw, which could eventually land you a Tesla Model 3 as the grand prize. Shoppers can collect Heartgrams by completing missions in the app, which involve shopping for items and browsing deals to gain more opportunities to enter the draw. This special campaign lasts all the way to New Year's Eve (31 December) so pace yourself, and complete all those daily missions.
Rounding up the campaign, we have the staples from Lazada which we've come to love in the form of their Storewide Flash Sales, Bi-hourly Flash Sales and Surprise Boxes. This time round, Lazada is also introducing a new Shop and Win mechanic where the top 12 buyers during the 12 – 14 December sale stand to win attractive prizes. Pro-tip: if you have office gift exchanges, or need to buy toys for your family or neighbours, those Surprise Boxes, where brands offer several items at one low price, are your best bets, as each box contains several items that you can easily pack individually or as gifts for several people.
There's plenty to dissect so scroll on down to check out all the various promotions that Lazada has in store for 12.12 and we'll help you snag some great deals!
---
Pre-Sale (app only) (6 – 11 December)

If you missed out on getting a deal during 11.11, the next best window is right now, before the increase in GST come 2023! Lazada's 12.12 Pre-Sale period will feature 70% off more than 200 exclusive deals from over 50 brands.
Looking to cosplay for the next convention but want to keep your skin clear? Plenty of makeup brands like Estee Lauder, Clinique, Lancome, and M.A.C will be part of the pre-sale period.
However, being the geek, we have our eyes set on even more LEGO!
At the same time here, are some Exclusive Deals that geeks might want to take a closer look at as well –
The idea behind the pre-sale would be helpful for shoppers who might not have the time to check out once the sale starts at midnight, but still want to score the deals. This is a good way to lock in deal prices and ensure there's sufficient stock allocated for you. As we are cutting it close to Christmas, do make sure that ample time is given for the products to be shipped out as well!
---
If you're a veteran on the platform, you'd know that the work starts before 12.12. And if you're everyone else, mark 6 December down to start collecting vouchers to claim your Lazada Bonus. With two vouchers available – S$4 off S$40 and S$12 off S$200 – be sure to look out for qualifying products on the Lazada app.
Pro-tip: Look out for the 'Lazada Bonus' badge in order to make use of these vouchers.
The idea behind collecting all Lazada Bonuses all day would help you defray the eventual cost. Try to collect as much from 6 – 14 December daily in order to claim the maximum bonus! Once the sale hits on 12.12, all shoppers need to do would be to check out and the maximum amount of Lazada Bonus will automatically be tabulated and applied to the cart!
---
Patience has paid off and it looks like Lazada is looking to reward their best customers who spend their entire Christmas budget in one place. Lazada is hunting for the top 12 buyers who have made the highest number of orders by quantity during the sale, to win awesome prizes.
With that in mind, maybe gathering all your family members together and compiling as many Christmas shopping and grocery lists would be a viable strategy. For your efforts, here's a peek at the various products you stand to win –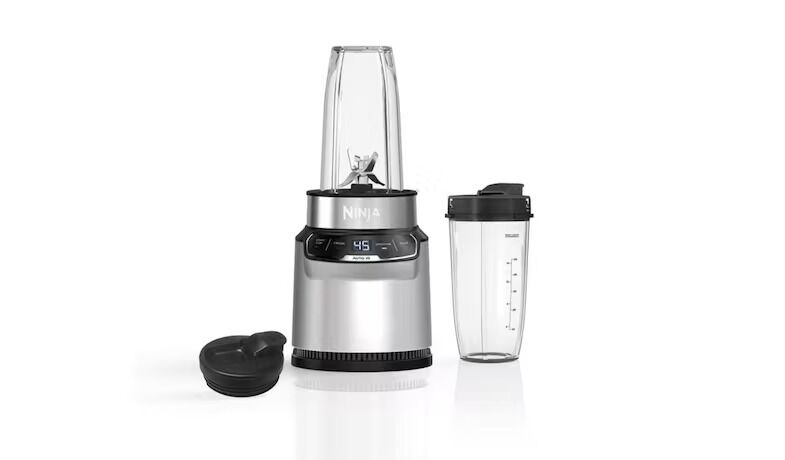 Focusing all your efforts on 14 December would make sense if you're looking to get hold of the Ninja Nutri-Blender Pro to help cleanse the body after the Christmas feasting.
Or perhaps a Samsung HW-B450 soundbar might be more up one's alley to complete the living room after scoring a new TV after Cyber Monday!
Do take note that each day from 12 – 14 December there will be a total of twelve prizes per day for the taking worth up to S$6,200.
Has there been a better time to spend? There isn't a better opportunity than now.
---
Fastest fingers get the best deals! With 300 brands participating in the 12.12 Flash Sale, shoppers can look forward to up to 90% off their favourite brands. This time round we have the likes of Apple, Estee Lauder, Adidas, RedMart who will be participating in this promotional period.
Wait…Apple?? Time to get those Apple AirPods you've been eyeing!
There are two windows the storewide flash sales will take place and for a limited time. Be sure to set your clock for 12am and 9pm on 12 December. Traditionally these deals would be worth staying up for so be sure to put on some warm cocoa and some Christmas carols, before checking out furiously before the deals run out.
Here's a little sneak peek of some of the items you can expect for the 12.12 Flash Sales…
---
Surprise Boxes (From midnight of 12 December)
We all love a good gacha (Japanese for toy capsule machine) so why not a Surprise Box of items from one brand, at a special price? Shoppers know the brands, and can possibly figure out what some of the items in each box are, but the surprise is only fully revealed when you receive each Surprise Box of items. Featuring a variety of over 200 surprise boxes, we are expecting brands like Bobbi Brown, Shiseido, L'Oreal Paris, Philips Personal Care, Hasbro, mothercare, Unilever Ice Cream, and Pristine to give us plenty of exciting deals.
With so many boxes on offer, there's bound to be one for every single person on your shopping list!
Lazada kicks off the first round on 12 December of surprise boxes from 12 – 8 am, then every two hours from 8 am to 11:59 pm. For the next two days on 13 and 14 December, Surprise Boxes drop every two hours starting from 12pm and ending at 6pm. The surprise boxes come in four tiers that increase in price as you go up the tier. The first tier is a S$12 surprise box that contains S$50 worth of products, while the second is a S$29 surprise box worth S$100, followed by a S$49 box worth S$150, and finally a S$79 box worth S$200.
These boxes are great for that office Secret Santa and with a wide variety of prices it would be able to pretty much suit any budget.
---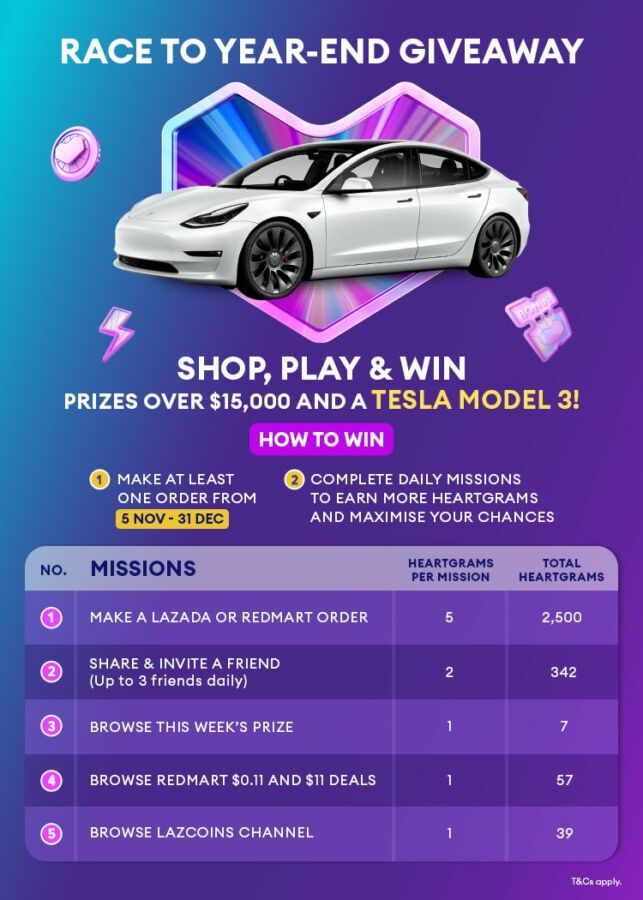 Finally, here's the big one that everyone has been gearing up for as you could find yourself behind the steering wheel of a Tesla Model 3 and start 2023 in a big way!
Make sure to start collecting as many 'Heartgrams' as possible from now to the end of the year.
From now till 31 December, customers who have been faithfully collecting 'Heartgrams' will be entered into a weekly Saturday lucky draw where they are able to win a Machenike F117-7 gaming laptop, a Livfit Dream-4 Foldable Bicycle, a PRISM+ Q65QE 4K Android TV with Soundbar, a Zeus Digital Door and Gate Lock bundle. This all culminates into the big Tesla Model 3 prizes which will be awarded on 6 January. Even if you've won in the previous weeks, shoppers will be eligible for the grand draw as well!
Make sure to keep browsing the app for the week's prize, check out RedMart's Deals, pop by the LazCoin channel, invite your friends and check out on the app to get the most 'Heartgrams'!
---
The Lazada 12.12 All Out Year-End Sale has plenty of ways for you to save more during this season of gifting! Be sure to check out all our highlights above to get the biggest bang for your buck. While it might be Christmas season, this is the last window to get in those savings and possibly even save up for all your Chinese New Year essentials as well!
Gerald currently straddles between his love of video games and board gaming. There's nothing that interests him more than trying out the newest and fanciest gadget in town as well. He dreams of publishing a board game sometime in the future!