The turn of the decade is certainly a good way for many to start afresh with new habits, a new look, and of course, new tech. The recent Samsung Unpacked event saw the launch of two promising new smartphones: the Samsung Galaxy S20 and the Samsung Galaxy Z Flip.
The hype for both devices across the past few months was understandably palpable, even with the various leaks that have essentially let us know more about both items way before launch. And even so, many are no doubt already clamouring to get their hands on the S20 and Z Flip in Singapore and across the globe.
---
The Samsung Galaxy S20 series is, without a doubt, the centrepiece of the Unpacked launch, being the latest iteration of the Korean tech giant's flagship smartphone. The decision to change the naming convention to S20 to mark the new decade rather than S11 might divide opinion, but when you have it in your hands, all of that initial trepidation seems to dissolve.
The Galaxy S20 comes in three variants: the base S20, the S20+, and the S20 Ultra. At first glance, one could tell right away that the three models have a certain hierarchy to them, with the S20 being the most basic and smallest, and the S20 Ultra being the most beefed-up and largest. That said, the word "basic" shouldn't be taken lightly even on the base model, as the entire line comes with a slew of upgrades that make even last year's Galaxy S10 feel a little dated.
These include a new OLED HDR+ curved display, packing a buttery-smooth 120Hz refresh rate (you can toggle between that and 60Hz to be more battery-efficient) for some really, really crisp images. Internally, the new Qualcomm Snapdragon 865 7nm processor and 12GB of RAM (16GB for the Ultra) certainly complement the new display with beefed-up processing power.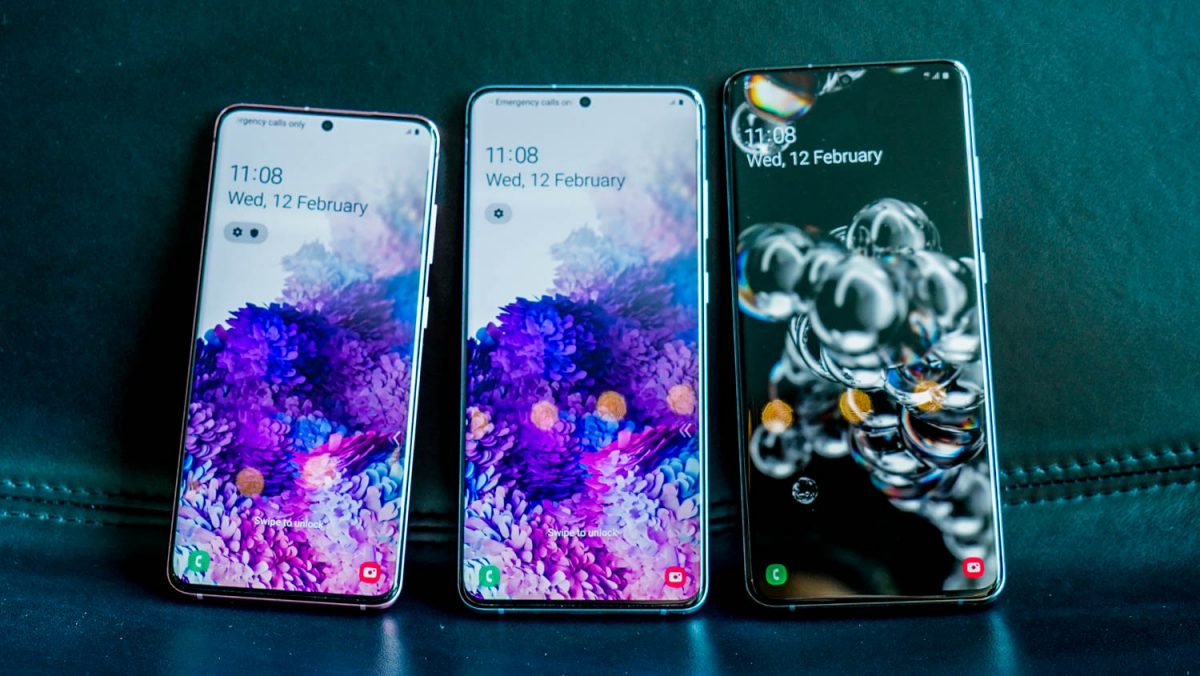 The new batteries certainly give users more juice especially when rocking the 120Hz refresh rate, with 4,000mAh on the S20, 4,500mAh on the S20+, and 5,000mAh on the S20 Ultra. Storage-wise, they're not dissimilar to their Galaxy Note 10 counterparts, with 128GB across all models, with the S20+ and S20 Ultra packing up to 512GB options as well.
Arguably the star of the show for these new flagship phones is the new camera system. The new rectangular frame for the rear cameras certainly goes well with the aesthetic, but we digress; what's in it is most compelling. The S20 and S20+ come with a 12-megapixel wide, 12-megapixel ultra wide, and 64-megapixel telephoto camera (with up to 30x digital zoom) each, which already boasts considerable fidelity on images.
But the crème de la crème here is the cameras on the S20 Ultra, which packs a main camera with a whopping 108 megapixels, and a new telephoto camera that comes with up to 10x hybrid optical zoom, and up to an impressive 100x digital zoom. Samsung's decision to opt for a main camera with such a high pixel count could seem a rather radical change, but when you put it into practice it doesn't really matter; the ability to take a photo and zoom in quite a number of times without skimping on detail is actually pretty satisfying, especially when you need to crop out quite a lot of excess.
And the new digital zoom feature is thanks to the lens containing small prism that refracts light that hits it to the sensor, allowing for images to be zoomed in artificially (similar to the Huawei P30 Pro's 50x zoom). The frontal camera is nothing to scoff at either, packing an impressive 40 megapixels, which means more cropping galore.
Furthermore, the Galaxy S20 series comes with the new Single Take feature. By simply snapping a photo, the camera instantly takes – and saves – up to 14 different kinds of images, including photo, video, and even Boomerang gifs, to be readily picked and used. This is thanks to the AI in the S20, which identifies what types of footage best suits the subject on hand. Of course, this feature can can be toggled on or off at any time, but it adds an extra layer of convenience not present in most other smartphones.
Additionally, the Samsung Galaxy S20 series comes with up to 8K video recording, which, again, might seem overkill on paper, but is great if you absolutely need to crop video without having to compromise on fidelity. Other notable features include 5G availability across all models, and (unfortunately) the lack of a headphone jack.
The Samsung Galaxy S20, S20+ and S20 Ultra will be available on 6 March 2020. Price-wise, the S20 will retail for US$999 / S$1,298, the S20+ for US$1,199 / S$1,498 (128GB) / US$1,299 (512GB), and the S20 Ultra for US$1,399 / S$1,898 (128GB) / US$1,599 (512GB).
Pre-orders for the Samsung Galaxy S20 is now available on Starhub's website.
---
Samsung Galaxy Z Flip
The Samsung Galaxy Z Flip, on the other hand, is a wildly different beast. Being only the second foldable phone (more like flip phone in this case) by Samsung, the Z Flip's clamshell design makes it a direct competitor to the Motorola razr. While not exactly a direct upgrade to the Samsung Galaxy Fold, the Z Flip comes with a series of improvements that Samsung seems to have incorporated from the Fold, which spells a promising future for foldable phones in general.
Right out of the bat, you'd notice that the Galaxy Z Flip contains two displays; with a 6.7-inch foldable Dynamic AMOLED main display with a 21.9:9 aspect ratio, as well as a tiny 1.06-inch display on the cover that depicts not only the time, but other rudimentary pieces of information such as incoming calls, messages, and even doubles up as a fingerprint sensor for security purposes. It can even be used to display a preview of your next shot when using the rear cameras.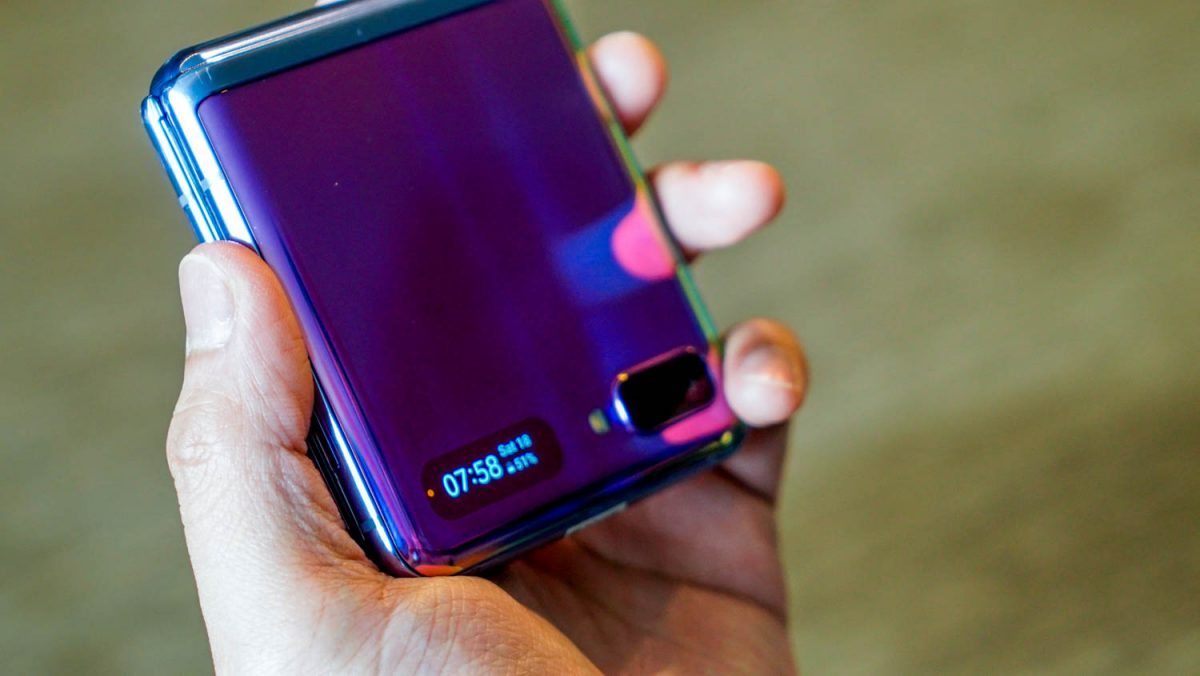 The bulky nature of the original Galaxy Fold was certainly a deal-breaker for some, and that's where the clamshell design of the Galaxy Z Flip really shines. When unfolded, it is about as long as the Galaxy Fold, measuring 167.9mm, but when folded, it shrinks into a tiny 87.4mm. That's enough to fit into almost any pocket.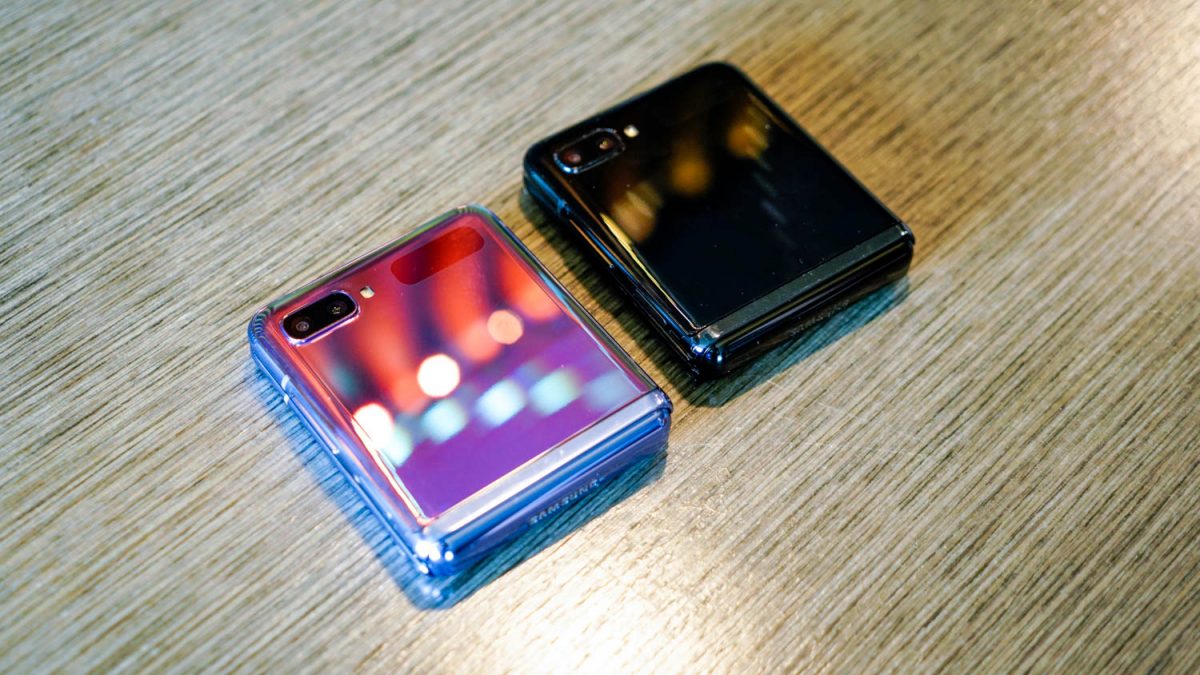 If you were concerned about the durability of the Galaxy Z Flip after the fiasco that ensued with the Galaxy Fold's troublesome launch last year, it appears that Samsung has taken feedback into account with a new Ultra Thin Glass display, with small nylon fibres installed in the Hideaway Hinge to provide extra security as it bends. This not only protects the glass display from breaking, but also minimalises any visible seam lines as it is folded. Furthermore, the hinge folds on multiple axes for additional utility.
The Galaxy Z Flip's innate ability to, well, flip comes with a nifty new piece of tech called Flex mode, which allows the phone to literally stand on its own without the need for a tripod to capture images. The fact that it can lock into different positions along the 180-degree axis allows some a good amount of agency when it comes to setting up different angles for shots that normally would be hard to capture on a regular smartphone.
The cameras on the Galaxy Z Flip consist of a pair of 12-megapixel cameras on the rear (a wide and an ultra-wide), with another 10-megapixel selfie camera housed in a cutout at the top of a display.
Specs-wise, the Samsung Galaxy Z Flip is none too shabby, sporting a Qualcomm Snapdragon 855+ processor, 8GB of RAM, and 256GB storage space and a 3,300mAh battery.
The Samsung Galaxy Z Flip will launch on 14 February 2020, with a retail price of US$1,380 / S$1,998.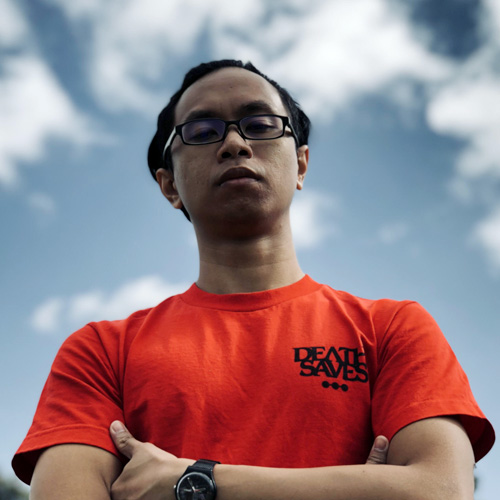 Marion has a serious RPG addiction. Sometimes it bleeds into real life; he forgets to sleep because he thinks he has a Witcher's body clock. Forgive him in advance if he suddenly blurts out terms such as "Mind Flayer" and "Magic Missile", because never once does he stop thinking about his next Dungeons & Dragons game.
---

Drop a Facebook comment below!

---