Fingerprint biometrics? That's old school. Welcome to the world of retina scanning, courtesy of Samsung in its brand new Samsung Galaxy Note7.
No, it's not a mistake as Samsung's latest phablet flagship is skipping a number and going from last year's Galaxy Note 5 to this year's Galaxy Note7.
The company says that this move is to align the numbering of their products, since this year saw the launch of the Samsung Galaxy S7 series of devices.
But an unspoken reason would be that its main competitor Apple looks to be launching/announcing the iPhone 7 in September, so given that consumers might not know better, Samsung cannot afford to be releasing a model 6 when someone else has a model 7.
The Note7 features a dual edge screen, dual SIM slots, a 3,500mAh battery with built in wireless charging support, the same impressive dual pixel 12MP rear and 5MP front camera that was used in the Galaxy S7, 64GB of memory and 4GB of RAM.
New features, aside from the retina scanner, is a more precise S Pen that can now be used to take notes while underwater. We don't expect folks to start taking notes while diving, but you can now take notes in the rain or when there is a drizzle.
Users can also scroll up in a note, to continue taking notes, instead of starting a new note to write on.
As for the iris recognition feature, users can use it to unlock the device, access websites and even authenticate Samsung Pay cashless payments.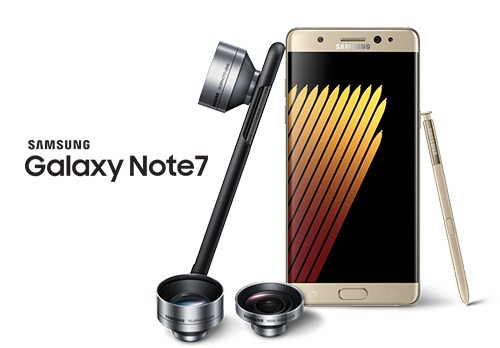 The company has also come up with a pair of attachable lenses for the Note7, to enhance the camera features. This set is priced at $198 but if you pre order the phone from today, you get the lens kit free.
Thankfully, Samsung is keeping with only one version of the phone, available in 3 Colours – black, gold and silver – for $1,168. Alas, the blue version is not available at launch.
---

Drop a Facebook comment below!