The time to head back to the Wild West is drawing nearer, and publisher Rockstar Games has announced two premium versions of the upcoming Red Dead Redemption 2, promising a trove of exclusive content such as in-game cosmetics and bonuses as well as real-world collectibles.
First off, all pre-orders of the game will come with these two Story Mode enhancements – a War Horse, equipped with greater courage and stamina than an average steed, and The Outlaw Survival Kit containing key items to aid with replenishing Health, Dead Eye, and more. The standard edition of the game retails for US$59.99.
Digital pre-orders on the PlayStation Store and Xbox store will also receive a Story Mode Cash Bonus and a Treasure Map for a head-start in finding secret buried treasure scattered around the world.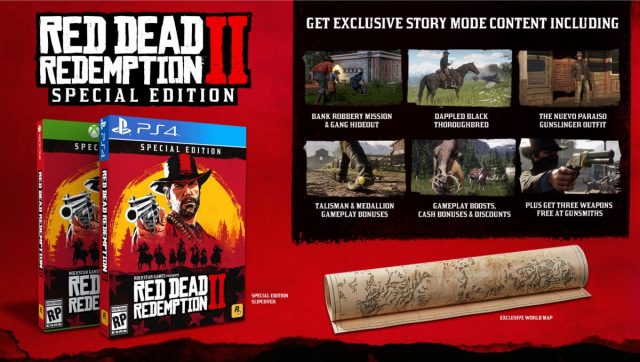 The Red Dead Redemption 2: Special Edition is priced at an extra $20 over the standard one at US$79.99 and comes with a Bank Robbery and Gang Hideout mission in Story Mode, a speedy racehorse, special items that provide gameplay stat boosts, cash bonuses, an exclusive Gunslinger outfit and free access to three additional weapons.
As for the Steelbook-cased Ultimate Edition, an additional $40 at US$99.99 will get you all the Story Mode content available in the Special Edition along with bonus content for online such as outfits, a horse, free access to a theme for camp customisation, additional weapons, and rank bonuses for faster levelling up.
Both editions are available digitally and physically, although the physical versions come with a printed map of the game world.
In addition to bonuses within Red Dead Redemption 2, all digital pre-orders of the game also translates to freebies in another Rockstar game – Grand Theft Auto 5. Pre-ordering the Standard, Special, and Ultimate editions will get you GTA$500,000, GTA$1 million, and GTA$2 million credited to your accounts in GTA Online respectively.
But perhaps overshadowed by all the bonuses and extra content, it seems like Red Dead Redemption 2 is set for some timed PlayStation Exclusivity. This is a trend in the gaming industry, where console companies strike deals with publishers to attain exclusive content available for certain timeframes only on their system. In the midst of the game description on the PlayStation store comes this line:
PlayStation Exclusive: Play select content first on PlayStation 4. Details to follow.
This content could be as simple as select outfits or bonuses, but it could possibly be on the scale of Sony's arrangement with Destiny, depriving Xbox players of not just cosmetics, but entire missions and areas for years, which feels unfair to players.
Look out for the release of Red Dead Redemption 2 on October 28, 2018 and head to Rockstar Games' website for more details about the Special and Ultimate Editions of the game.