HYPER by Sanho Corporation, makers of the HyperDrive, the most crowdfunded MacBook and USB-C accessory, announced five new USB-C hubs for the new USB-C MacBook models at WWDC today.
Since the release of the original Hyperdrive, Hyper has had numerous copycats trying to produce similarly designed USB-C hubs specifically for the Macbook Pro.
These five new USB-C hubs adds on more flexibility for users, and will also work with previous USB-C MacBook models and other USB-C computers.
HyperDrive NET 6-in-2 USB-C Hub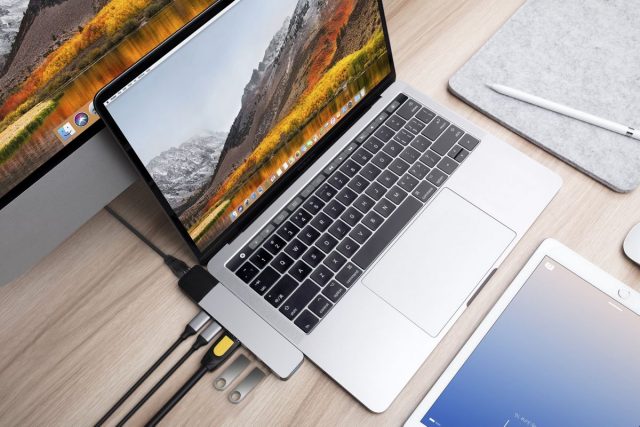 The HyperDrive NET is Hyper's updated version of the original HyperDrive, utilising clever design to connect flush into the side of the Macbook Pro, turning its limited 2 USB-C ports into 6.
The NET has all the same ports the original HyperDrive had: 2 x USB-A 3.0, 2 x USB-C and 4K HDMI, but it now adds a Gigabit Ethernet port. This addition would be welcome by power users, who rely on fast Ethernet connections to connect to company servers and LAN connections.
HyperDrive SLIM 8-in-1 USB-C Hub
The HyperDrive SLIM is Hyper's slimmest 8-in-1 USB-C hub, and packs in all the ports that you would find yourself needing. It has 4K HDMI, 4K Mini DisplayPort, 2 x USB-A 3.0, Gigabit Ethernet, USB-C Power Delivery, SD and microSD readers. This plugged into only one USB-C on the laptop, with a more convention cable, so you could use this with any other laptop that has a USB-C port, not just Macbooks.
HyperDrive 6-in-1 USB-C Hub
The smaller version of the HyperDrive SLIM, the 6-in-1 USB-C Hub removes the SD and microSD, to the barebones minimum of 2 x USB-A 3.0, 1 x USB-C, 4K HDMI, 4K Mini-DP and Gigabit Ethernet.
HyperDrive 3-in-1 USB-C Hub
The smallest of the five, the 3-in-1 USB-C Hub is essentially an alternative to Apple's own USB-C Digital AV Multiport Adapter. It provides the user with a HDMI port, 1 x USB-A 3.0 and 1 USB-C port.
HyperDrive Wireless Charger USB-C Hub
The Wireless Charger USB-C Hub is a 8-in-1 Hub, with a wireless phone charger and stand built in. It was also originally funded on Kickstarter and Indiegogo, and now finally available to the general public. The wireless charger is a 7.5W low temperature wireless charger and also supports 5/10/15W.
All five of Hyper's new USB-C hubs come in both Silver and Space Grey, to match your Macbook Pro accordingly. They are now available for pre-order on Hyper's website, with discount varying from 10% to 25% of the MSRP when you place a pre-order.
---

Drop a Facebook comment below!