The Assassin's Creed series has accompanied plenty of gamers throughout the years, weaving tales of mystery and intrigue while delivering plenty of action across various time periods as part of history. While some may have a preference for ancient Egypt or the Vikings, the American Revolution period was certainly an interesting one in Assassin's Creed III, and now, PureArts is giving fans a chance to relive the adventure with the Connor Kenway 1/4 scale statue as part of the Animus line.
The PureArts Assassin's Creed Animus Connor ¼ Scale Statue sees our hero standing over the bloody hat of a fallen British soldier in front of a Betsey Ross flag, all ready to fight for freedom. His spirit animal, the wolf, stands behind him in a fully sculpted 1/4 scale. Connor stands fully equipped with his tomahawk, bow and arrow, sabre, and Assassin hidden blades.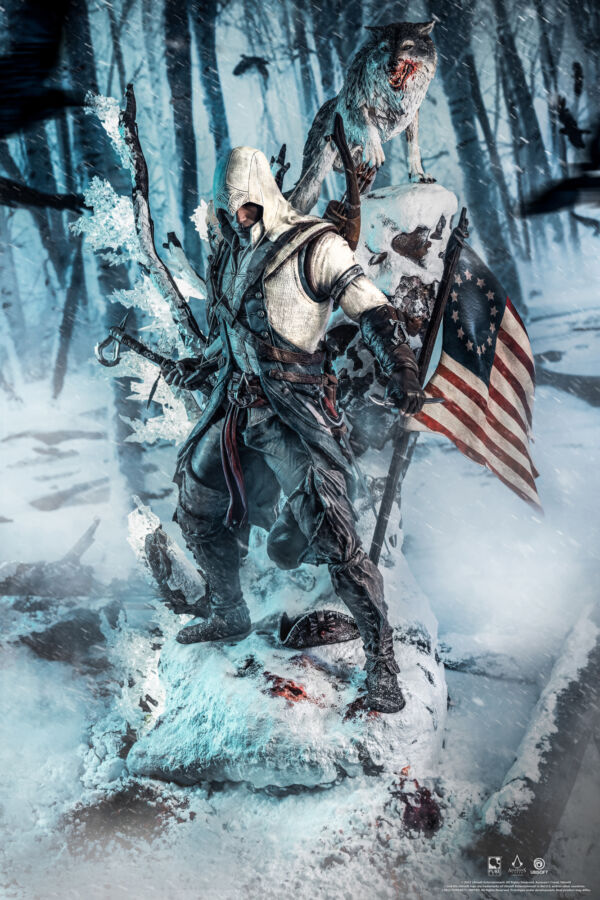 PureArts' signature LED Animus effect lines the wintery trees of the snowy rock bluff in the Mohawk Valley. The PureArts Exclusive Edition includes a wearable replica of Connor's bear claw necklace. Limited to only 250 units, the Animus Connor 1/4 Scale Statue Exclusive Edition is PureArts' smallest edition size in the entire Animus 1/4 scale statue line. As for the Standard Edition, numbers are also limited to only 2250 pieces.
Here are all the relevant highlights you can look forward to for the PureArts Assassin's Creed Animus Connor 1/4 Scale Statue:
Hyperdetailed sculpt with stunning clothing textures and details
LED Animus Effect
Fully sculpted 1/4 scale wolf
Weapons include his tomahawk, bow and quiver of arrow, sabre, and hidden blades
Exclusive Item: a wearable replica of Connor's bear claw necklace
For fans of the Assassin's Creed series, especially for the third mainline entry, the 65 x 44 x 37cm beauty will be a worthy addition to your collection. It also weighs in at a hefty 9kg, so you know you are getting something solid and beautiful to boot. With an estimated delivery window of Q4 2023, you will have plenty of time to prepare your home for the coming of Connor and the fight for freedom.
If your interest is more in movies, there are also other PureArts masterpieces to check out like the Catwoman 1:1 Mask Replica from Batman Returns or the Lord of the Rings Witch-King Art Mask.
The Assassin's Creed Animus Connor 1/4 Scale Statue is available for pre-order now via PureArts for US$899.00.
---

Drop a Facebook comment below!