The PS4 and PS4 Pro are great consoles of modern times, but there's just something about the nostalgia of olden-day classics that's extremely endearing and unforgettable to the gaming community. Last month saw the introduction of the PlayStation Classic as fans of the retro genre cheer to the experience of revisiting the past, all repackaged in a design bearing perfect resemblance to the original console. It's set to be 45 percent smaller in size, but with the same logo, button layout, and packaging in place, allowing for a true blast to the past.
Now, a finalised list of 20 games has come to the proverbial shores of old-school gaming. Pre-loaded on the console as it launches on December 3, 2018 for Canada and the US, the collection includes the following titles:
Battle Arena Toshinden
Cool Boarders 2
Destruction Derby
Final Fantasy VII
Grand Theft Auto
Intelligent Qube
Jumping Flash
METAL GEAR SOLID
Mr Driller
Oddworld: Abe's Oddysee
Rayman
Resident Evil Director's Cut
Revelations: Persona
Ridge Racer Type 4
Super Puzzle Fighter II Turbo
Syphon Filter
Tekken 3
Tom Clancy's Rainbow Six
Twisted Metal
Wild Arms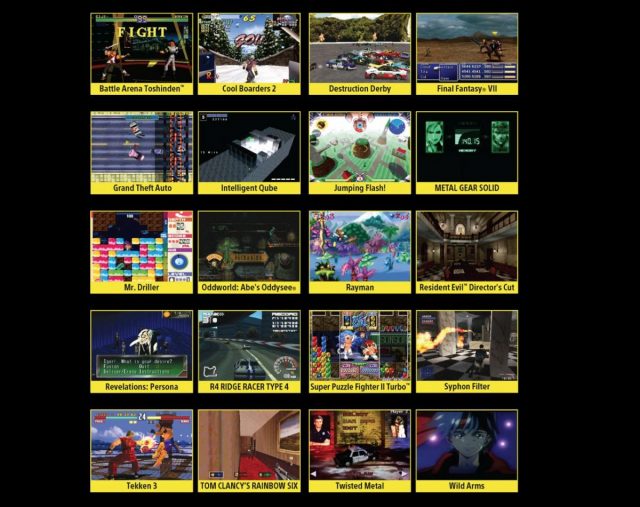 That's plenty of fan favourites to look forward to, made better with a user-friendly set-up: just plug in an HDMI cable, connect it to the television, and you're all set to go. Accompanying the generous release of the games would be two controllers, so that the fun can be shared among loved ones.
Japanese gamers have a slightly different list of 20 games:
Arc the Lad
Arc the Lad 2
Armored Core
Biohazard Director's Cut (Resident Evil Director's Cut)
Final Fantasy VII International
G Darius
Gradius Gaiden
Intelligent Qube
Jumping Flash
Megami Ibunroku Persona: Be Your True Mind (Revelations: Persona)
Metal Gear Solid
Mr. Driller
Parasite Eve
Ridge Racer Type 4
SaGa Frontier
Super Puzzle Fighter IIX
Tekken 3
Toshinden (Battle Arena Toshinden)
Wild Arms
XI [sái] (Devil Dice)
Pre-order is available now locally at an SRP of SG$139, but act fast – popular platforms in the US, such as Amazon, GameStop, and Target, have already run out of stock. Guess it's fastest fingers first, if you want to relieve the tedious, long fight against Sephiroth, take in the thrill of sneaking around as Solid Snake, or indulge in the memories of glorious pixels in general.
After all, nostalgia is the way to go!
---

Drop a Facebook comment below!