It is almost a must for the average Singaporean to own a pair of headset, because how else are we going to last the hour-long commute on the trains and buses?
Plantronics, with its long history in audio electronics, has just announced their new products that promise to fit the lifestyles of people on the go. First, they have their true wireless earbuds, the BackBeat FIT 3100. Specifically catered for fitness enthusiasts, the earbuds have Plantronics Always Aware feature. This allows the user to still be able to hear certain sounds like car horns, barking dogs, or screeching brakes, which is especially important when running outside. To secure the earbuds, they come with soft and flexible earloops that promise to keep the earbuds in even through the most intensive exercise.
These earbuds are also rated IP57, making it waterproof and sweatproof. In fact, Plantronics claims that they'll come out of a thirteen-minute plunge into water bodies of depths up to one-metre perfectly fine.
Two more headsets are also released in the BackBeat FIT line: BackBeat FIT 2100 and BackBeat FIT 350. Like the 3100, the new 2100 has the Always Aware feature and rated IP57. The 350 has a passive noise cancelling system and is rated at IPX5. Since they're all wireless, it makes it easier to exercise with.
If you're not one of those outdoor exercisers (or any kind of exercisers at all, we won't judge), Plantronics also just launched their BackBeat GO 410 earbuds. These earbuds are designed for those who are often on the go, and need a noise cancelling device to help you get through a long flight. Its small size and its Active Noise Cancelling feature make this headset perfect for any travellers that just wanted to enjoy their flight without having to hear the sound of a crying baby or that gentleman blissfully snoring two rows behind you.
The BackBeat GO also comes in over-the-ear headphone form with the BackBeat GO 810. This wireless headphone lasts up to 28 hours on a single charge, which is definitely long enough for any international flights.
If you're interested, the BackBeat FIT 3100, BackBeat FIT 350, and BackBeat GO is now available in major retailers like Challenger, Harvey Norman, Best Denki, and other authorized retailers. The BackBeat FIT 2100 and BackBeat GO 410 will be available in November 2018.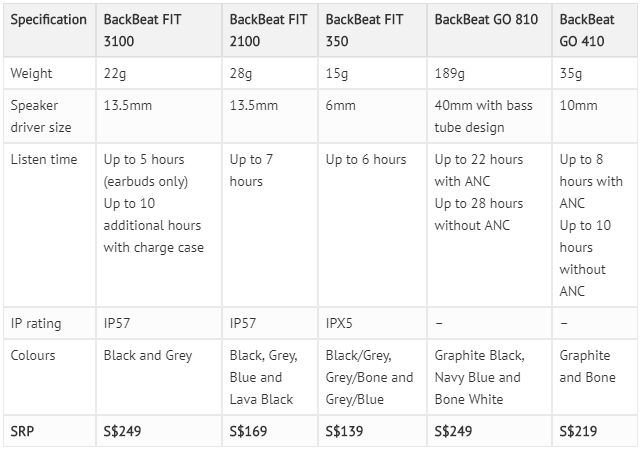 Dea wishes she could play the latest Tomb Raider or Uncharted, but she can't, so instead she reads and watches other people play. On her down time, you can probably find her re-reading Captain Marvel. The Carol Danvers one.
---

Drop a Facebook comment below!