It's not easy to keep a lazy egg well, lying down. Even though we recently bid farewell to the Gudetama Cafe at Suntec City when it shut its doors last year, our favourite lazy Sanrio egg is back in Singapore, this time with his moody penguin friend in tow at the Gudetama X Bad Badz-Maru pop-up cafe happening at Kumoya.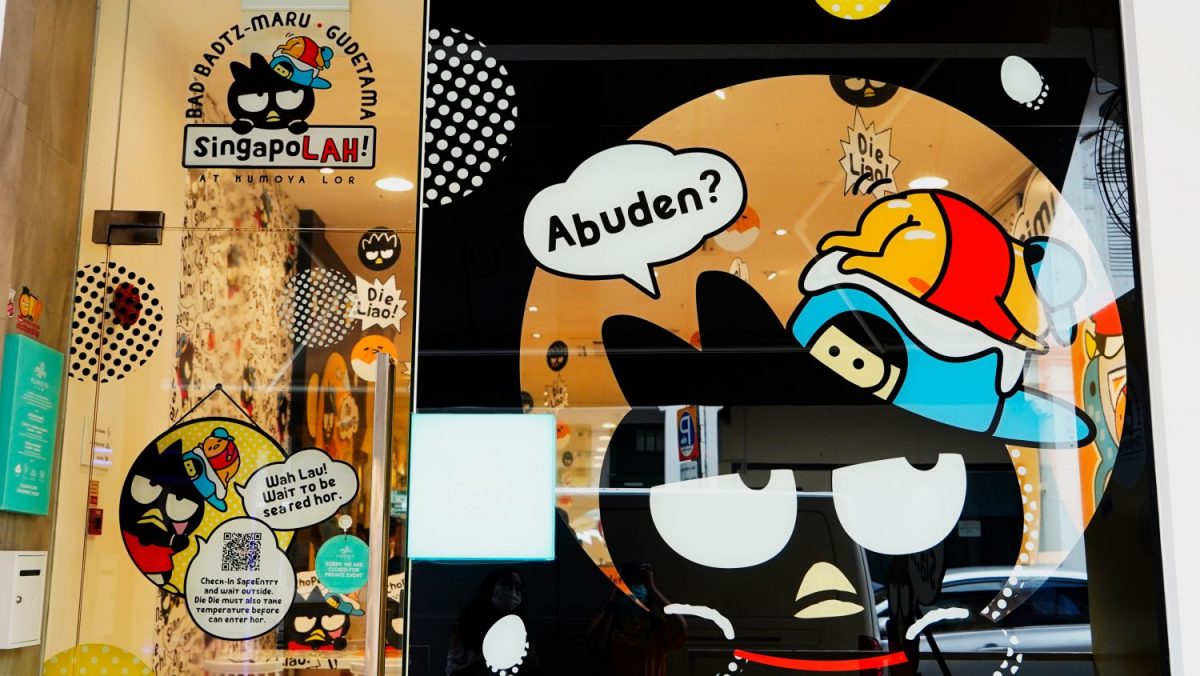 Running from 30 July to 1 November 2020, this is the first time that two of Sanrio's massively popular characters, Gudetama and Bad Badz-Maru, will star together in a specially themed cafe with a Singaporean or rather, Singlish twist.
Serving up an absolutely eggcellent menu of delectables, Kumoya has gone the eggs-tra mile once again and completely kawaiified its space. Upon reaching the cafe, a standee featuring the Sanrio bird and egg duo (oh the irony) greets us. The sourly "Simi sia" greeting from Bad Badz-Maru warms us up for what to eggspect inside.
From the walls to its ceilings and even the tables, the cafe has been covered in adorable Singlish fueled Sanrio character decorations. Every inch of the interior decor featured the duo spouting phrases such as "Die Liao" and more explicitly, "Wa Lau Eh". And if you are late to the party, mai kancheong, the trusty character cutouts will be there to chope your seat for you.
The menu itself is once again carefully exclusively curated and crafted by Kumoya and Instagram food artist Shirley Wong (@littlemissbento).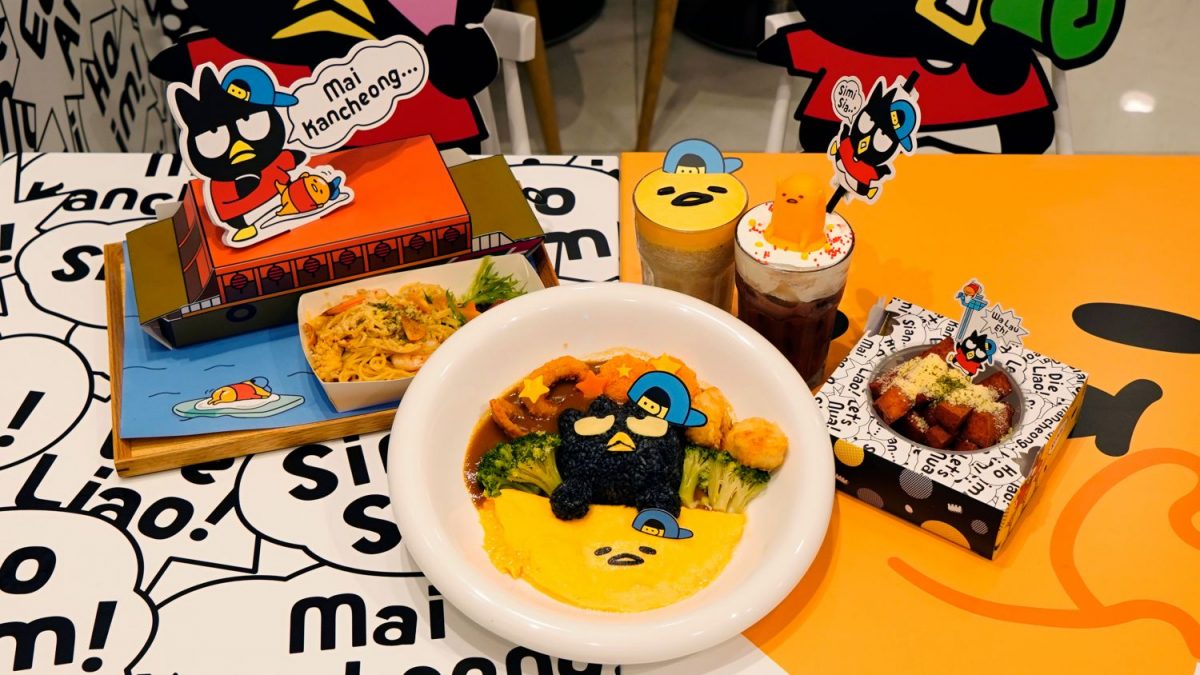 Dig right into the cute dishes, starting off with Truffle Chicken Spam Fries (S$14.90). The box of sinful delights arrives fried to perfection, with each piece boasting a crispy exterior and deliciously soft insides. Moreover, despite having already savoury luncheon meat drenched in salty truffle, the taste of the dish is surprisingly well-balanced, without being overly salty as most Spam fries are wont to be.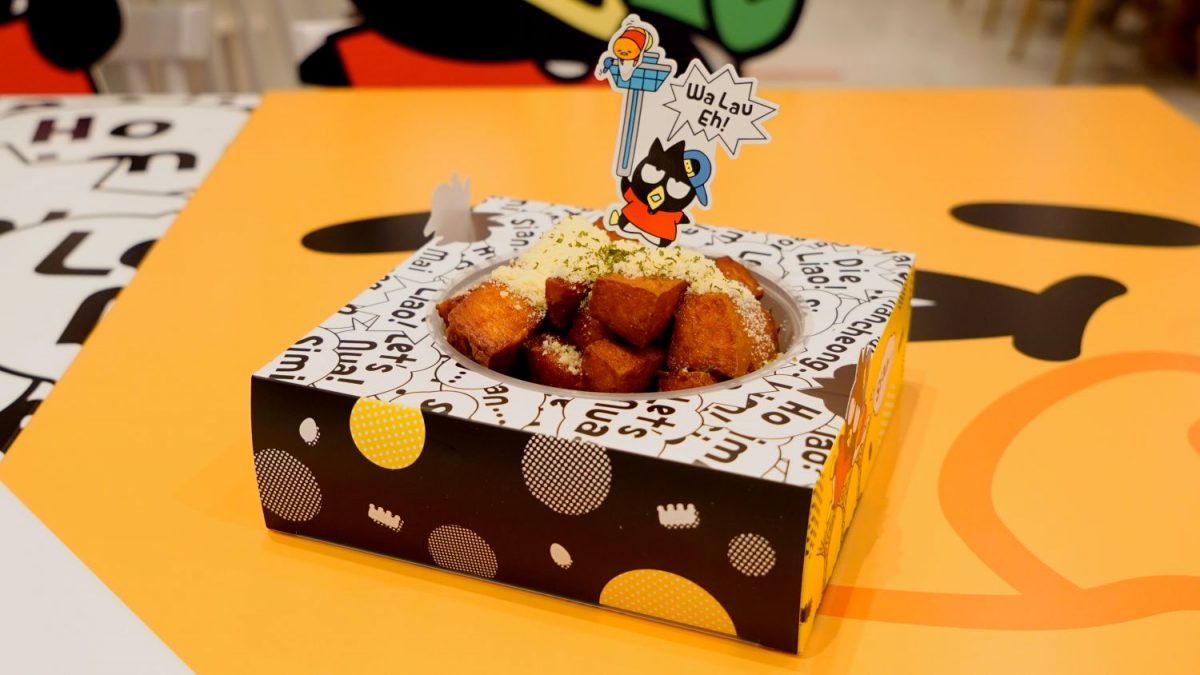 For the mains, take a stab at the Relax Lah! Japanese Curry Seafood Rice(S$28.90) and the Shiok Shiok Seafood Aglio Olia Pasta(S$25.90).
The huge curry dish arrives looking absolutely delectable with Bad Badz-Maru tucked-in under a fuwa-fuwa Gudetama omelette and nestled amongst a bed of steamed broccoli, breaded calamari and scallop, and fresh tempura salmon. The charcoal rice looks apprehensive to taste at first, but actually turns out to be like ordinary white rice, so no worries there! Cheddar cheese and carrot stars dot the dish but the real star is the salmon. Moist and tender, the salmon retains its freshness while being well-cooked inside out without any fishy taste or dryness. The Japanese curry also goes well with the egg and rice, though it is a little bland especially after tasting the Spam fries.
Up next is the seafood Aglio Olio pasta. All decked out in a Singapore River Cruise box, the dish promises to make quite a decent splash. The seafood tastes swimmingly good, especially the succulent prawns. However, similar to the curry rice, the dish could have afforded to go bolder with the seasonings as the taste of the olive oil and garlic fell kinda flat.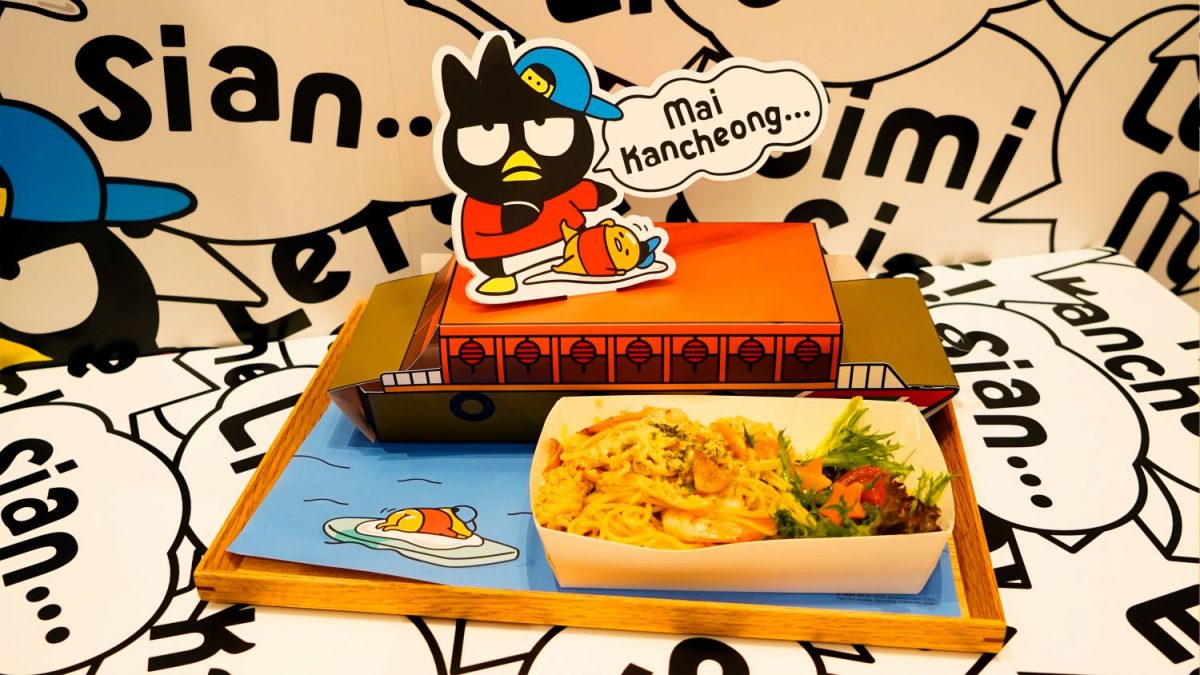 But what really makes us exclaim "Ho Jiak!" and "Swee!" are the desserts.
Ready your cameras as rolling in is the Lazy Chocolate Ball of Surprise(S$24.90). Gudetama is now a ball nuaing in the middle of blue gel with mini candied versions of iconic Singapore River sights, the Merlion and Singapore River Cruise. Accompanying the dish is a towering mango-vanilla double swirl Hokkaido soft-serve.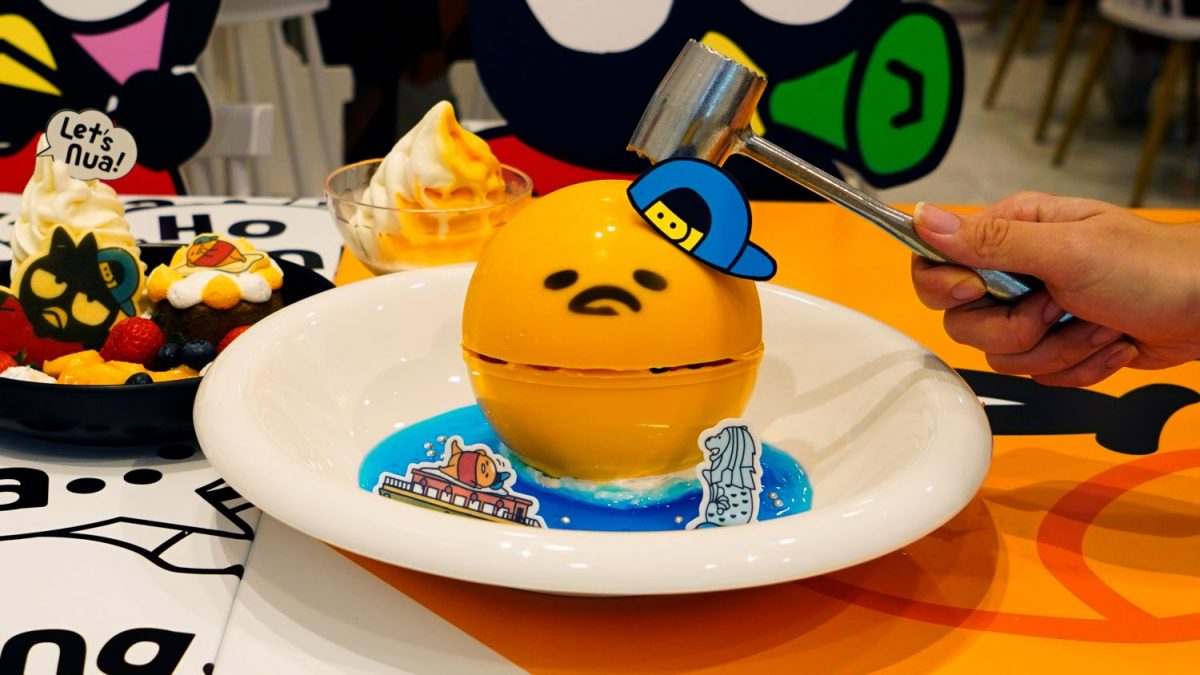 Despite fawning over the adorable dessert, attempting to smash the shell may crack people up instead. The shell is surprisingly hardy and you may end up giving Gudetama a concussion instead of reaching your hidden treats.
Knocking the ball open reveals, gasp, not the treasure at the end of the rainbow, but an equally colourful surprise. Sitting in the shell is a dazzling mix of rainbow marshmallows, moist-and-soft brownies, fruitloops, glistening fresh-cut fruits and even a kawaii Bad Badz-Maru cookie. Be sure to have a friend on hand to share this dish though to avoid a sweetness overload.
Another tantalising dessert is the Lai Lai Chocolate Lava Cake(S$19.90). Gudetama and Bad Badz-Maru cookies nua atop a platter filled with more Hokkaido soft serve, fresh cream, fruits and of course, the chocolate lave cake. The lava cake oozes with flavour as warm chocolatey goo spills out from inside when you cut into the fluffy cake with your spoon. Dip the molten lava cake in the soft serve and savour the rich flavour as the warm-and-cool treat melts across your tastebuds. The Instaworthy dessert tastes as good as it looks and is an absolute win!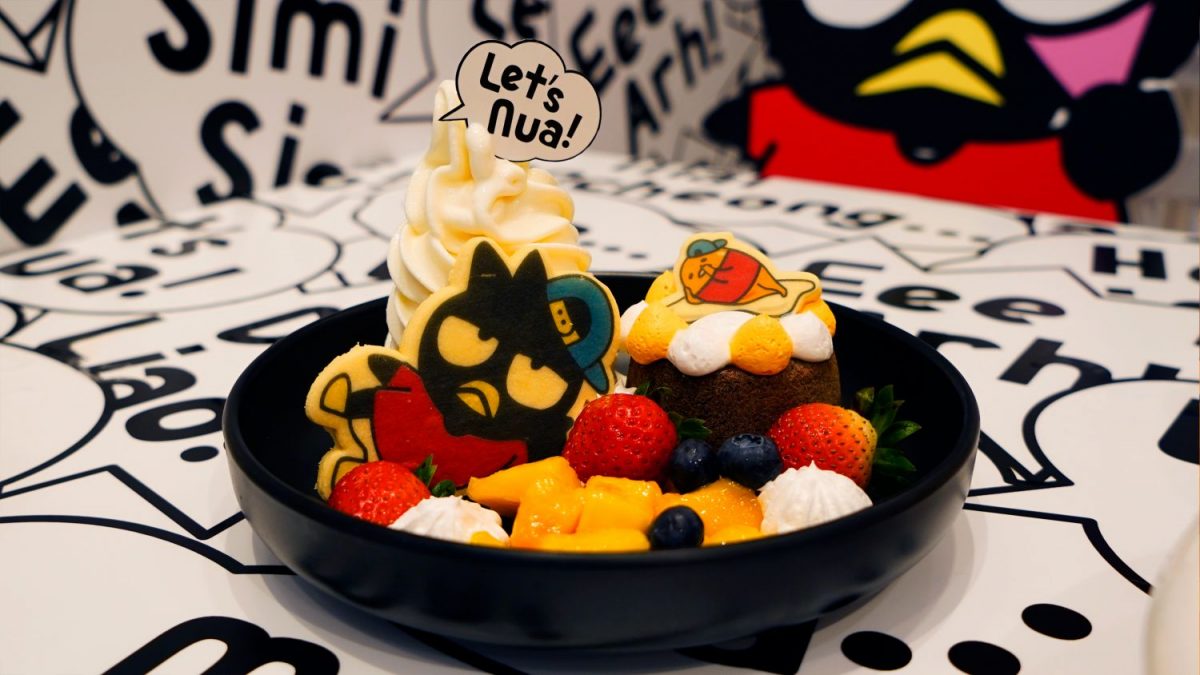 If you still have space for more treats, why not try out the carefully crafted drinks?
The OK Lor! Lotus Caramel Frappe(S$13.90) is a candilicious concoction of coffee, milk and caramel syrup, top with a thick layer of yellow cream decorated as a sleeping Gudetama face. The drink even remains just as flavourful to taste even after eating all that sweet dessert!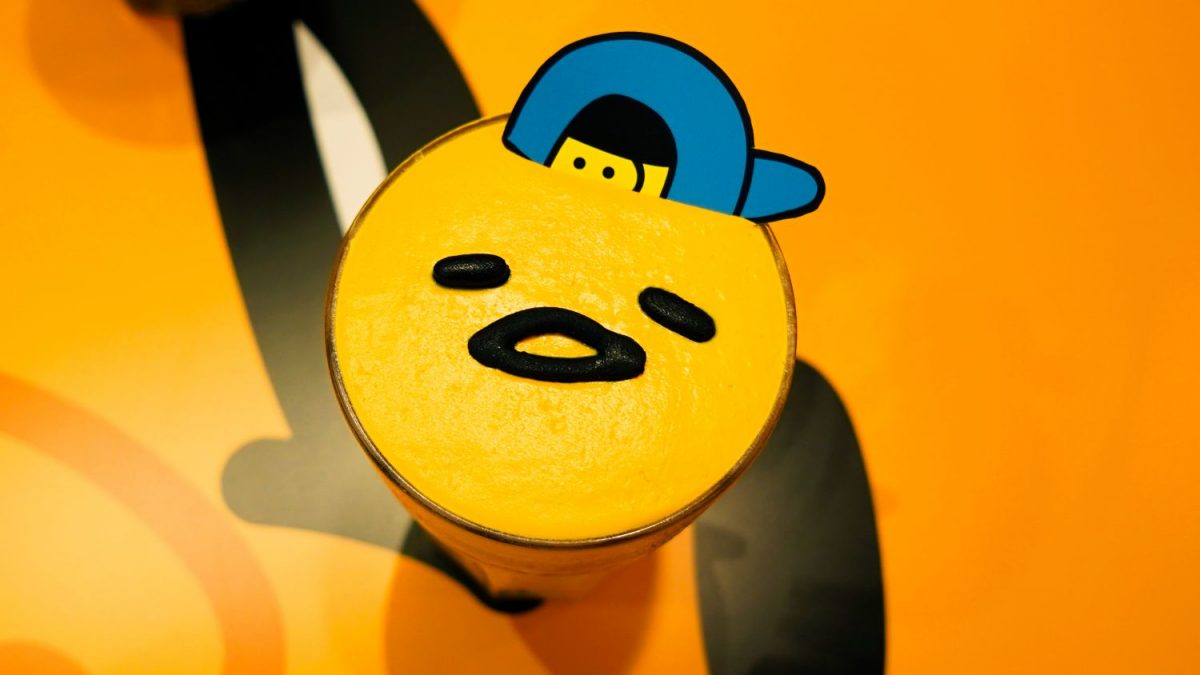 There's also the Steady. Steady. Iced Chocolate(S$12.90) which is topped with a generous amount of fresh cream and an adorable fondant Gudetama. Yet, despite its sweet appearance, the flavour, unfortunately, doesn't live up to it. There are still many other drink options on the menu though and you will hopefully come across one that makes you exclaim "Ho Lim ah!" Each drink will also come with a free coaster.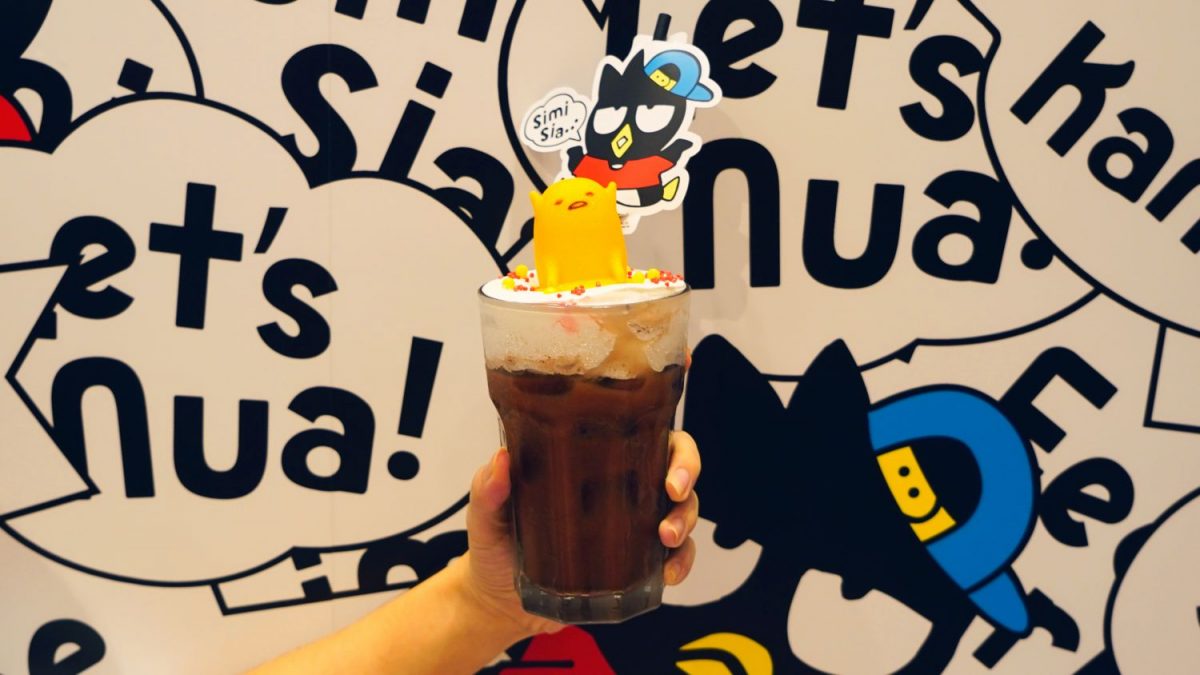 And just like the previous We Bare Bears themed cafe, Kumoya will also be offering a range of merchandise for fans to get eggcited over. From a squishy pile of Gudetama plushies to water bottles and JEKCA Blocks, there's bound to be something that will catch your eye. They even have Singaporean food-themed Kerkerokeroppi and Gudetama iron-on patches!
There are also cafe exclusive Gudetama x Bad Badz-Maru limited-edition macarons up for grabs! They come in a box of six and are priced at $21.90 per box.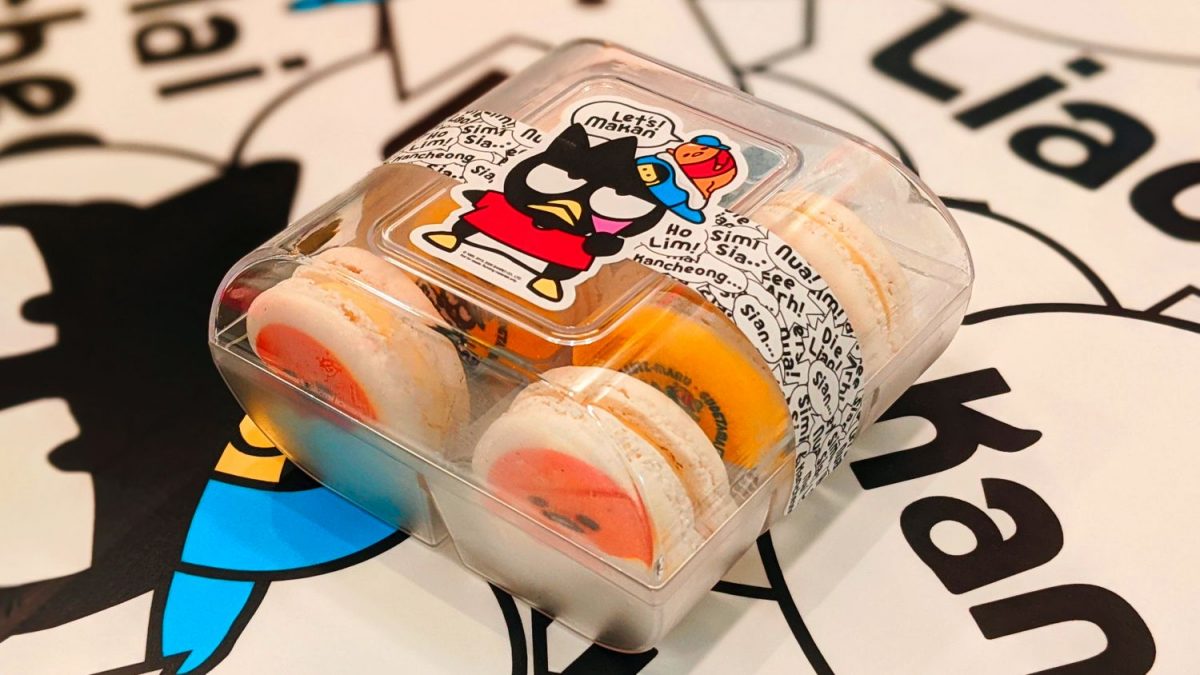 For fans of Kawaii or Sanrio, the Gudetama X Bad Badz-Maru Pop-up Cafe is something you should try out. Be sure to have your cameras and phones ready as there will be a ton of cuteness to snap pics of!
Date: 30 July – 1 November 2020
Location: Kumoya @ 8 Jalan Klapa, Singapore 199320
Opening Hours: Closed on Monday. Tuesday – Thursday, Sunday (12pm – 9pm). Friday and Saturday (12pm – 10.30pm)
Price Range: S$10.90 – S$28.90
---

Drop a Facebook comment below!