Grizzly, Panda and Ice Bear are taking over Kumoya Cafe in Singapore with this limited-time pop-up cafe featuring…you guessed it, We Bare Bears!
This is the world's first We Bare Bears themed cafe and our hearts literally can't take how cute it is. It probably is the most adorable cafe we have been to so far.
Kumoya really went all out with the decorations and design of the cafe. Each table has its own design and a little stuffed toy to keep you and your friends company. With plenty of We Bare Bears merchandise on sale – from stationery, coin pouches and plush toys, fans are completely spoilt for choice.
Crafted by Kumoya and Instagram food artist Shirly Wong (@littlemissbento), the cafe will feature art and a themed menu exclusive to the cafe.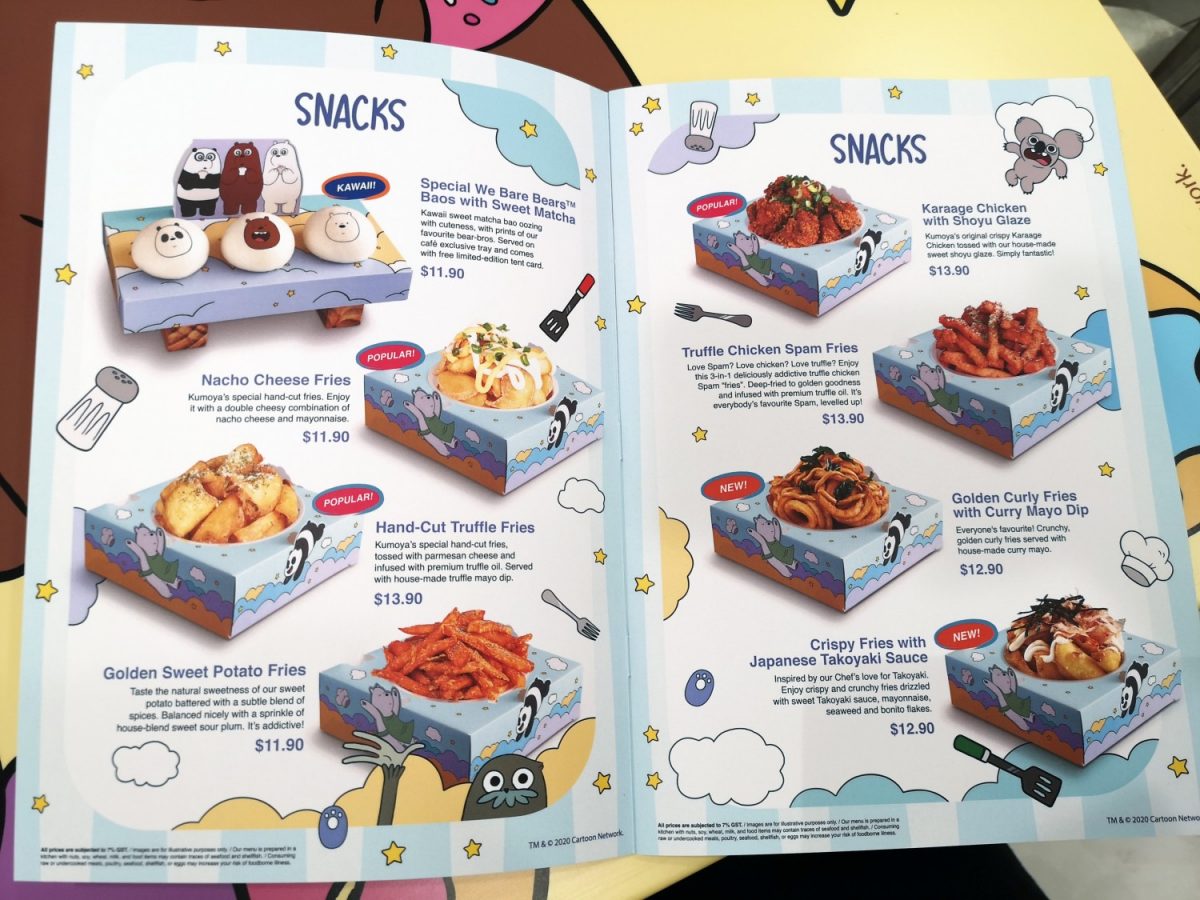 Here's a look at some of the dishes available.
---
Special We Bare Bears Baos with Sweet Matcha (S$11.90) are sweet matcha baos (steamed buns) with prints of the bear-bros. The matcha baos come with a free limited-edition tent card so of the bears eating the baos themselves. It is oh-so-kawaii.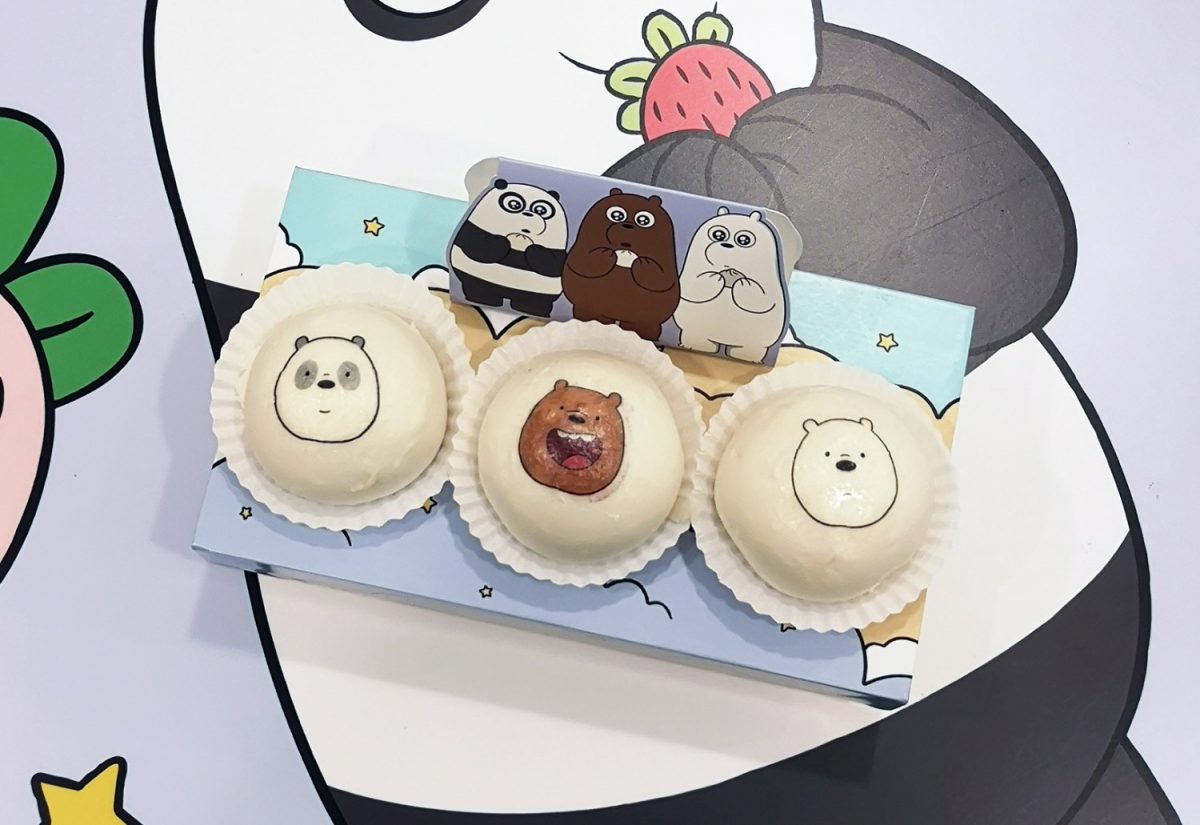 Something that piqued our interest is the Truffle Chicken Spam Fries (S$13.90). If you're over regular fries, why not try spam fries? This is a pretty filling snack so be sure to share them with your friends. This golden goodness is not stingy with its truffle so if you love truffle, this is something you have to try.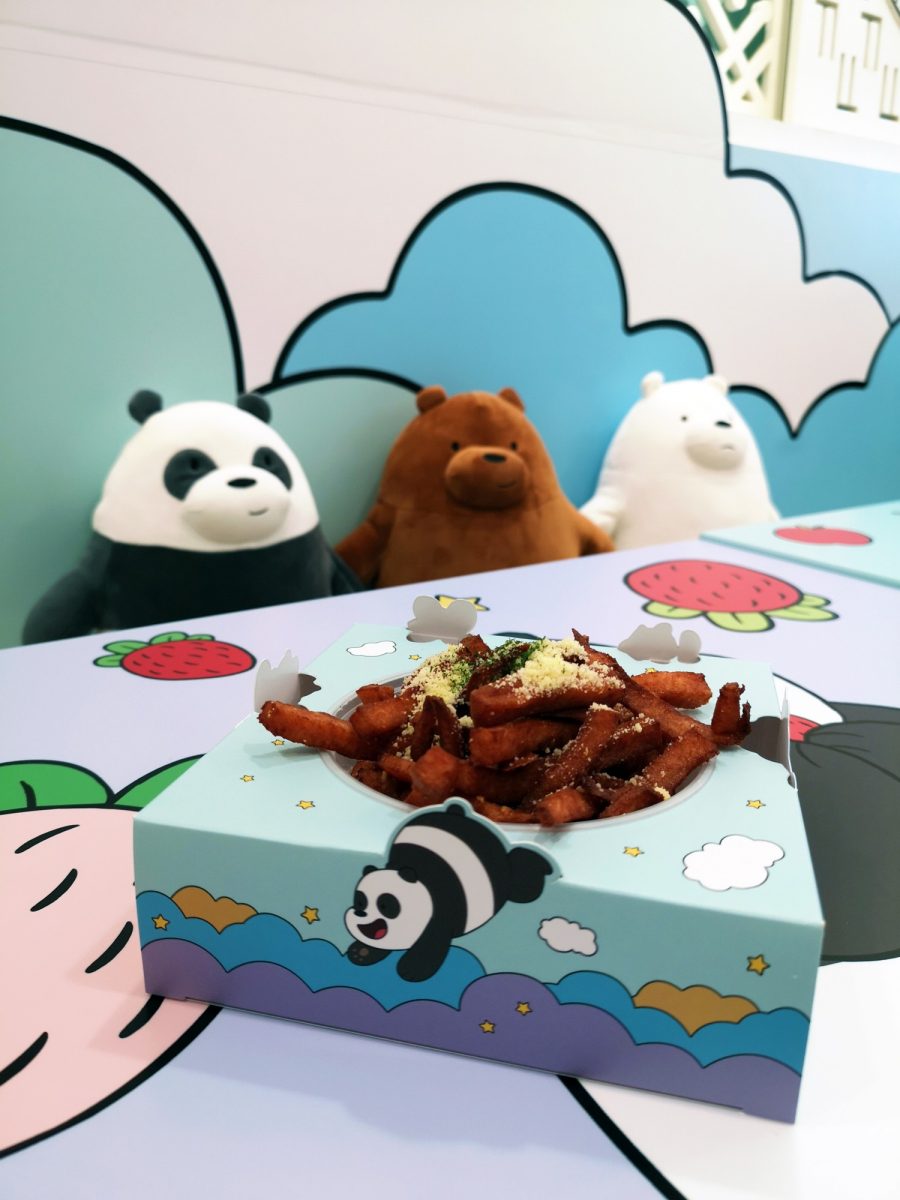 The cafe serves frappes, iced tea and coffees. With every drink, you'll receive a free coaster.
We tried the Sunny Bear Bros Iced Mango Butterfly Peach Tea (S$12.90) – we know it's a mouthful – is refreshing and perfect for the hot weather in Singapore. Make sure to stir it up well!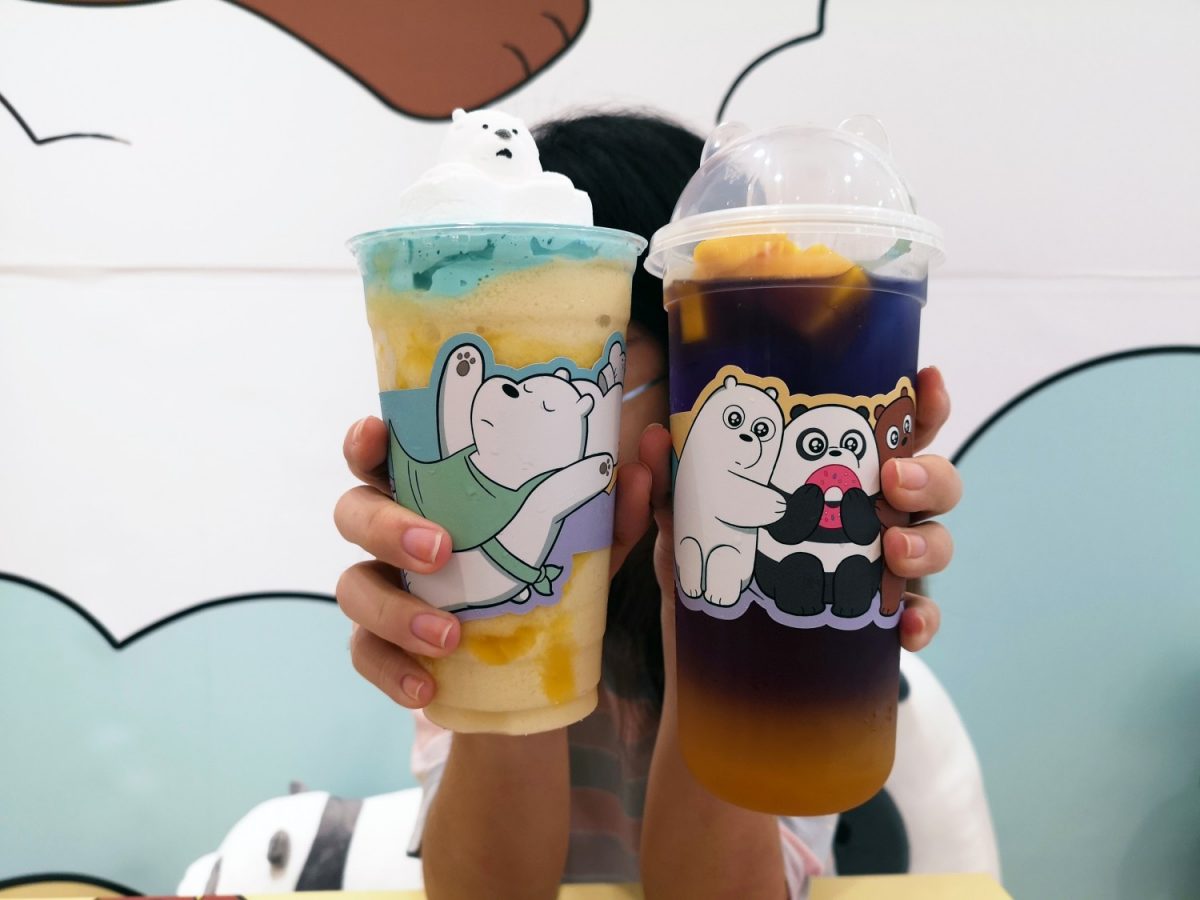 Every iced tea is served in a bear cup and limited-edition cup sleeve that you can bring home with you. The Mango Tango Frappe With Ice Bear Marshmallow (S$13.90) is the favourite of our two drinks. One sip and you're hit with the sweet taste of mango. Unlike teas where the ice will eventually melt and dilute your drink, the frappe remains sweet and cooling throughout your whole visit.
Look, this meal is too cute and Ice Bear with a pair of sunglasses makes us want to break out and sing Vanilla Ice's Ice Ice Baby. The Ice Bear Artic Cool Seafood Rice With Cream Sauce (S$26.90) FEATURES Japanese rice on seafood cream sauce. Served with salmon, calamari, breaded scallop and breaded ebi. It's a pretty cute looking dish but the gelatinous texture of the cream makes it hard for you to coat your rice. The rice – though amazing how it's shaped like Ice Bear – is a little tough.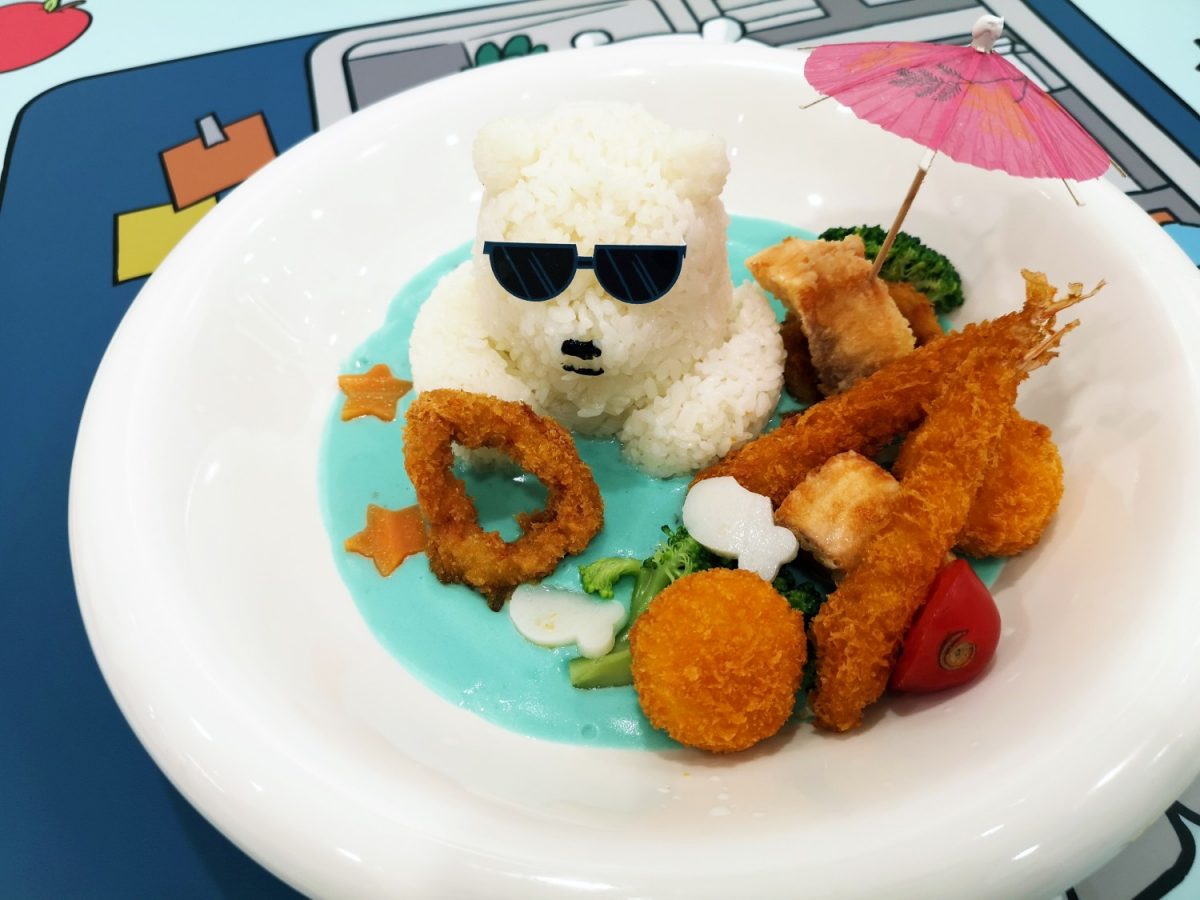 Ice Bear Terrific Teriyaki Chicken Katsu Burger (S$23.90) is yet another adorable dish. It's hard to get burgers wrong so if you're spoilt for choice and can't decide on what to eat, we think the burger is the safest option for you.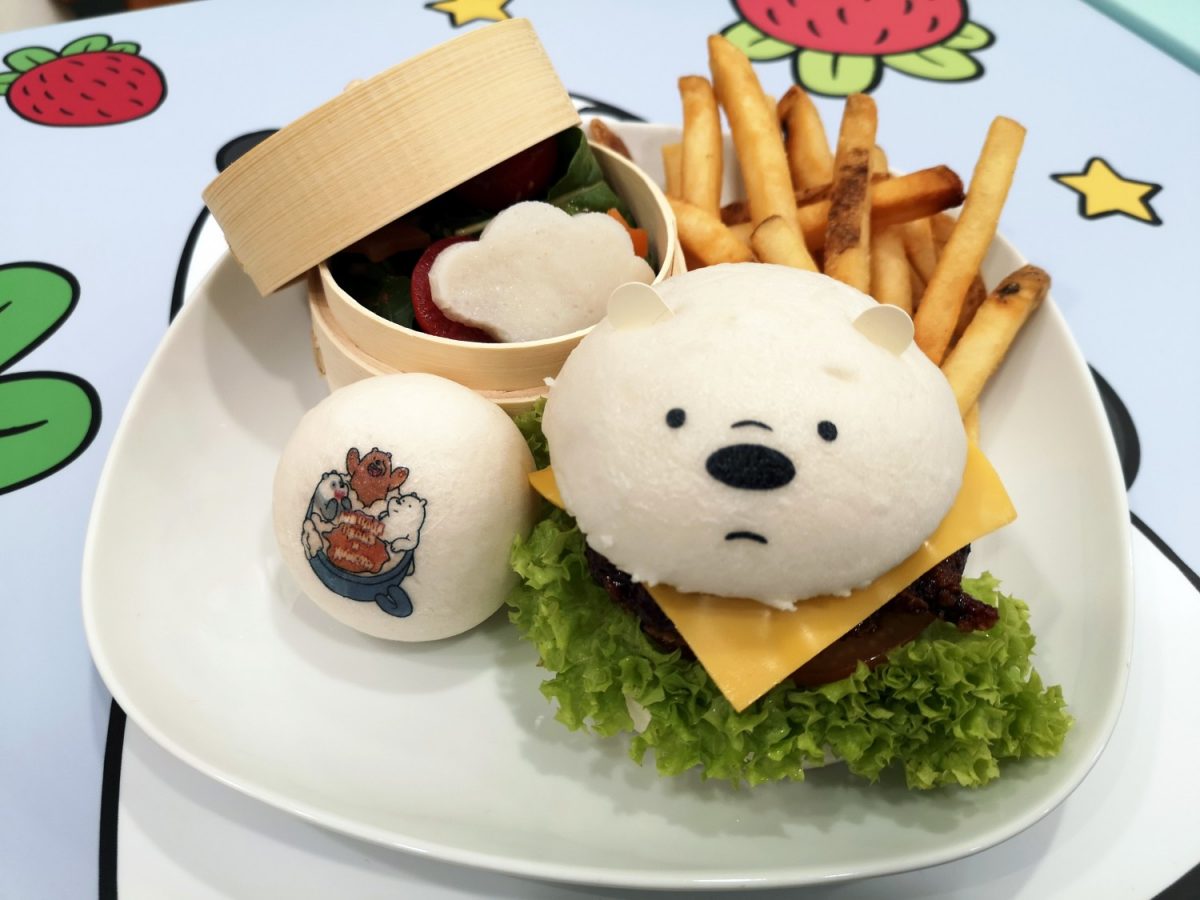 Now, on to the desserts. The stars of the show. Kumoya specialises in desserts and we can totally see why!
The Super Stack-ing Chocolate Brownie Parfait (S$20.90) is every chocolate lover's dream. Get this; house-made brownies, chocolate pudding, dark chocolate crumbles all served together with a freshly-churned Hokkaido soft serve ice cream, strawberries, blueberries AND candy floss. Yeah, we hear you salivating. Need a tissue?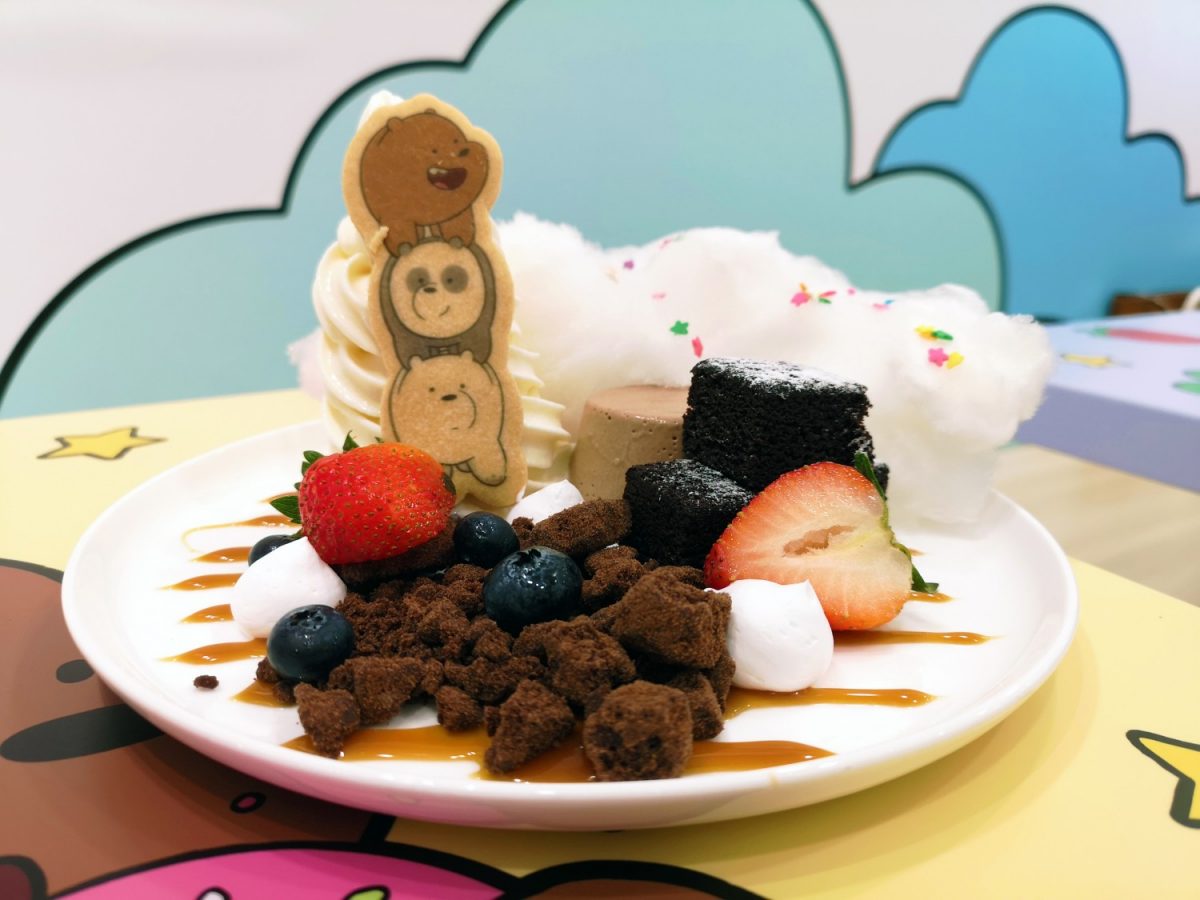 Knock-knock Ice Bear Choco Ball Of Fun (S$23.90) sure lives up to its name. You've got to knock on the dessert (Sorry Ice Bear) to break open the chocolate ball and reveal the surprise; marshmallows, brownies, froot loops and fresh fruits. Served with Hokkaido soft serve too. It's a giant plate of sweetness so we highly recommend sharing it if you're ordering it.
Fans of We Bare Bears will not want to miss this. The food is way too cute so be prepared to take many pictures for your Instagram.
Diners can also stand a chance to bring the bear-bros home with Kumoya's range of specially-imported Grizzly, Panda and Ice Bear merchandise. One extremely lucky diner will even get to walk home with a giant 90cm Ice Bear plushie (worth S$199). Diners will have to spend a minimum of S$108 in a single receipt to enter the lucky draw.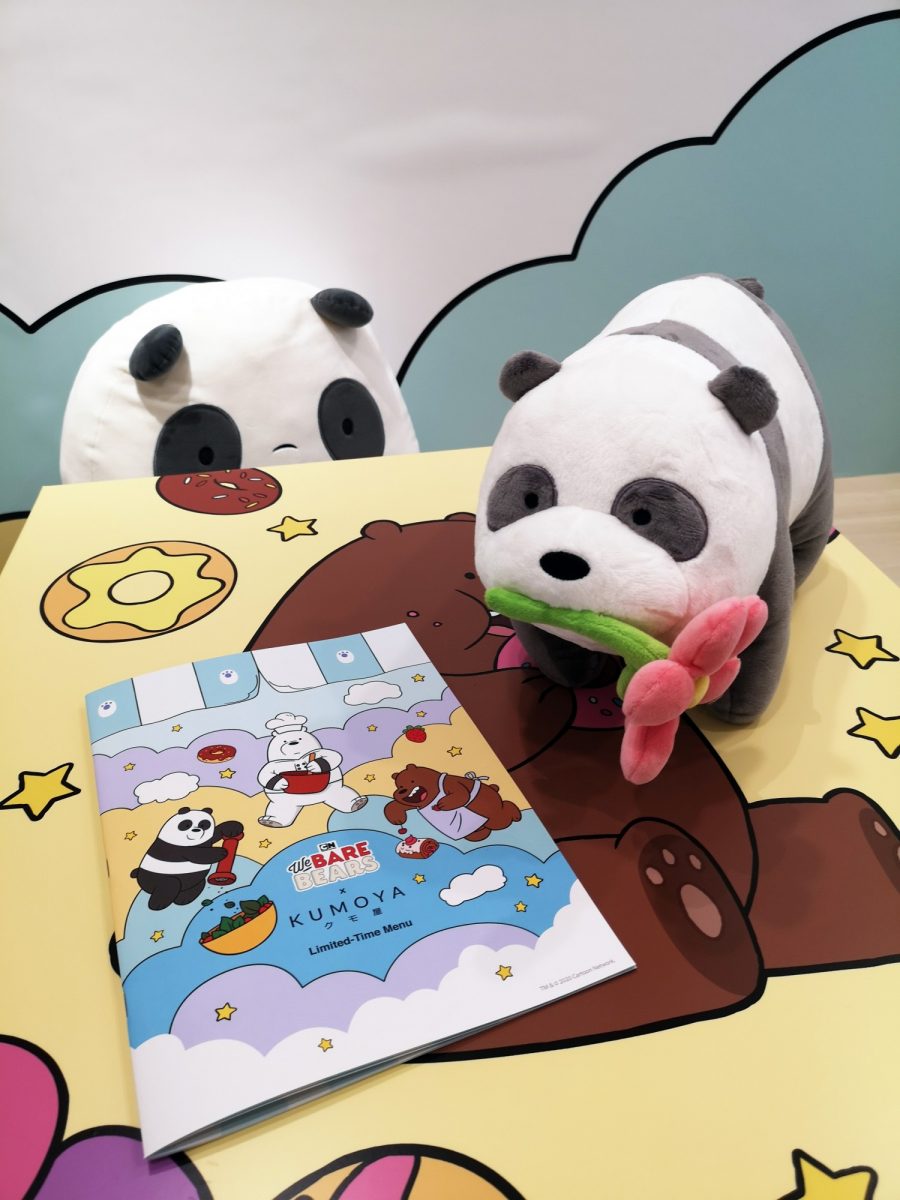 Here are the details for the We Bare Bears pop-up cafe at Kumoya:
Date: 4 January – 5 April 2020
Location: Kumoya @ 8 Jalan Klapa, Singapore 199320
Opening Hours: Closed on Monday. Tuesday – Thursday, Sunday (12pm – 9.30pm). Friday and Saturday (12pm – 10.30pm)
Price Range: S$10.90 – S$26.90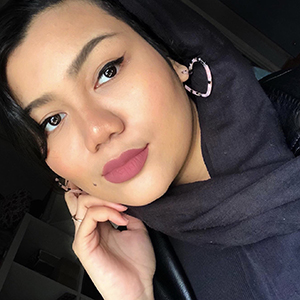 Don't judge a book by its cover, for behind all this makeup, is a geek just like you. To simply put it, superheroes, Star Wars, Harry Potter and all things gore and creepy makes this girly girl swoon.
---

Drop a Facebook comment below!