So it looks like the Nintendo Switch (US$299) is going to cost more than the Xbox One S 500GB (US$299) and PlayStation 4 Pro 1TB (US$399) in Singapore.
Everyone's favourite local online retailer Qisahn just posted the local pricing for the Nintendo Switch in Singapore, and it's going to set you back by at least S$659 if you get the bundle.
Locally, the Xbox One S 500GB Battlefield 1TB is retailing at S$499, while the PS4 Pro 1TB is priced at S$599.
Do note that this is Qishan's pricing and the normal retail bundle is actually S$699, so if you can't find a set and end up buying it from scalpers, don't end up paying too much more.
As far as we know, local distributor Maxsoft is not selling the console only, so this is the cheapest deal for the Nintendo Switch here as far as we know.
Within the bundle you'd be getting the following items:
Nintendo Switch Console (Grey or Neon Blue/Neon Red)
Nintendo Switch Dock
Joy-Con (L and R)
Joy-Con Grip
Nintendo Switch AC Adapter
HDMI Cable
Joy-Con Straps
Legend of Zelda: Breath of the Wild
1,2 Switch
Like when Maxsoft launched the Nintendo Wii here, there's no way to buy the Nintendo Switch standalone console. The Wii was also sold with a forced bundle that included some crappy games that drove up prices.
So what happens if we were to actually buy all the components individually? Breaking down the console and one game plus tax should only set you back by no more than S$529 at the lowest. Here's the math –
Switch with Zelda:
Console: (US$299) ~S$426
Zelda: S$79
Total: S$505 or S$540 with 7% GST
Switch with 1,2 Switch:
Console: (US$299) ~S$426
1,2 Switch: $69
Total: S$495 or S$529 with 7% GST
Considering the the Nintendo Switch has a slant towards families, the sticker price of S$659 in Singapore would make many parents reel in shock.
Throwing in an additional pair of Joy-Con controllers at S$109 would make the check out price a whopping S$768.
As the current console generation looks to be have an expanded lifespan, the price point is extremely outrageous, especially considering that the best console in the market at the moment, the Sony PlayStation 4 Pro, can be bought for just S$599.
With that in mind, Maxsoft, the distributor of Nintendo products in South East Asia, clearly thinks the Nintendo Switch has enough unique features for consumers to forgo the alternatives.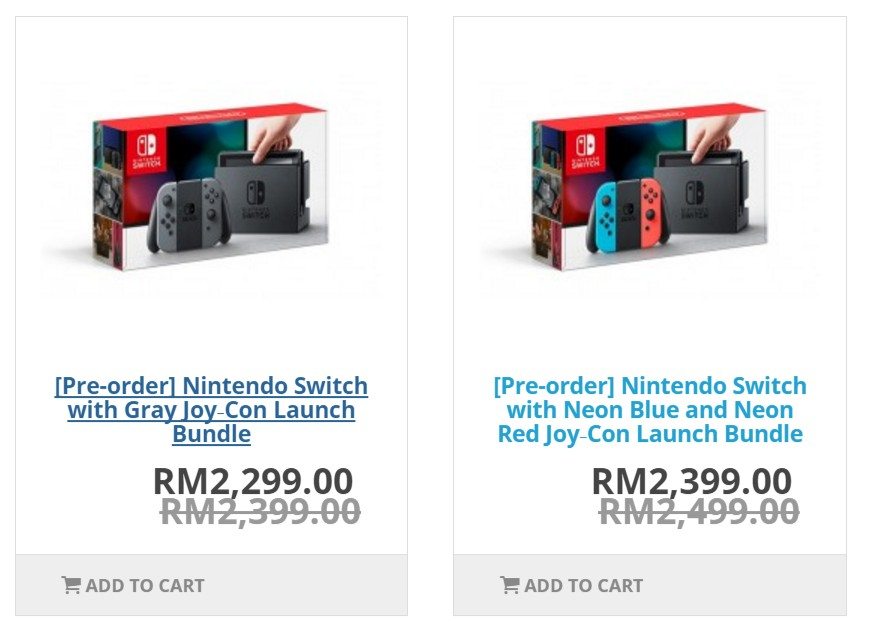 If you're thinking the console might be cheaper across the causeway due to the weak Ringgit, their cheapest console bundle enters the market at RM2299, which translates roughly into S$735 at current rates. So, tough luck there.
One piece of good news? Prices are even lower if you're a Shopee customer with Qishan, and have plans to get the Nintendo Switch solely for Zelda. The console can be purchased WITHOUT 1,2 Switch at S$599 for first 100 Zelda fans, and S$619 thereafter on February 16 at 12pm.
We're not sure how Nintendo allows Maxsoft to continually get away with such awful pricing, especially after the Wii U tanked spectacularly globally. If it's time to switch things up, there has never been a worse time to bring lapsed Nintendo fans into the fold than now.
Gerald currently straddles between his love of video games and board gaming. There's nothing that interests him more than trying out the newest and fanciest gadget in town as well. He dreams of publishing a board game sometime in the future!