In the world of gaming, creativity knows no bounds. From traditional consoles to mobile devices, gamers are constantly seeking new and exciting ways to experience their favorite titles. And now, the realm of gaming has taken an unexpected turn — McDonald's China has announced a Tetris Gameboy shaped like a Chicken McNugget.
The handheld comes with customisation stickers and a carrying case, as well as a removable battery pack. The button layout exhibits a distinctive design tailored specifically for Tetris gameplay. It includes buttons for left and right movements, downward motion, a hard drop feature (activated by pressing upwards), and a singular button for rotating the tetrominoes clockwise. What's more, the device plays a version of the classic "Tetris song" — Korobeiniki — upon launch.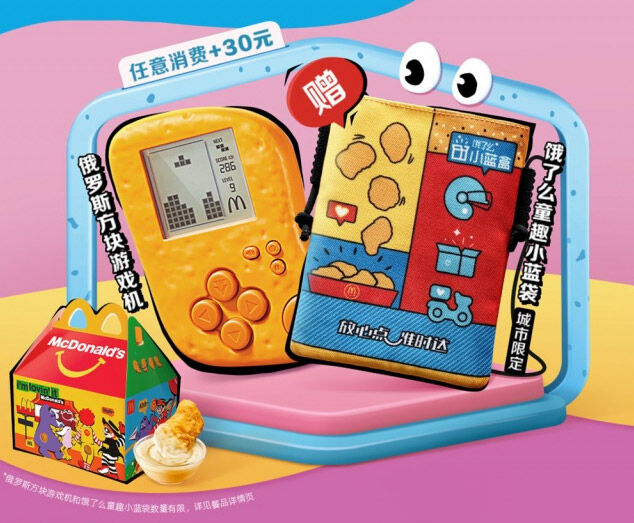 The giant plastic chicken nugget with an LCD screen is part of a promotion to celebrate the 40th anniversary of the Chicken McNugget's premiere in 1983. This makes the iconic treat older than Tetris itself, which was born in Moscow in 1984, where Russian scientist Alexey Pajitnov developed the very first version of Tetris on an Electronika 60.
Playing Tetris on a giant plastic chicken nugget brings a fresh and unconventional perspective to this iconic puzzle game. However, the objective remains the same: players must rotate, move, and stack tetrominoes as they fall from the top of the screen.
A limited quantity of 400,000 Nugget-Tetris machines will be exclusively distributed at various mainland China locations until 27 June, while an additional 100,000 units will be reserved for users of the Ele.me food delivery app. As a result, this unique gaming unit, which can be obtained for 30 yuan alongside a food purchase, has the potential to become one of the rarest officially-licensed Tetris games in existence.