The trailer debut for Spider-Man: Across the Spider-Verse offered a look at the many variants of everyone's favourite webslinger, and some of them will be swinging into Hasbro's Marvel Legends merchandise lineup as toy figurines.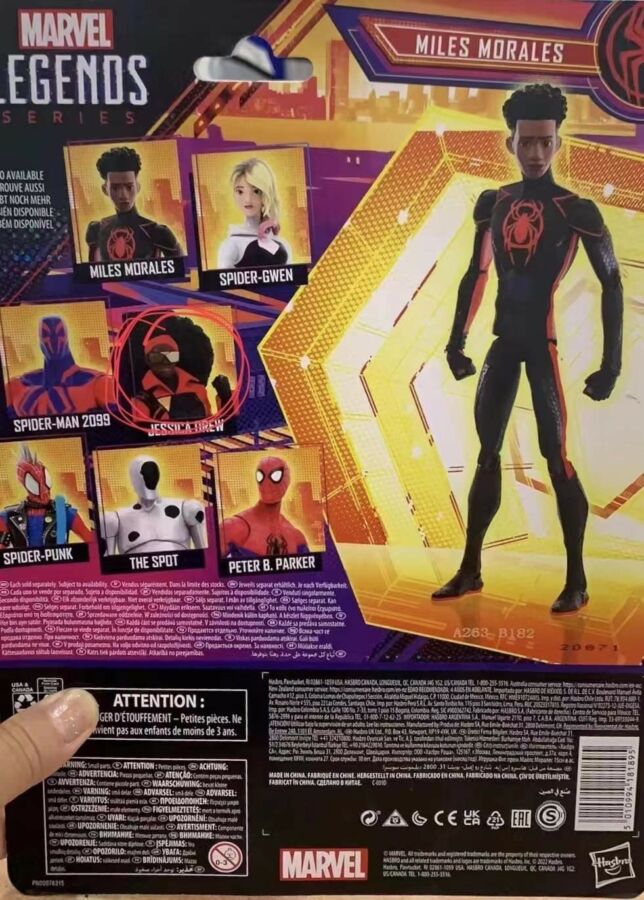 According to a leak posted to the Marvel Studios Spoilers subreddit, the box packaging features seven characters from the highly-anticipated animated film: Miles Morales, Spider-Gwen, Spider-Man 2099, Jessica Drew (aka Spider-Woman), Spider-Punk, The Spot, and Peter B. Parker.
The designs, for the most part, are very much in line with the ones shown in the trailer, and it's unclear if there will be Build A Figure (BAF) models for the other variants that are missing from the main roster, such as Spider-Man India. Judging by the lack of the advertising on the box, however, they are likely not included for this initial release, and may have been set aside for the second wave — if there's one, that is.
There's also no confirmation on whether the Miles and Gwen figurines come with a masked iteration, but chances are that they will. A release date for the Marvel Legends Spider-Man: Across the Spider-Verse toy line has yet to be announced, but it's expected to launch nearer to the movie's 2 June 2023 premiere.
Spider-Man: Across the Spider-Verse, the sequel to Sony's critically-acclaimed Into the Spider-Verse, sees Shameik Moore and Hailee Steinfeld reprising their roles as Miles and Gwen respectively. The pair is joined by Daniel Kaluuya as Spider-Punk, Jason Schwartzman as antagonist The Spot, Oscar Isaac as Spider-Man 2099, Issa Rae as Spider-Woman, and Jake Johnson, who returns to voice Peter B. Parker.