It is not a stretch to say that most people spend a lot of time at home, making it important to ensure that the home is sufficiently decked out to be as comfortable and entertaining as possible. In comes LG with their new line of home entertainment products to upgrade your place.
New OLED and Nanocell Television
First revealed at CES 2019, LG is finally launching its line of OLED and Nanocell TVs that offers upgraded AI pictures and sound quality, thanks to LG's second-generation Alpha 9 and Alpha 7 processors. LG's new line of OLED TVs, the W9, E9, C9, and the flagship 8K 88-inch Z9, all come with the second generation Alpha 9 processor, to bring about an even more intuitive TV experience.
The Alpha 9 Gen 2 processors will be able to help adjust the brightness of the TV display automatically, depending on the ambient brightness of the room. This will be great for those who were complaining that the third episode from the latest season of Game of Thrones was too dark. With the new processor, users will be able to enjoy the Battle of Winterfell a lot more. The new processor is also able to replicate a surround sound experience and fine-tune output according to the content type, which makes it easier to hear voices in a movie or TV show.
LG's 2019 TV lineup will also come with their proprietary ThinQ AI technology, with Google Assistant built-in. So with a simple voice command through the remote control, users will be able to manage their daily tasks, or search for information, all from the comfort of your bed or couch. The 2019 lineup will also include a Home Dashboard that can be accessed through the launcher bar. This dashboard lets users manage their other smart home devices connect via the Google Assistant platform. With this homeowners can simply issue a command into their TV remote and start their robotic vacuum cleaner for cleaning the house while they sit on their couch.
The 2019 lineup will also come with support for Apple AirPlay 2 and Apple HomeKit by the third quarter of the year, so Apple users will be able to easily stream their video and audio content from the convenience of their smartphone.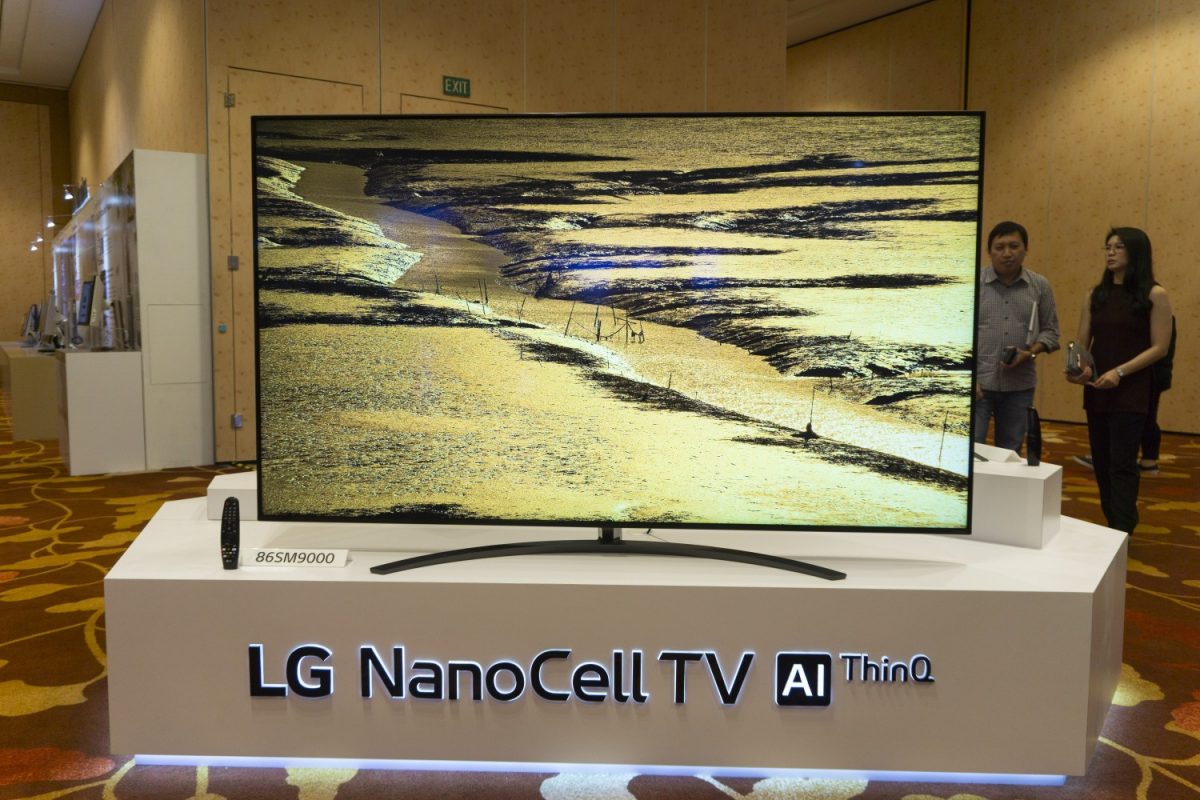 Aside from their OLED lineup, LG is also releasing their updated LED TV lineups, the SM99, SM9X, and SM8X, with the flagship 8K 75-inch SM99. The LED TVs uses nano cell technology which offers stunning colours and imagines, in a sleek TV with ultra-thin bezels. One impressive feature of the TV is that the colours, and images of the display of the Nanocell TVs stay the same regardless of which angle you view it from. Much like the OLED TVs, users will also get to enjoy a 4K HDR experience, giving them cinematic images right from the comfort of their own home.
Here are the prices for the available OLED and LED TVs,
4K OLED TVs
OLED W9 (77-inch): S$34,999
OLED W9 (65-inch): S$10,999
OLED E9 (65-inch): S$6,999
OLED E9 (55-inch): S$5,099
OLED C9 (77-inch): S$18,999
OLED C9 (65-inch): S$5,999
OLED C9 (55-inch): S$4,099
4K NanoCell
SM9400 (86-inch): S$13,999
SM9400 (75-inch): S$8,999
SM9000 (65-inch): S$5,399
SM9000 (55-inch): S$3,599
SM8600 (65-inch): S$4,199
SM8600 (55-inch): S$2,999
SM8600 (49-inch): S$2,399
SM8100 (65-inch): S$3,499
SM8100 (55-inch): S$2,499
SM8100 (49-inch): S$1,699
The true upside of new television models being released would be older iterations dropping in price and, comparatively, these new 2019 models are slight more affordable as well.
Dolby Atmos Soundbars
If you're looking to stay within the same TV ecosystem, LG has new Dolby Atmos soundbars which come with Meridian Audio technology and supports Google Assistant for 2019.
The soundbars are available in three models, SL10YG, SL9YG, and SL8YG, and supports both Dolby Atmos and DTS:X. The three soundbars feature Meridian Audio's Bass & Space technology which helps to give the soundbars a stronger bass, and a more coherent image for an improved soundstage. Aside from Bass & Space, the soundbars also feature Meridian's Upmix technology which works to increase the listener's sound immersion.

Of the three, the one most ideal for mounting on the wall is the SL9YG with its slim form factor, at only 57mm wide. The SL9YG has a 4.1.2 channel, 500W speaker output system, and comes with a gyroscope sensor that is able to automatically detect if it is mounted onto a wall, or lying flat, this allows it to adjust the direction of the sound it produces.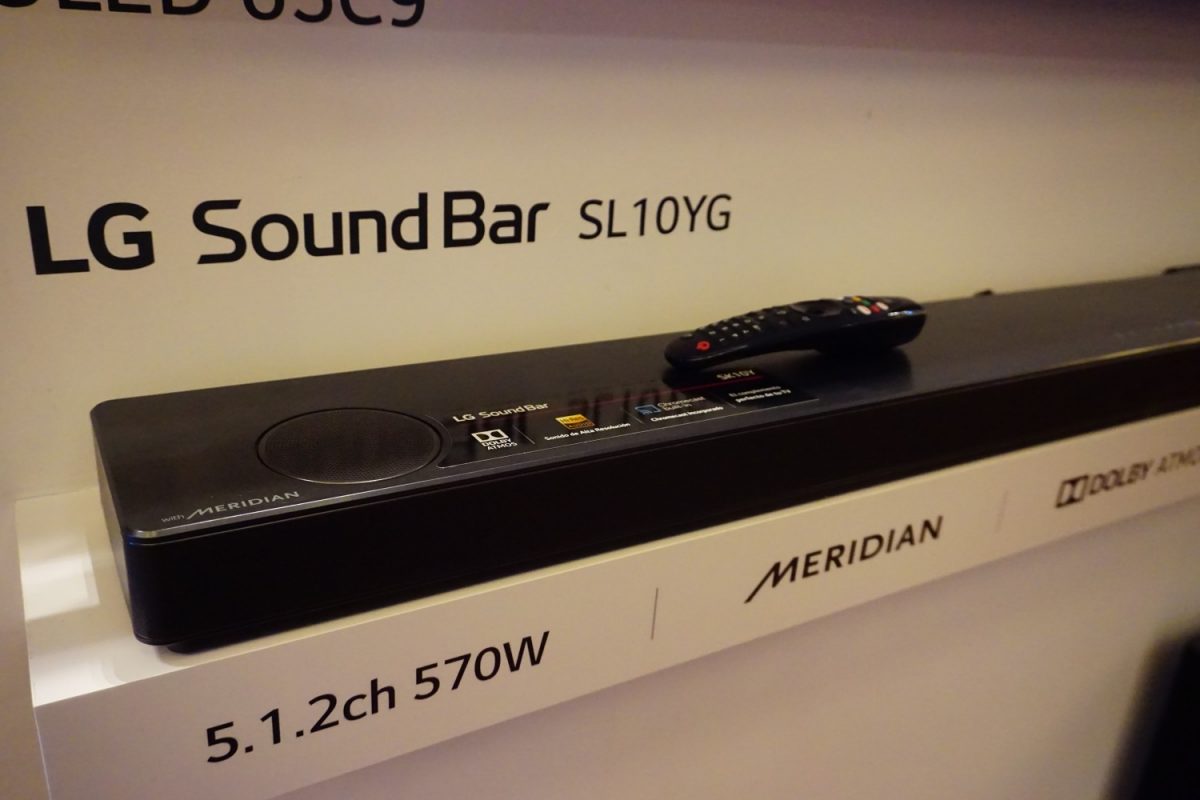 The more power SL10YG supports more channels than the SL9YG, with a 5.1.2 channel, 570W speaker output system, and comes with two HDMI 2.0 inputs. Lastly, the smaller SL8YG has a 3.1.2 channel, 440W speaker output system, and while it does not have as much power as the other two, its small size allows it to complement smaller, more compact TV devices.
Here are the retail prices of LG's 2019 soundbars,
SL10YG: S$1,999
SL9YG: S$1,699
SL8YG: S$999
LG Gram 17
LG touts their flagship LG Gram 17 as being the lightest 17-inch laptop of its class, weighing a mere 1,340 grams, which is lighter than four cans of soda, which is something that LG was more than happy to show off.
The laptop packs a 2560 x 1600 resolution and a 16:10 aspect ratio display which will be great for content creators as at a glance, they will be able to see more of what they are producing without having to scroll around too much.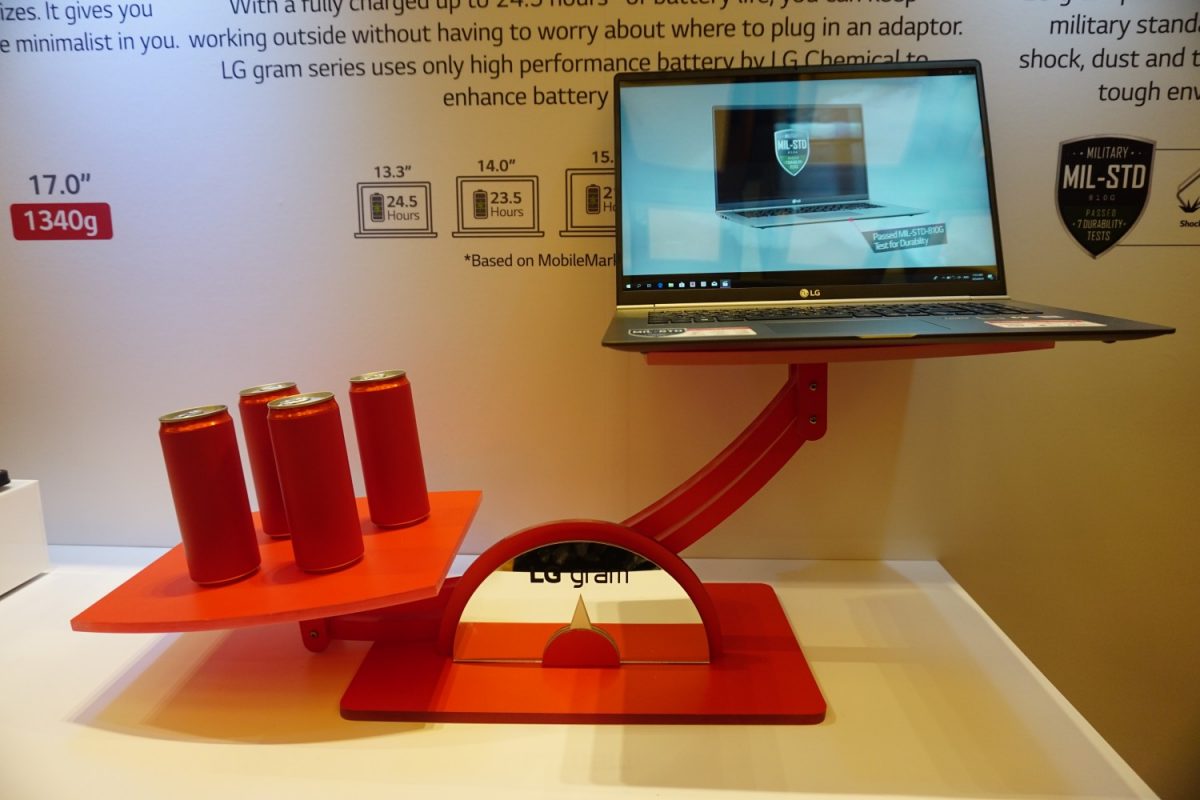 Unique to the LG Gram 17 is its Precision Glass Touchpad which is made from durable glass to offer users a smooth experience when scrolling around with the Touchpad. The Gram 17 is also capable of 19.5 hours of battery life on a single charge, couple that with its lightweight and it is perfect for users that are constantly on the go. Furthermore, the Gram 17 has passed several military-standard tests to ensure that its durability and reliability is of a certain benchmark.
The newest gram will come with the newest 8th Gen Intel Core processors which afford working 4K content with ease. Dual SSD slots and DDR4 Memory allows for expanded performance when working on large files such as videos and images if need be. The last thing any content creator wants when rushing a job is a laptop which is unable to keep up with the pace of work.
The LG gram 17 will come in a Dark Silver colour, and will retail for S$2,799.
Ultrawide And UHD 4K Monitors
Lastly, LG has released its 2019 lineup of monitors that are geared towards users from all walks of life, from creative professionals, to gamer, designers, as well as the casual users. From wider screens, to high dynamic range support and elegant design, the monitors are suitable for any workstations.
Perhaps the most impressive release is the LG 49WL95C which is a 32:9 Curved Dual QHD UltraWide monitor. It has a resolution of 5,120 x 1,440 pixels and provides a similar working setup of two 27-inch monitors, giving users a much wider workspace for multi-screen multitasking. The 49WL95C is also able to adapt according to the users work environment with the Ambient Light Control feature, adjusting the brightness of the screen accordingly to reduce strain on the eye.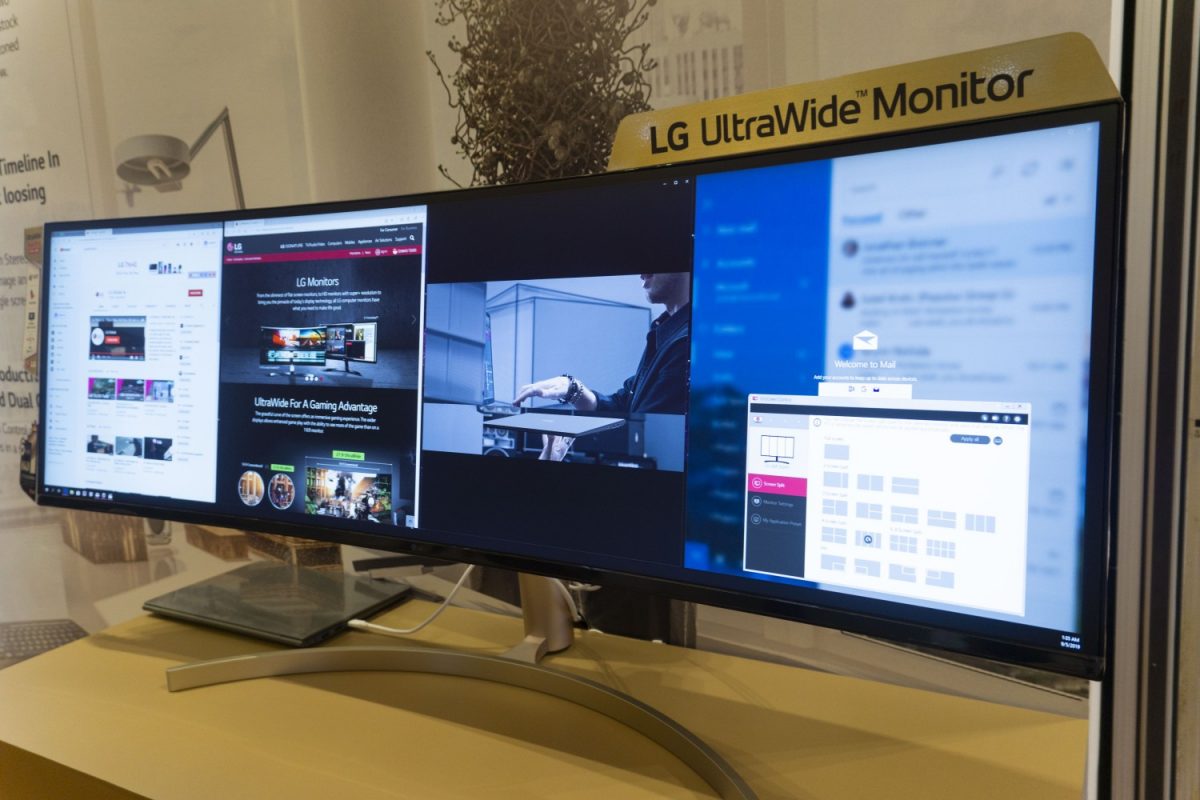 Meanwhile, the LG 34WK95U UltraWide and 32UL950 UltraFine monitors employ LG's Nano IPS panel technology which enables the monitors to achieve digital film industry standard visuals. In other words, users will experience more accurate colours and richer displays, allowing creators to precisely edit their content in post-production. Both monitors also come with Thunderbolt 3 ports to allow for fast data transmission, giving users greater productivity and efficiency.
The other LG UltraWide models in the lineup include the 38WK95C, 34UC99, and 34WK650.
The three monitors all come HDR support for improved visuals and broader contrast in images, as well as Radeon FreeSync to reduce stutter and screen tearing. All UltraWide monitors also come with an elegant edge-arc design stand, and users are able to rotate and angle the monitor however they like for a more comfortable viewing experience.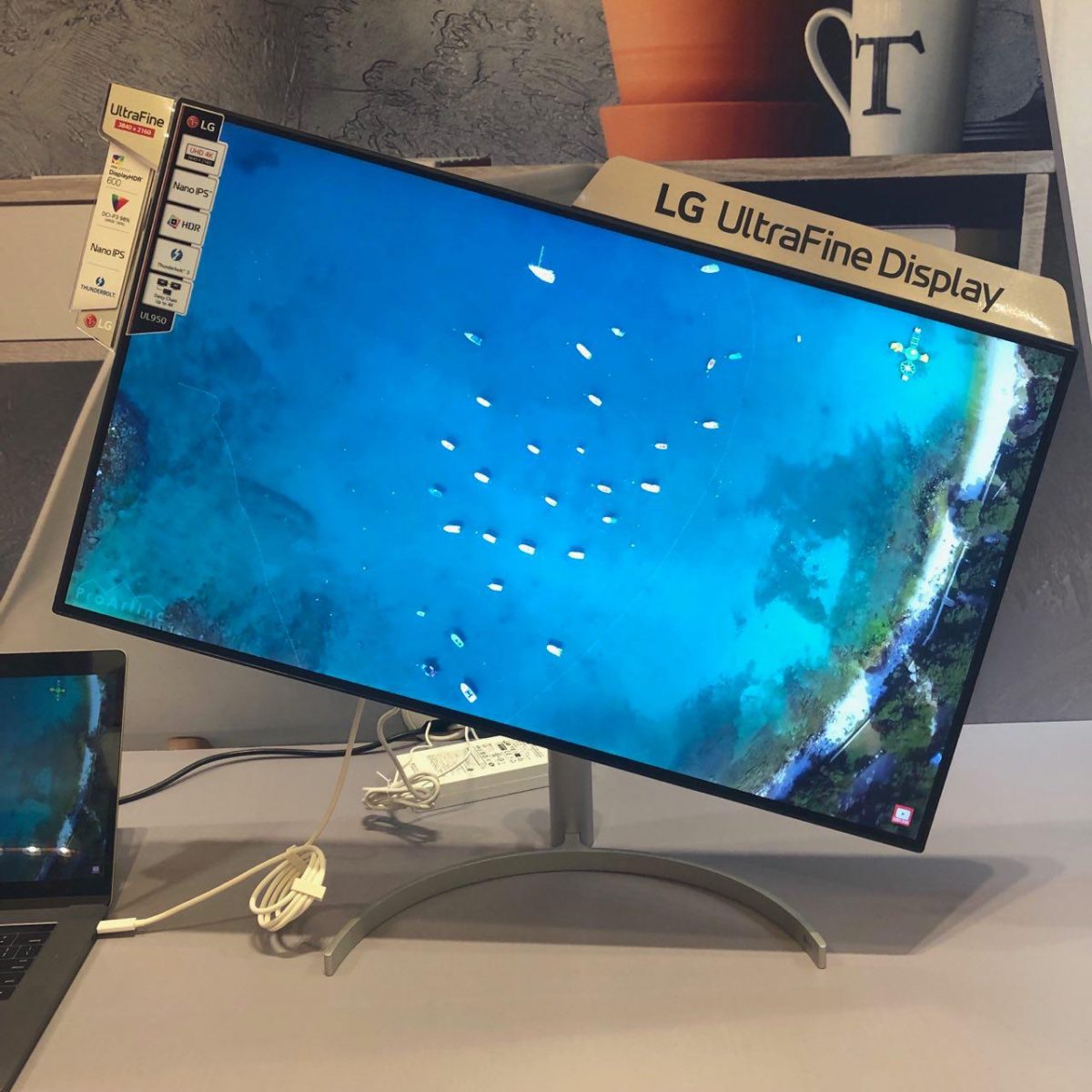 LG is also releasing a line of UHD 4K monitors that is capable of producing images of high colour accuracy. The monitors 27UL850 and 27UL600 are capable of producing displays with even better brightness, with more attention given to highlights, shadows, and silhouettes, when it is connected to an HDR-capable console or an HDR-supported graphics card.
Both monitors come with Radeon FreeSync, Dynamic Action, Black Stabilizer, Game Mode, FPS, and RTS mode which lets gamers customise the monitors to suit their own gaming preferences.
Here are the prices of the various monitors in LG's 2019 lineup,
49WL95C (49-inch flat): TBA
34WK95U (34-inch flat): S$2,399
32UL950 (31.5-inch flat): S$2,099
38WK95C (37.5-inch curved): S$2,199
34UC99 (34-inch curved): S$1,099
34WK650 (34-inch flat): S$699
27UL850 (27-inch flat): S$999
27UL600 (27-inch flat): S$799
---

Drop a Facebook comment below!