She is the grandest of them all, and as an ode to Carrie Fisher, Legoland Malaysia unveiled a new display of Princess Leia Organa Solo, cast in Lego pieces of course.
And by doing this in celebration of the 40th anniversary of Star Wars in the month of May, the five-year-old theme park ensured that any and all Star Wars fans in the region get to see this new incarnation of Princess Leia for quite a while.
To be housed in the park's Star Wars Lego Miniland, the close to life-size art piece is the often seen Princess Leia based on the animated series Clone Wars look, together with her faithful protector droid, R2-D2.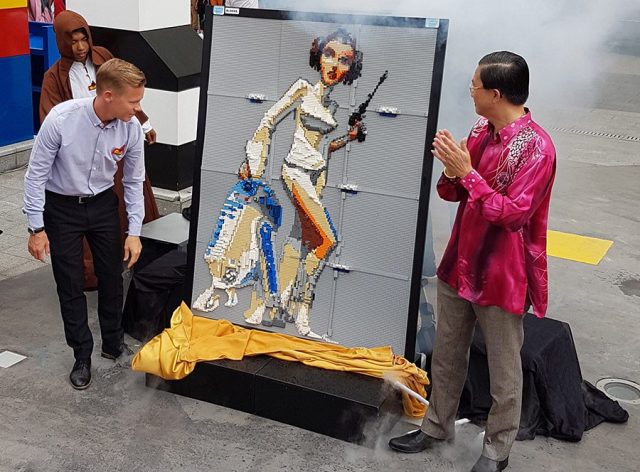 If you find the piece familiar, it's also because Gentle Giant released a maquette of this particular art way back in 2006, as part of the 30th Anniversary of Star Wars.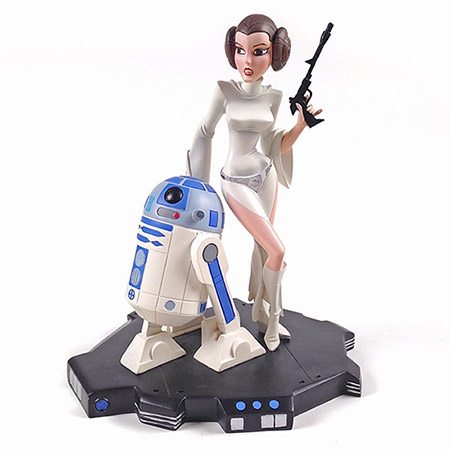 Granted, there are probably thousands of variants of iconic Princess Leia images out there, and while the Lego figurines place a great spin on Star Wars, a close approximation based on looks is not ranked that highly. Instead, the park has opted not to simply do another lifesize Leia Lego statue, and opted for something more dignified instead.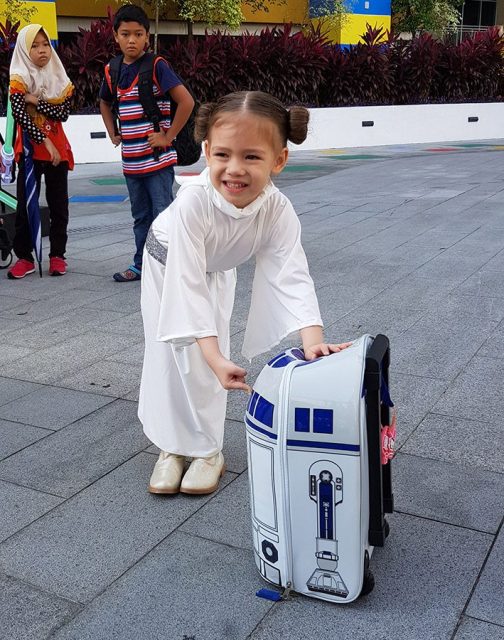 And if you drop by the park in May, you can join in with the dozen or so fun filled activities it has lined up for Star Wars fans.
Limited Edition Lego Star Wars Days Duplo Brick
What's a Lego themed event without a special special brick? The park has been known to create special bricks for limited distribution, and this year, it's a special edition Star Wars 40th Anniversary edition.
To get your hands on this, you need to sign up for a special Star Wars Passport Scavenger Hunt. There are six tasks that you need to complete, and six stamps to collect around the park, and the end prize, aside from a Rancor pin badge, postcard and poster, is this special brick.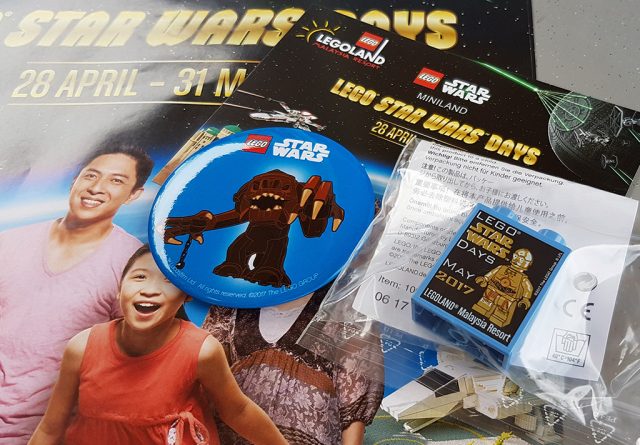 There's a catch though. The simple tasks, of taking the new Star Wars Miniland tour, and answering 3 questions, is super easy. (What's the most popular ship from the Star Wars Universe? Hint: It's not the X-Wing or TIE Fighter). Spend some time, and you can even create a brick, made up of smaller Lego bricks, that will be used to form a massive Lego R2-D2 unit.
Win a speed run Lego building contest? Here's a tip – you don't have to win with your timing, as all you need is to actually build R2-D2 or BB-8 based on the instructions, in any colour, and you get the stamp.
The catch is that one stamp needs to be obtained from participation in the new Jedi Academy. That's when you train as a Padawan, and fight Lord Vader. And only kids are allowed to participate. I saw a 14 year old boy try to sign up, and he was told that the Jedi Academy was meant for younger kids, soooo……
Our recommendation? Use your Jedi Mind Trick technique to convince the person with the stamp that your "child" completed the Jedi Academy….. Now move along…..
Jedi Academy
Oh the younglings will love this. You sign them up for the Academy and get a loan Jedi uniform and lightsaber. The crew will teach tem lightsaber combat techniques, to prepare them for the future… which happens in the next 5 minutes, when Lego Lord Vader shows up, to fight the class.
It's quite a sight to see little kids wield the lightsaber, and finally use their newfound skills against Darth Vader.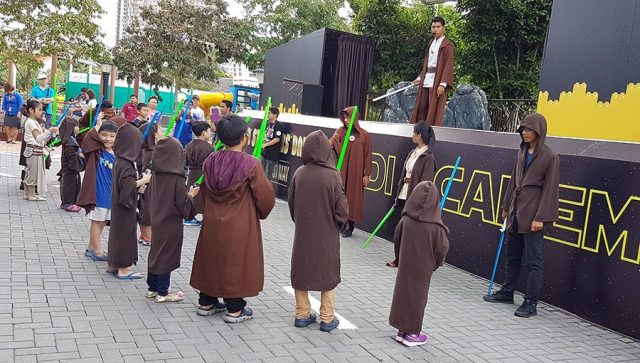 Parents, prepare your cameras as the graduation exam is a showdown with either Darth Vader or a Stormtrooper.
Graduates will pick up a special Lego Darth Vader pin badge at the end.
Our recommendation? Actually, only half the class with fight Darth Vader on stage, and in the session we saw, the host draw an imaginary line that split the session in two. The kids on stage left fought Vader up on stage, so if you want your child up on stage, make sure they stay on the left side of the stage, as they go up stage left, and exit stage right.
Spot The Stormtrooper Minifig
Staff at Legoland Malaysia wear a name tag that has a space for a minifig. If you spot one you like, you can exchange it for a minifig that you have. In May, spot the Stormtrooper minifig on a staff member's badge, and you can redeem a prize on the spot.
Our recommendation? Do it once you are in the park, as the other activities in the park will take up a lot of time, and something as simple as looking out for a one-inch tall Stormtrooper might slip your mind.
Star Wars Meet And Greet
Here's your chance to take a photo with the granddaddy of bad guys, Lego Darth Vader. And on the weekends, look out for more members of the 501st Legion as they populate the crowds at Legoland Malaysia with Rebel soldiers, Imperial Stormtroopers, Sith Lords and apprentices, as well as heroes of the Republic.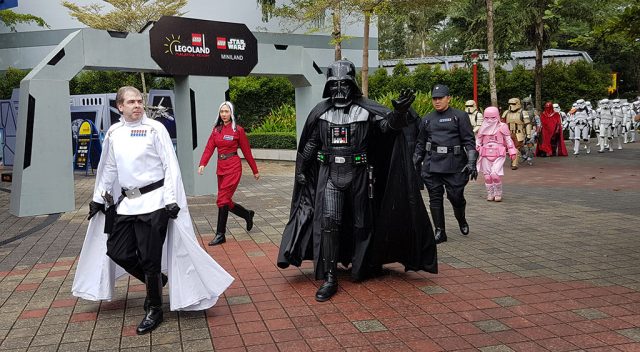 Our recommendation? The park can get crowded on weekends, but that is also the best time to drop by for a visit. You can opt to pay about RM$1,200 (S$390) for a night stay at the Legoland Malaysia Resort, or opt to stay at the Somerset Medini Iskandar Puteri service apartment, for about S$100 a night. You can then be the first in the park on Saturday and Sunday, to make full use of your lead time to complete the tasks, and walk away with a collection of sweet Star Wars memories.
Help Build the Giant Lego Yoda Mural
Help do your part to build a square portion of the giant mural of Lego Yoda at the Legoland Hotel lobby area. This activity is open only to hotel guests though.
New Star Wars Sets And Bonus Lego Polybags
A bunch of new Star Wars have been launched recently, and the store at Legoland Malaysia has them, including the 75144 Snowspeeder, 30611 R2-D2 and the 30496 U-Wing Fighter. Oh wait, but R2-D2 and the U-Wing are actually not for sale. It does come free if you spend a mere RM$300 and RM$100 respectively, so what are you waiting for?
Pick up the Death Star set, and the Lego Kylo Ren Command Shuttle is yours, free.
Our recommendation? We don't have to tell you this, but if you split your purchases into RM$300 and RM$100, you get to pick up multiple R2-D2 and U-Wing polybags. So buy in RM$300 or RM$100 denominations, and walk away with more polybags, as opposed to buying RM$500 worth of Lego sets, and only walking away with one polybag.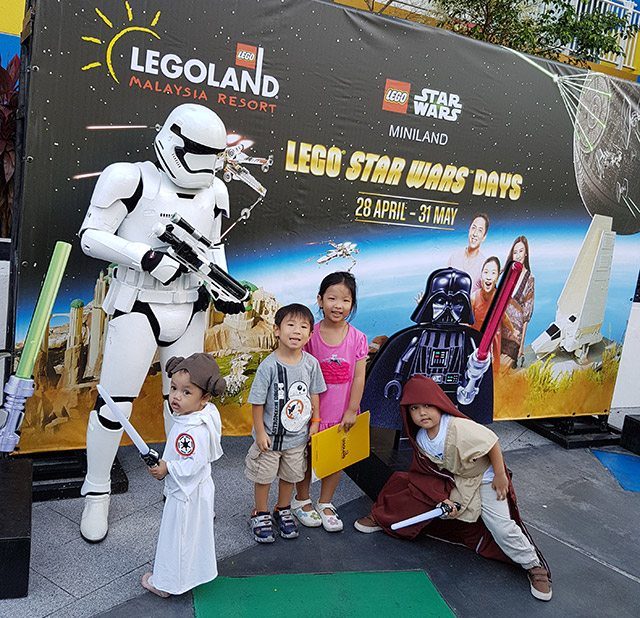 ---

Drop a Facebook comment below!