Teased on March 10 (Mar10), LEGO has finally given us a closed glimpse of their upcoming collaboration with Nintendo.
Featuring Mario (who else), LEGO's latest licensed product seems to have been long in the making. Eschewing traditional Minifigure sized versions of the world's famous plumber, LEGO seems to have gone all-in with this partnership.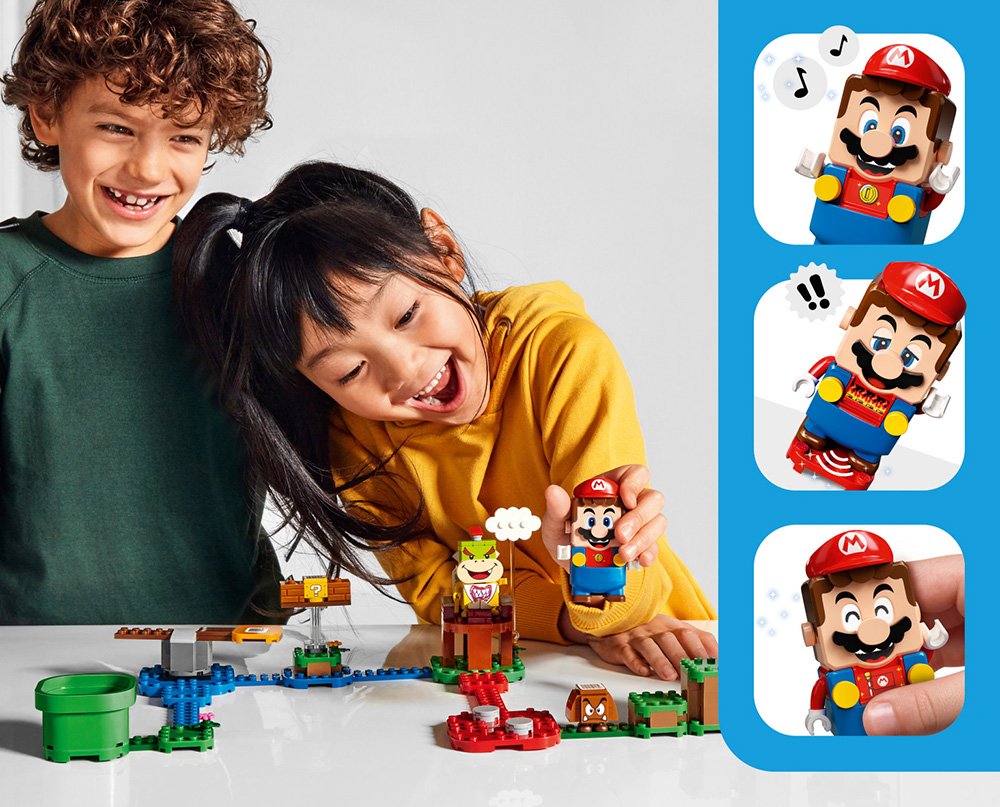 LEGO's Mario character will be Brickheadz sized and will feature a screen and speaker on the figure itself. What's more, Mario will react to the level built around it. It's certainly a sight to behold –
While a whole slew of sets have been leaked, it seems that from what we can spy from the video, there will be at least:
Baby Bowser
Koopa Troopas
Goombas
Pirana Plants (built)
Yoshi
Bloopers (the squid)
The coolest part of LEGO Mario is its ability to react to the playsets itself. His eyes, mouth, and chest have LED displays that seem to contain a myriad of reactions.
We're calling it now, these sets will definitely fly off the shelves on release and there will be a ton of multicoloured Yoshis as well.
Are you ready to slim that your wallet by a great deal? Here's the full list of sets slated to roll out –
LEGO Super Mario 71360 (231 pieces, 59.90 Euro) Looks like a starter set
LEGO Super Mario 71361 (23 pieces, 3.99 Euro) Looks like an accessory or blind bag
LEGO Super Mario 71362 (468 pieces, 49.90 Euro)
LEGO Super Mario 71363 (180 pieces, 19.90 Euro)
LEGO Super Mario 71364 (133 pieces, 19.90 Euro)
LEGO Super Mario 71365 (217 pieces, 29.90 Euro)
LEGO Super Mario 71366 (132 pieces, 29.90 Euro)
LEGO Super Mario 71367 (205 pieces, 29.90 Euro)
LEGO Super Mario 71368 (464 pieces, 69.90 Euro)
LEGO Super Mario 71369 (1010 pieces, 99.90 Euro) Most pieces, most expensive
LEGO Super Mario 71370 (11 pieces, 9.90 Euro)
LEGO Super Mario 71371 (13 pieces, 9.90 Euro)
LEGO Super Mario 71372 (11 pieces, 9.90 Euro)
LEGO Super Mario 71373 (11 pieces, 9.90 Euro)
Based on what we know, these sets will be out in the market sometime in 2020.
Check out the full press release below –
The LEGO Group and Nintendo partner to take legendary brick-building to a new level
Designers from both companies join forces to create a new physical play experience that brings Super Mario to life in the world of LEGO bricks, launching later this year.
BILLUND, March 12, 2020: The LEGO Group announced a partnership with Nintendo that will change the way people interact with Super Mario in the physical world and engage in LEGO experiences.
Both companies share a passion for innovation and play and their collaboration has led to a reimagination of the LEGO building experience, enabling an entirely new way to play inspired by the beloved video game icon, Super Mario.
Neither a video game nor a traditional LEGO brick-based set, LEGO Super Mario is a new product line that features an interactive LEGO Mario figure who collects coins in real-life game levels created with LEGO bricks. The new line will let kids experience the playful world of Super Mario like never before. Super Mario will be brought to life in the physical LEGO world and new levels of challenge and styles of play will be part of the iconic LEGO experience enjoyed by generations.
The news was also shared in a video posted by the LEGO Group and Nintendo earlier today.
The video, which hints at what fans can expect when LEGO Super Mario launches later this year, shows a player using an interactive Mario figure to collect coins in a real-life game level that has been created with LEGO bricks.
"We are very excited to bring Mario into the physical world through interactive and social LEGO play", said Julia Goldin, Chief Marketing Officer, EVP of the LEGO Group. "With this experience we will help millions of kids with love for Mario to engage and play in a completely new way, where they are in control of creating and playing games with their favourite character. By seamlessly incorporating the latest digital technology, LEGO Super Mario is a highly social, interactive and collaborative experience for kids."
"I have always liked LEGO products and how they help children use their imagination to play", said Takashi Tezuka, Executive Officer and Game Producer of Nintendo Co., Ltd. "The new product we created together with the LEGO Group seeks to combine two different styles of play – one where you freely build the world of Mario and the other where you play with Mario in the very world that you have created."
LEGO Super Mario will launch later this year, and more information will be made available in the future.
Gerald currently straddles between his love of video games and board gaming. There's nothing that interests him more than trying out the newest and fanciest gadget in town as well. He dreams of publishing a board game sometime in the future!
---

Drop a Facebook comment below!