Subscription services are all the rage now and on the mobile phone end, Apple wants a piece of the pie.
On the PC front, Xbox has been churning out stellar value with their Xbox Game Pass and Apple is looking to capture some of that magic.
In the past few months, we're seeing Apple Arcade becoming a solid addition to the mobile gaming arena. And we're not talking about clickbait, low-quality games.
With the addition of Layton's Mystery Journey to the stable, Apple users are getting a solid title which many might have missed.
In the past, Layton's Mystery Journey was a Nintendo DS-only release that some folks might not have. But pretty much everyone has a mobile phone these days, and Apple is pushing out solid value on this front.
Here's a brief description of the game:
Join Katrielle Layton in the heart of London, as she becomes embroiled in a casual, comical, quizzical quest, which has its roots in our new hero's search for her missing father, Professor Hershel Layton. You'll be whisked around London's famous landmarks, from the Houses of Parliament to Tower Bridge, following Kat on her trusty bicycle, solving case after unlikely case, until she unwittingly uncovers the Millionaires' Conspiracy.
Help Kat and company discover clues, unravel mysteries, deduce the truth, and solve original puzzles! Redecorate the agency and redress Kat in various outfits to suit the case at hand (or your mood). With twelve intriguing cases, seven multi-millionaires, and one whopper of a conspiracy, will Kat ever be able to find the missing professor?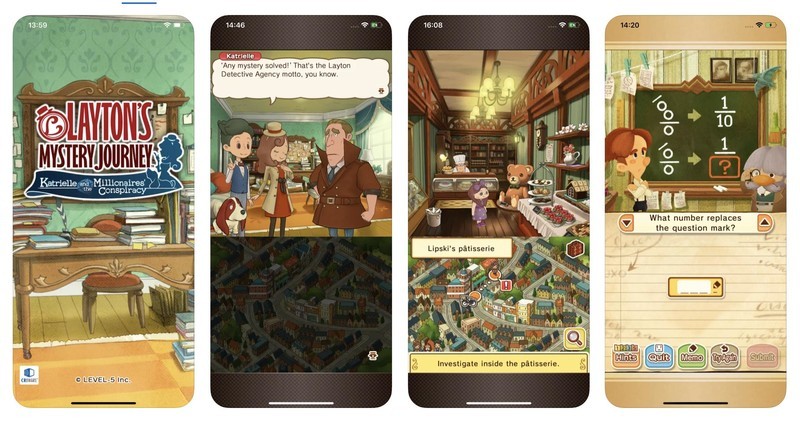 Fair warning, for a puzzle game, the Professor Layton series of games are extremely addictive. One can easily lose themselves and completing the game in one sitting. Layton's Mystery Journey takes about 18 hours for a complete run so be warned. As seen above, the game has gotten some tweaks to fit the UI into a taller mobile phone frame.
Layton's Mystery Journey is out now on the Apple Arcade and has pretty much sorted out your weekend.
Gerald currently straddles between his love of video games and board gaming. There's nothing that interests him more than trying out the newest and fanciest gadget in town as well. He dreams of publishing a board game sometime in the future!
---

Drop a Facebook comment below!