While we would have preferred an actual sequel, L.A. Noire will be making its appearance on all modern day console and even VR!
The game certainly had its fair share of issues right from the start and compared to Rockstar's other stable of works, this might be considered one of the less impressive titles. However, that being said, it also highlights how impressive the company's pedigree is.
Out of the four versions, I'm actually looking forward most to the Switch and VR versions of the game. Switch owners will get a complete original game with additional downloadable content plus specific enhancements making full use of the console's touch display. Over on the VR side of things which will be exclusive to the HTC VIVE seven select cases from the original game rebuilt specifically for a virtual reality experience. The rest of the guys? Their stuff looks prettier.
Honestly, to me, a Rockstar game, such as L.A. Noire is all about the story. So I'd take a new experience anyday over a new gloss of paint.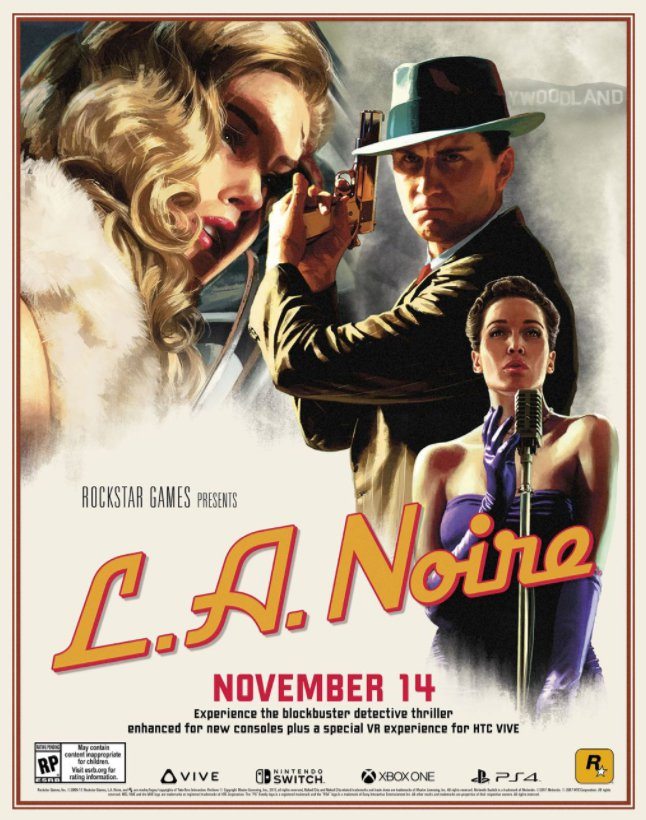 Here's the full rundown on what to expect on November 14 2017 –
L.A. Noire: The VR Case Files for HTC Vive delivers seven of the original engrossing, self-contained cases from L.A. Noire rebuilt specifically for virtual reality, blending breathtaking action with true detective work to deliver an unprecedented interactive experience.

L.A. Noire for the Nintendo Switch features the complete original game and all additional downloadable content, with specific enhancements including a Joy-Con mode with gyroscopic, gesture-based controls, HD rumble and new wide and over-the-shoulder camera angles, plus contextual touch screen controls for portable detective work.

L.A. Noire for PlayStation 4 and Xbox One delivers the complete original game and all additional downloadable content with a range of technical enhancements for greater visual fidelity and authenticity, including enhanced lighting and clouds, new cinematic camera angles, high resolution textures and more.

Plays natively in 1080p for the PlayStation 4 and Xbox One consoles, and stunning 4K for PlayStation 4 Pro and Xbox One X, these versions capture the grit and grime of the City of Angels like never before.
Next up, Red Dead Redemption please!
Gerald currently straddles between his love of video games and board gaming. There's nothing that interests him more than trying out the newest and fanciest gadget in town as well. He dreams of publishing a board game sometime in the future!
---

Drop a Facebook comment below!

---