With Jurassic World: Fallen Kingdom finding its way to theatres on 7th June, a taste of Isla Nublar is coming to Plaza Singapura, promising dinosaur-themed fun for the entire family.
A whole slew of activities are planned for the Jurassic World: Fallen Kingdom Adventure, with the highlight being the opportunity to encounter a man in a dino suit, uh, I mean a Raptor right in a shopping mall in town!
The Universal Studios Singapore Raptor Encounter will be a feature of the Jurassic World: Explore and Roar event at the Resorts World Sentosa theme park, but only on the 26th and 27th of May, the Raptor will be on show at Plaza Singapura at 1pm, 3pm, 5pm and 7pm.
They've gone all in with the Raptor Encounter. The Raptor is brought out of her cage by an "experienced wrangler and behavioural expert", who uses a clicker and warns of her unpredictable behaviour. He fields questions from the audience for about 20 minutes and shares more about his experiences rearing her from a young age.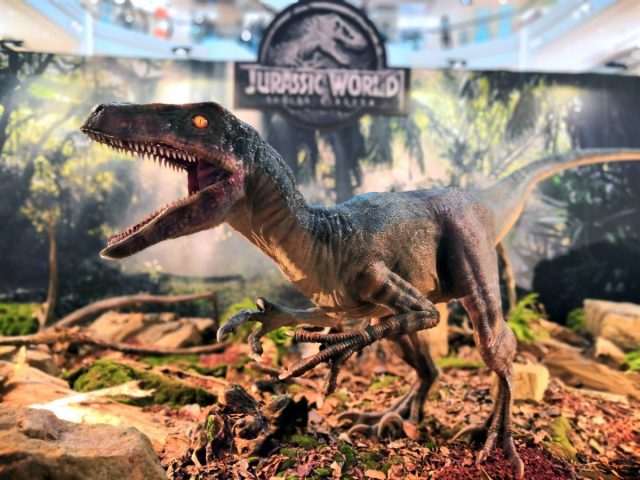 Check out the detailed, life-sized sculpture of Blue, Owen's favourite velociraptor, and snap a photo with the Jeep Unlimited Wrangler on display. You can also try your hand at the Jurassic World Pinball game at the Gaming Zone, or go for a virtual spin in Jurassic World VR.
Kids can search for fossils in the Sandpit Excavation Site, and stand a chance to win collectible dinosaur trading cards (5 different cards can be collected each week), or join in the massive LEGO building activity to construct a T-Rex out of 90,000 LEGO bricks. Toys and merchandise for Jurassic World: Fallen Kingdom are also on sale, including a new range of items from Mattel, LEGO, and more.
Spend S$100 or more on LEGO products and you get to redeem a free LEGO 30382 Baby Velociraptor Playpen polybag set.
If you need a refresher, head down with your friends for a chill night out at the free Jurassic Park 25th Anniversary Celebration Screenings at the outdoor atrium of Plaza Singapura on the following dates:
25 & 26 May (8.00pm) – Jurassic World
1 & 2 June (8.00pm) – Jurassic Park
8 & 9 June (8.00pm) – The Lost World: Jurassic Park
15 & 16 June (8.00pm) – Jurassic Park III
A great way to take a break from shopping or bring the kids down for a fun dinosaur-filled day, Jurassic World: Fallen Kingdom Adventure is held at the Main Atrium (Level 1) of Plaza Singapura from 25 May to 17 June, 11am to 9pm daily.
---

Drop a Facebook comment below!