Joss Whedon may be known for his work on superhero movies, such as Justice League, and both Avengers movies, but before the era of cinematic superheroics, there was his much beloved but short-lived sci-fi series Firefly.
Take my love, take my land,
Take me where I cannot stand.
Released in 2003, the much more authentic space-western opera revolved around a band of soldiers, mercenaries and seedy characters living on the fringes of space faring society, brought together in the wake of a civil war. The show was eventually cancelled after just 14 episodes, but the Nathan Fillion-led series managed one theatrical movie, and has since then gained a cult following, where words like "Browncoats", "Reavers" and "the Alliance" are exceedingly commonplace.
I don't care, I'm still free,
You can't take the sky from me.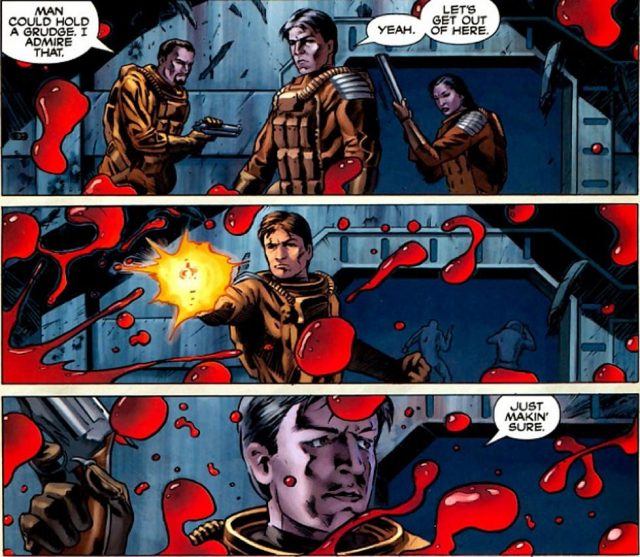 Following a brief resurrection in 2005 with standalone feature film Serenity, and some comic books, the franchise has all but fell off the grid. Still, fans held a glimmer of hope that the lore of Whedon's world will be revisited again one day, especially since its potential allowed for more stories to be told.
Now, their prayers have been answered.
Take me out to the black,
Tell them I ain't comin back.
Come Fall 2018, the adventures of the Browncoats are set to continue in a series of novels by Titan Books and 20th Century Fox Consumer Products. Considered to be official titles within the Firefly canon, the book collection will see Whedon serving as consulting editor, with each book focusing on a different character:
Firefly: Big Damn Hero, by Nancy Holder (October 2018)
Captain Malcolm Reynolds finds himself in a dangerous situation after being kidnapped by a bunch of embittered veteran Browncoats.

Firefly: The Magnificent Nine, by James Lovegrove (March 2019)
Jayne receives a distress call from his ex-Temperance McCloud that leads the Serenity crew to danger on a desert moon.

Firefly: Generations, by Tim Lebbon (October 2019)
The discovery of the location of one of the legendary Ark ships that brought humans from Earth to the 'Verse promises staggering salvage potential, but at what cost? River Tham thinks she might know…
Burn the land and boil the sea,
You can't take the sky from me.
It may not be what TV fans are hoping for, but there's at least some assurance regarding quality. Whedon has always expressed caution in bringing the sci-fi title back, fearing that a continuation won't live up to expectations, but given how he's signed off this, it seems a faithful, top-notch adaptation is in order.
Those who harbour an interest in literature may recognise some of the names as well, who have established themselves as recognisable genre authors, which means it's truly high quality all around.
After Fox's cancellation of the series – considered to be one of their worst industry mistakes –, reviving Firefly in novel form is perhaps the next best move, although with that also comes with an even lower chance of it being given another chance on the small screen.
Still, at least fans are once again presented with the opportunity to explore the sci-fi Wild West, and have their lingering questions from Serenity answered – hopefully.
There's no place, I can be,
Since I've found Serenity.
And you can't take the sky from me.
---

Drop a Facebook comment below!