February is proving to be a very good month for LEGO fans in Singapore. Besides the release of The LEGO Movie 2 in theatres last week, VivoCity is also holding the largest ever LEGO event in Singapore till 24th February.
Meanwhile, chain restaurant McDonald's is also releasing a series of The LEGO Movie 2 Happy Meal toys.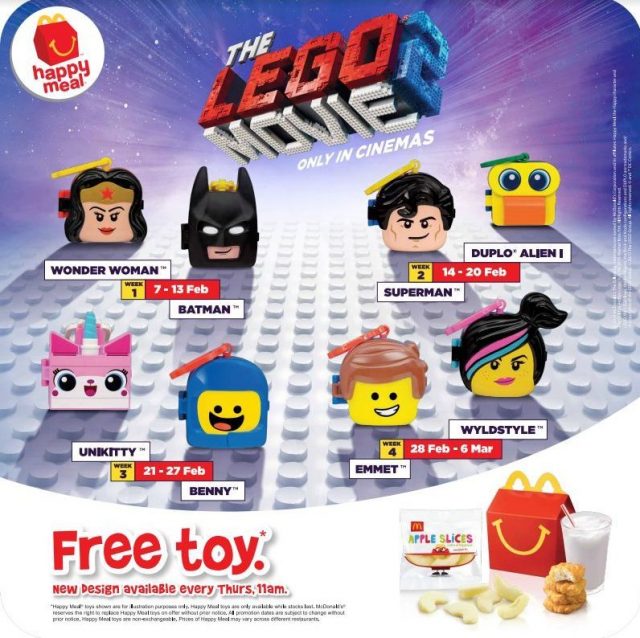 These adorable toys are based off popular characters from the movie, such as Batman and Emett. At first glance, they might just look like keychains but open them up and you'll find various mini-games inside them. So you or your kids can hook them onto your bags or belt and carry them around.
---
Wonder Woman
The Wonder Woman keychain opens up to reveal a simple ring toss game, with the Duplo alien as the target. The toy also comes with three small rings for you to play with. Simply attach the Duplo alien to the Wonder Woman keychain and you are all set to play. Now you won't need to attend a carnival just to get a chance to play a ring toss game.
Fun Factor: 4/5
---
Batman
The Caped Crusader of Gotham is often an enigmatic figure, choosing to enact his brand of justice in the dead of night. Hence what better mini-game for the Batman keychain to have then a maze puzzle. Manoeuvre the mini ball in the toy around the maze, against the background of Batman and Angry Kitty. The background is also removable, so you can change the background as and when you wish to. A downside to the toy, however, is that there is no set 'start' and 'end' zones, so you are left wondering where to go.
Fun Factor: 3/5
---
Superman
Superman might not be here to save the world but he might be able to save you from your boredom with his min-game. It's a fairly simple game, just press the button on the toy to eject the mini balls into the various targets to score points but it has fairly high replay value as you are often left trying to score the highest possible score even after you are done shooting the balls.
Fun Factor: 5/5
---
Duplo Alien
The adorable Duplo alien comes with a simple tic-tac-toe game inside. Challenge your friends to a game and instead of circles and crosses, choose between Emett or Lucy to represent you. Despite being a relatively easy sounding game, tic-tac-toe is such a classic game that you will not tire of the toy anytime soon.
Fun Factor: 4/5
---
Unikitty
For such a sweet looking kitty, it sure houses quite a challenging game — a memory game using The LEGO Movie 2 characters. The toy will come with 6 pairs of cards, simply turn them to face down and shuffle them around. Then lay them out however way you like and take turns with your friends turning them over. The one who gets the most pair of cards by the end of the game wins! Unlike other toys in the collection, the Unikitty toy does not come with anything else other than the cards which are pretty small and light so be careful not to lose them or else you'll just be left with an empty Unikitty keychain.
Fun Factor: 3/5
---
Benny
Benny's toy will be a treat for aspiring artists as it comes with six puzzle pieces, each side having a different pop-up design on it. To play, arrange the puzzle pieces together to your satisfaction, then use the pencil and paper provided to colour over the design of your choosing. You will end up with your own hybrid LEGO Movie 2 character. The keychain itself also features Benny with a huge, bright smile on his face, guaranteed to cheer up even the grumpiest of LEGO blocks.
Fun Factor: 5/5
---
Emmet
Beneath Emmet's cheeky grin hides a fun slider puzzle. To play just slide the pieces around and try to correctly put together the pieces of the puzzle to form an image of Emmet happily standing by a window of his house. Once you are done, simply get a friend to scramble up the puzzle and do it all over again. It can get repetitive after a while but it is still a fun toy to have around when you are feeling bored.
Fun Factor: 3/5
---
Wyldstyle
Wyldstyle's keychain houses a mini-shooter game of sorts. In it, you will find a bow and a mini-disc. Lay down the Wyldstyle keychain and try to shoot the mini-disc onto the bullseye etched onto the keychain and… that's about it. While the game feels a little lacklustre compared to the rest, the design of the keychain makes up for it.
Fun Factor: 2/5
---
These eight adorable The LEGO Movie 2 toys will be available for collection with a purchase of a Happy Meal from Mcdonald's from 7 February till 8 March.
So why is it impossible to collect all eight toys? Actually, there are only eight LEGO Movie 2 Happy Meal toys available in Singapore, but there are a total of 13 toys in all for the series. The other four, namely: Metal Beard, Ultra Kitty, Duplo Alien 2, Rex and General Mayhem are exclusive items only available in select markets. And like any sightings of rare LEGO sets, do let us know if you spot them in other markets.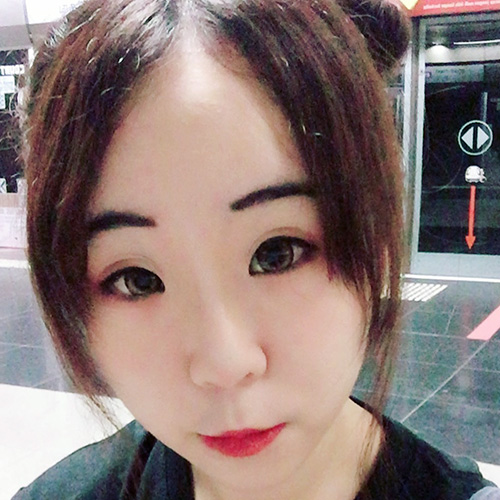 Germaine is a fun-sized introvert who loves nothing better than sleeping in on rainy days. She can be found reading fanfiction and manga while still waiting for her Hogwarts acceptance letter. It'll come eventually.
---

Drop a Facebook comment below!
---