As we head towards the 18 August 2023 release of Disney Lorcana, we have a closer look at how the game is actually played.
While Lorcana has been rife with speculation by many trading card game (TCG) enthusiasts on how the potentially family-friendly game is played, the rules do set it out to be very close to existing games in the market.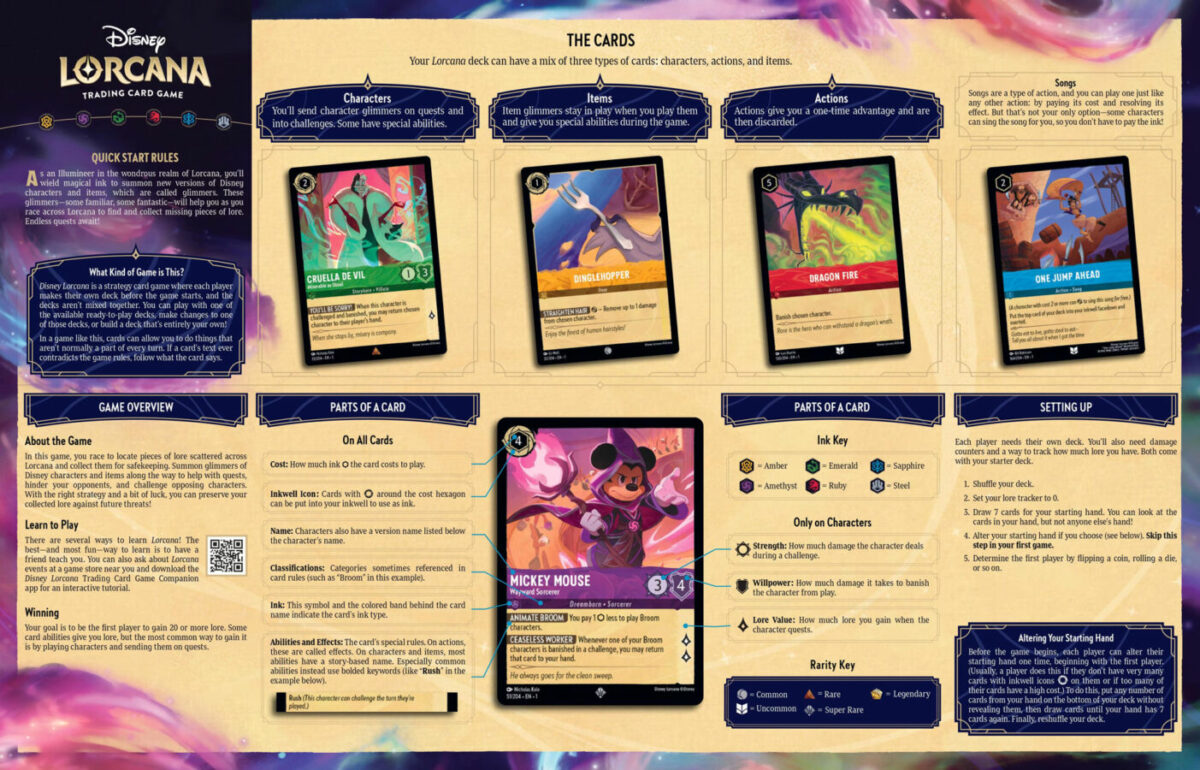 The goal of Disney Lorcana is a race to acquire 20 Lore points before your opponent does. While this might be seen to encourage solitaire gameplay, the game requires players to exert (or tap, for Magic: The Gathering fans) their character cards to invoke abilities and gain Lore points. This then opens their cards open for attack, thus slowing down a player's progress by negating their Lore generation engine. Fans of the Pokémon TCG will be familiar with this combat approach.
That's basically the gist of the game at the moment. It has simple sequencing and the only form of combat would be against other cards in the game. However, with only four card types at the moment, we're looking forward to seeing how much depth of strategy Disney Lorcana would eventually possess.
Pokémon TCG's mechanics is not the only game Disney Lorcana has drawn inspiration from. When it comes to deck building, each Disney Lorcana deck can only have a maximum of 60 cards with 4 copies of each unique card in a deck at any one time. This is again familiar to the Magic: The Gathering community.
But the systems do not stop there as resource generation in Disney Lorcana is similar to Flesh and Blood where cards from hand are expended to pay for card costs to generate "Ink" in the "Inkwell". This prevents a situation where players might find themselves unable to play cards from hand for multiple turns without the appropirate resource generating cards. Cards played into the Inkwell don't give us the impression they can be retrieved by regular card rules. This means that some tradeoffs need to be made as players might ink expensive cards to pay for cards with lower costs in the early game. Or, they could be patient and hang on to big, expensive cards for later rounds for maximum impact.

As we head into launch, there are a few bundles that potential players can look forward to in a form of a gift set and collector's bundle which contain the following items:
Gift Set –
Two oversized foil cards

Hades – King of Olympus
Mulan – Imperial Soldier

Two playable foil cards
34 game tokens
Four booster packs
Illumineer's Trove (Collector's Bundle) –
One storage box
Two deck boxes
Eight booster packs
15 game tokens
One player's guide
While we do have a much better idea how Disney Lorcana is actually played, the details on overall play and feel is still up in the air. With very little cards and abilities actually revealed, there's much to look forward to as the sum of the parts all come together as we head into GenCon 2023!
Gerald currently straddles between his love of video games and board gaming. There's nothing that interests him more than trying out the newest and fanciest gadget in town as well. He dreams of publishing a board game sometime in the future!