Growing larger year on year, Doujima 2019 has expanded to two halls worth of space at Suntec Singapore Convention and Exhibition Centre. With 280 artists booths being featured, this marks an increase from 212 artists booth last year, and could be easily the largest artisan convention in Singapore. Entry is free this year, and Doujima has introduced a new Fast Pass, where event attendees can enter the hall earlier, to get first pick to purchase the merchandise sold at the event, and to gain access to a goodie bag and some exclusive deals.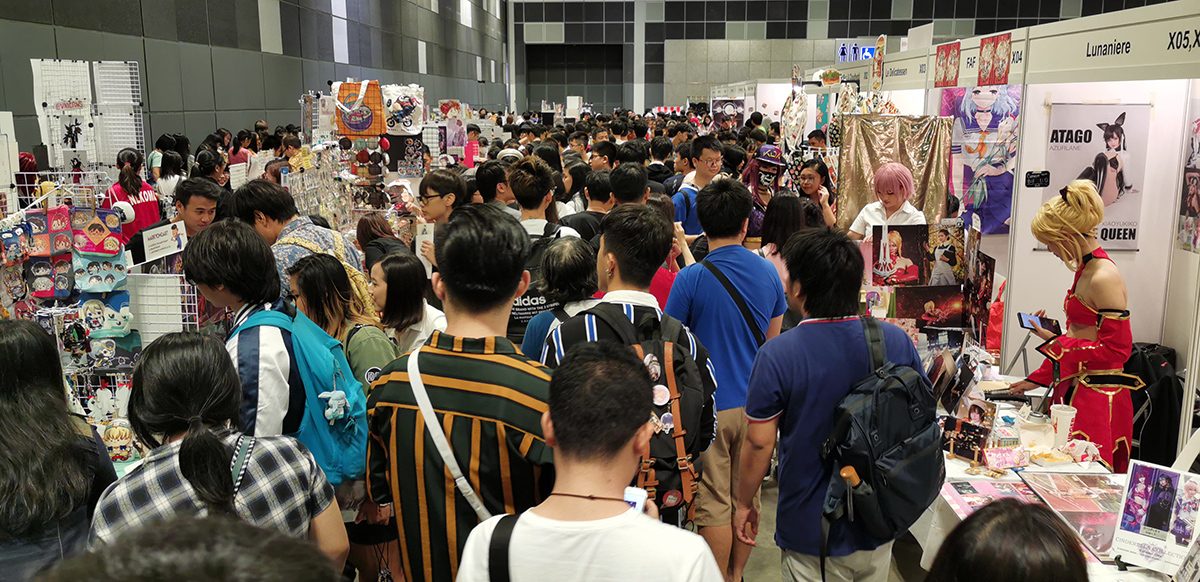 As a free entry event, Doujima 2019 attracted huge crowds, resulting in long queues to enter the hall. There were some grumblings that at peak hours, it took about an hour to gain access to the hall, and there was no re-entry catered, causing some inconvenience for event attendees to re-queue to get in again. Nonetheless, when you enter in the hall, the content is worth it.
Avengers Hype
2019 is the year of Marvel's Avengers, with Avengers: Endgame in theatres, and many artists rode on the hype around it and sold Avengers/Marvel themed merchandise such as art prints, pins, stickers and keychains.
Rise of the Cosplayers
Another thing that has grown at Doujima is that there were more cosplayers selling signed photo prints of their cosplays in costumes.
Local Themed Art
From featuring Singaporean food and making puns about Singapore, there were many artists expressing our local culture through their art. This was great as there were many overseas visitors to Doujima this year, and they get to experience our local culture through this event.
Notable Mentions – Beyond 2D
While most stores were selling very 2D based items such as prints, badges and acrylic keychains, it was nice to see some stores that were selling merchandise that were in the 3D form. A notable mention would be UE Creatives World's plushie keychains, Xev Pallet Crafts Pokeball Terrarium, and Brick This Now's custom Lego Figurines.
Return of the Veterans
If you are a regular convention attendee, you would notice that certain booths are very active in showcasing their art in many local conventions. Most of them, such as J.R Pencil, Tea & Buns, Ratcha Lin, InkInk and Battlebrew, showcased their latest art at Doujima.
RPG Day
A new addition to Doujima would be RPG Day, where the latest locally designed Tabletop games were featured in the exhibition hall.
---
Overall, Doujima has transformed itself into a great showcase of artists and the community, and we look forward to a bigger one in 2020.

SnapSniper is an avid geek who is both a huge fan of games and an even bigger Star Wars fan.