While Ash and his gang hop all over the map collecting Pokémon, most of us were hoping to various stores to collect our Pokémon clothing. And if you haven't resorted to Marie Kondoing your way around for more closet space, Japanese clothes brand Graniph has just released their very own Pokémon clothing line for you to add to your collection.
The Graniph Pokémon clothing line will include designs for men, women and children. The collection will feature popular characters from the series including the beloved and iconic Pikachu. Besides the usual T-shirts, the line will even include sweaters, just in time for some good Christmas cheer.
First up in the collection is unisex long-sleeved shirts with various designs. The sweatshirts (4,940 yen, S$64.49 ) and crew-neck shirts (3,520 yen, S$45.95) feature Pikachu, Mew, Snorlax, and Mr. Mime. Some Pokémon have even been embroidered on for that extra touch of fluff. There's even a button-up shirt (7,480 yen, S$97.65) boasting the silhouettes of all 150 original Pokémon and Mew peeking out from the pocket.
The Graniph Pokémon clothing collection also features some women's apparel. What makes these piece so interesting are the Pokémon embossed on the cable-knit sweaters (4,950 yen, S$64.62) instead of traditional knit patterns. The grey one even has a little Pikachu embroidered on the cuff of the sleeves. The pink sweater is filled with Pokémon of the first generation, including Chansey, Clefairy, Clefable, Jigglypuff, and Wigglytuff. There's also a black hoodie with some Pika-Pika sparks.
And of course, what's a Pokemon line without Kiddy apparels. These adorable pieces are perfect for the little fans of the series. The kids' collection includes cool T-shirts (2,750 yen, S$35.90), stylish long-sleeves (3,278 yen, S$42.79) and even a chich reversible fleece-lined jacket with Pikachu and Eevee silhouettes (3,850 yen, S$50.26).
For those who enjoy graphic tees, they also offer a variety of them priced at 2,750 yen or S$35.90 each. There are cute Pikachus cheekily running away from you, the three legendary birds, a simple Pokéball design and even a print with Mew's outline.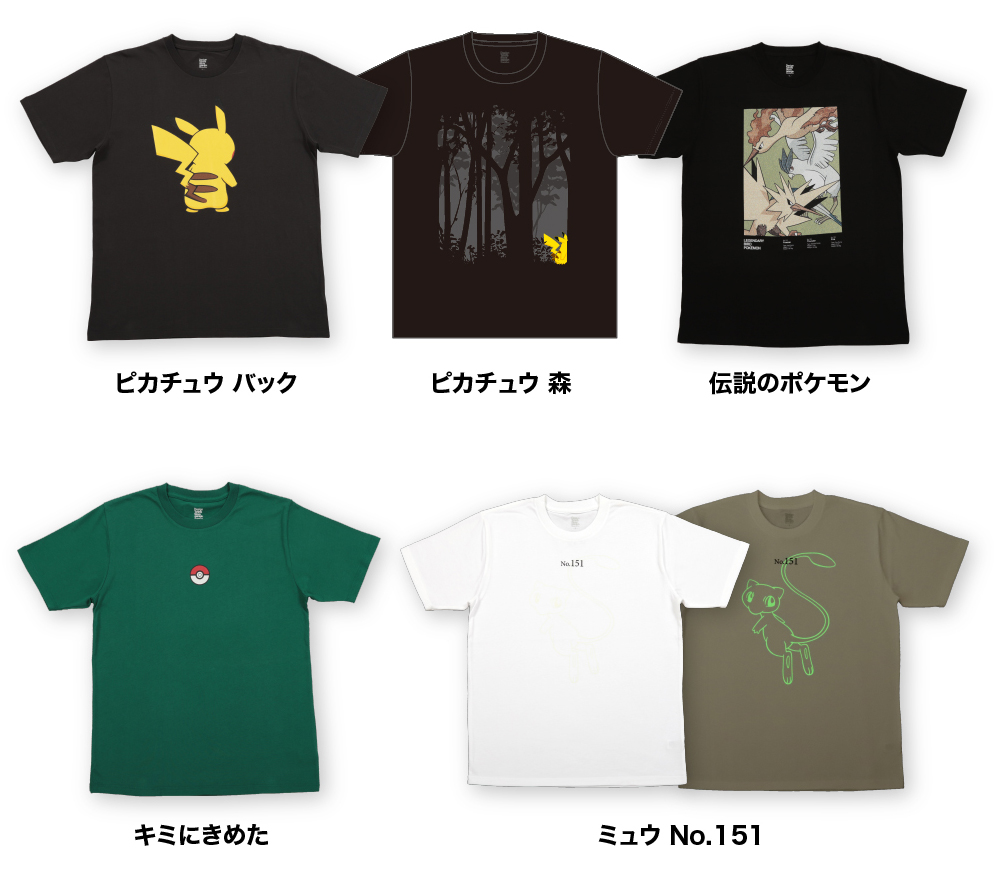 The Graniph Pokémon clothing collection also includes oversized apparels such as the oversized hoodie with Pika-sparks and a huge kangaroo pocket (6,578 yen, S$85.88) and an adorable Eevee apron shirt (3,850 yen, S$50.26).
For those who are interested in getting their very own apparel from this collection, you can check out Graniph's official video below to see more details on the clothes and what the socks (800 yen, S$10.44) look like.
All 23 items in the Graniph Pokémon clothing collection will be available from 10 November 2020 and you can purchase them at Graniph physical stores or from Graniph's online shop. We're not sure how long they'll be around from so do remember to catch them all!