Amazon is adapting yet another Neil Gaiman's work and from the looks of it, it's going to be as great as American Gods, if not better.
Good Omens is an adaptation of Good Omens: The Nice and Accurate Prophecies of Agnes Nutter, a novel written by Gaiman and Terry Pratchett, best known for his Discworld series. Good Omens is the story of the end of time, Armageddon. After thousands of years serving as the guardians of the gates of Heaven and Hell, angel Aziraphale and demon Crowley have grown comfortable with the lives that they lead, even grew to somewhat like humankind.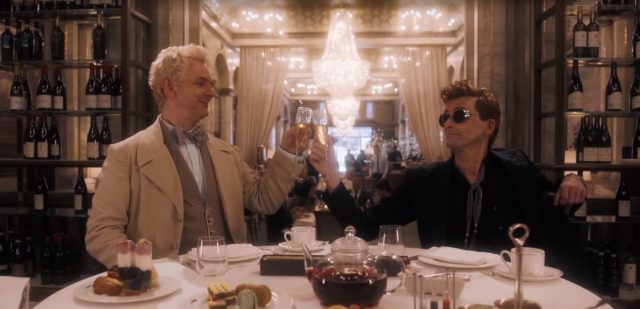 Despite their differences (they are literally the embodiment of Good and Evil), the two work together to prevent the upcoming apocalypse and the coming of the antichrist.
David Tennant and Michael Sheen star as Crowley and Aziraphale respectively. Tennant is great, as we all expect him to be, but seeing him in shaggy red hair was a trip, to say the least. Fortunately (or unfortunately?) he doesn't sport that red mane all the time.
The relationship between Crowley and Aziraphale seems to be at the centre of the show. How does a demon become such great friends with an angel, anyway? Well, they're friends according to Crowley, but Aziraphale would like to say otherwise.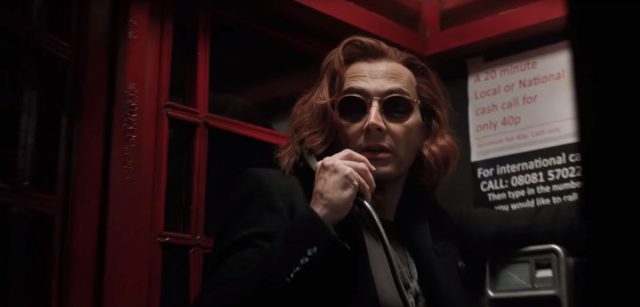 Other than Tennant and Sheen, the show will also star Anna Maxwell Martin (Motherland), Jon Hamm (Mad Men), Michael McKean (Saturday Night Live), Josie Lawrence (Whose Line Is It Anyway?), Jack Whitehall (Bad Education), Miranda Richardson (Damage), Adria Arjona (True Detective), and Nick Offerman (Parks and Recreation). Based on the casting list and the trailer, Good Omens looks like it's going to have a comical and silly side to it, and if you've read the book, you know how silly the whole thing is.
Also, feast your eyes on Jon Hamm as Angel Gabriel.
So for you, for me, for all of us. FOR PEOPLE NOT YET BORN. This is what Jon Hamm looks like as the Angel Gabriel in the upcoming TV series of GOOD OMENS. A thing of beauty, and a joy for ever. pic.twitter.com/OK84PDZXLs

— Neil Gaiman (@neilhimself) November 30, 2017
Good Omens will premiere some time in 2019. It'll be released on Amazon Prime Video first before making its way to BBC.
It looks like Good Omens will be a great show to watch, but where's that adaptation of The Sandman, Neil?
Dea wishes she could play the latest Tomb Raider or Uncharted, but she can't, so instead she reads and watches other people play. On her down time, you can probably find her re-reading Captain Marvel. The Carol Danvers one.