The most powerful console ever is now available for pre-order in Singapore, yes you read that right, the Xbox One X is coming to our island home on November 21st, two weeks after it launches in other markets. While eager gamers await their shiny new console today, Xbox fans here can only contend with waiting patiently while holding S$699 in anticipation of Microsoft's mid-generation refresh.
The good news is that if you were eying the Project Scorpio Edition with that sweet inscribing, there are still limited stocks available, so hesitate no longer!
With 40% more power than its nearest competitor, the PS4 Pro, the Xbox One X is promising truly immersive 4K gaming, flawless compatibility with all Xbox One games and accessories, and all in a sleek, smaller package. Under the hood, you can expect:
Faster processing and smoother gameplay: The 8-core Custom AMD CPU is clocked at 2.3GHz to bring enhanced AI, real-world detail, and smoother interactions to your gaming
More memory, bigger worlds: 12GB GDDR5 of graphic memory add speed and power to game performance to enable bigger worlds, further horizons, and quicker load times
Immersive worlds, life-like detail: A 6 Teraflop GPU enables 4K environments and characters to become more realistic than ever, with more detail and smoother animations
Memory bandwidth means faster load times: Game graphics are faster and more detailed with 326 GB/sec memory bandwidth, to keep your gaming momentum flowing
All the power and no games would mean nothing, and while Microsoft and Xbox are struggling on the exclusives front, the push for the enhancement of past and future titles will see benefits for gamers in the Xbox ecosystem. The list of Xbox One X enhanced games is constantly growing, with over 100 titles getting free updates to utilise the full power of the new console, you can find the full list here, with notable highlights including:
Assassin's Creed: Origins – 4K checkerboard, 30FPS, HDR
Crackdown 3 – 4K 30FPS HDR
Dead Rising 4 – 4K
Dishonored 2 – 4K, 30FPS
Doom – 4K 60FPS
The Evil Within 2 – 4K, HDR
Fallout 4 – 4K, 30FPS
FIFA 18 – 4K, 60FPS
Final Fantasy XV– 4K, HDR, 30FPS
Forza Horizon 3 – 4K, HDR, 30FPS
Forza Motorsport 7 – 4K, 60FPS, HDR
Gears of War 4 – 4K/30FPS for Campaign/Horde modes, and 4K/60FPS for Versus, HDR
Halo 5: Guardians – 4K, HDR, 60FPS
Halo Wars 2 – 4K, HDR
Middle-earth: Shadow of War – 4K, 30 FPS, HDR
Playerunknown's Battlegrounds – 4K, HDR, 30FPS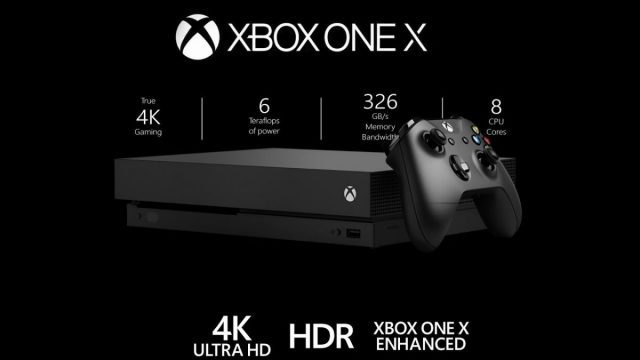 Is this all enough to entice you over to the most powerful console ever, or is it a case of too little too late for the Xbox brand, let us know in the comments below!