Most Singaporeans will have heard of local restaurant chain, Astons, which touts an adequate serving of chicken, fish or beef at a fairly reasonable price. Having thoroughly expanded in the business of Western cuisine, restaurateur Aston Soon is setting his sights a little closer to home this time with his new Japanese store, BIZEN.
Bizen is a city in the Okayama prefecture, famous — not for their beef, but for their pottery. Nevertheless, Soon notes that he was incredibly inspired by the farms he's visited, and the farmers he's acquainted himself with, and lo and behold, we have BIZEN.
Situated right in the heart of Singapore at Plaza Singapura's new 'phygital' area NomadX, BIZEN will be a great choice for nights out with friends or dates. And the best thing is, it won't carve a giant chunk from your wallet — a legitimate concern when dining out in the city.
BIZEN offers several cuts of steak on their menu, but unlike most steakhouses out there, they also offer a pretty comprehensive pictogram that'll pinpoint the exact part of the cow your steak's going to come from. Sirloin's always been a popular choice, but we were also invited to try out the Chuck steak during the tasting session, and it cuts just as smoothly as butter.
The wagyu beef you see here's received a grade of B3 — for everyone who's gone through Cambridge's O-Level education system, it's interpreted a little differently from what you're used to. B indicates the yield of meat from a cow, and 3 the quality (measured in terms of marbling, colour, texture and luster) — which puts it at average, but it should be noted that quality grading in Japan is stringent and reflects the lowest scoring of the four parameters.
Priced at S$22.90 for 150g, with the option to double up at S$39.90, the Chuck steak gets that melt-in-your-mouth texture down to a tee.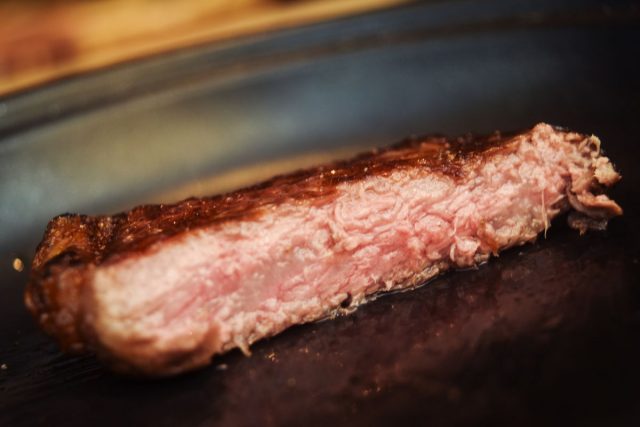 The Sirloin's flavour is a little heavier, and it's priced at S$29.90 for 150g, and can be doubled up at S$56.90.
While the steaks take out sixty percent of the cow, the remaining bits are used in the burger patties and rice bowls, so everything on the menu's authentic wagyu as advertised, Soon promised.
You'll find the appetisers and sides offered a generally familiar fare, in line with most Japanese eateries around here, although Soon admitted that his Western background comes through as he's still serving up Caeser salad alongside the chawanmushi (steamed egg custard), which are priced at S$7.90 and S$2.80 respectively.
Soon has put a Japanese spin on the Caesar salad with a dash of katsuobushi. And the chawanmushi's a sheer fluffy delight.
Considering its price point and location, BIZEN is definitely worth checking out if you've a taste for wagyu, but aren't quite willing to break your bank for it.
---

Drop a Facebook comment below!