The Geneva International Motor Show (GIMS) is not only home to the supercars, which most of us can only dream of owning, but it also gives us a glimpse into the future of cars. 
The annual car show, credited as being of the the industry's major global auto show, has carmakers displaying prototypes and concepts of their vision of cars for the modern age. From electric SUVs to flying cars (perhaps a Flying Ford Anglia will be reality), Geek Culture highlights the unique cars which caught our eye in this year's event.
---
Audi Q4 e-tron concept
Leading the wave of new electric SUVs is Audi, which unveiled their 5th electric model, the Q4 e-tron. A compact electric SUV with two electric motors, it has a top speed of 180 km/h (112 mph) and accelerates from 0-100km/h (0-62mph) in 6.3 seconds. The large battery which occupies most of the underbody enables the Q4 e-tron to travel up to 450 km on a single charge and only requires 30 minutes to go from 0-80%.
Another key feature is the modular electrification platform (MEB) which offers a range of drive variants and power levels that is also implemented in other electric cars under the Volkswagen group.
The Q4 e-tron aims to go into production in late-2020 so it won't be too long before we see this on the roads.
---
Polestar 2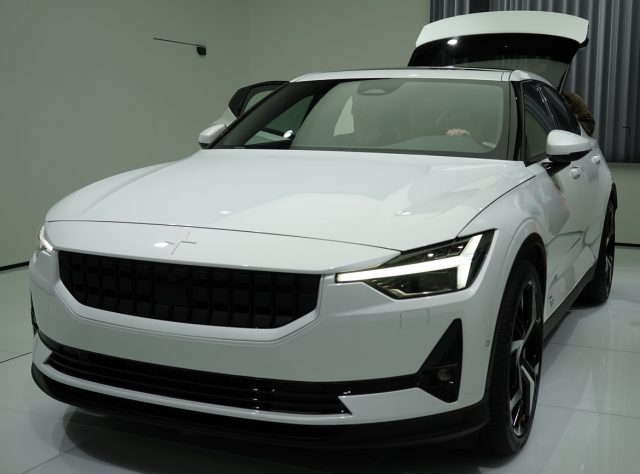 Swedish brand, Polestar (a spin-off from Volvo), premiered the Polestar 2 in Geneva. It is the first car with embedded Google services – Android Auto, Google Assistant, Google Maps -which can be displayed on the 11.15 inch centre stack display.
This electric car has 2 motors – one in front and the other in the rear – with 408 hp and a range of 500km (310 miles). Production starts next year and would probably give the Tesla Model 3 some serious competition upon its launch.
---
Citroën Ami One Concept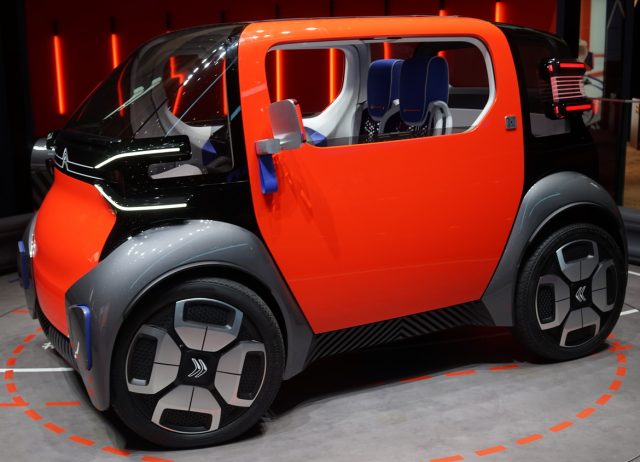 Urban mobility is a big theme here at Geneva. Citroën's Ami One somewhat resembles a LEGO Duplo car with its cube shape and compact dimensions (2.5m in length, 1.5 in width and height).
This 2-seater electric car charges fully in 2 hours with a top speed of 30mph and a range of 60 miles. Designed with smartphone integration, the doors lock and unlock via a QR code on the door handles and there is a designated wireless charging area on the dashboard for your smartphone to access your sat-nav or personal apps.
The unique thing about this car? You don't need a driver's license to be in control at the wheel.
---
Honda e Prototype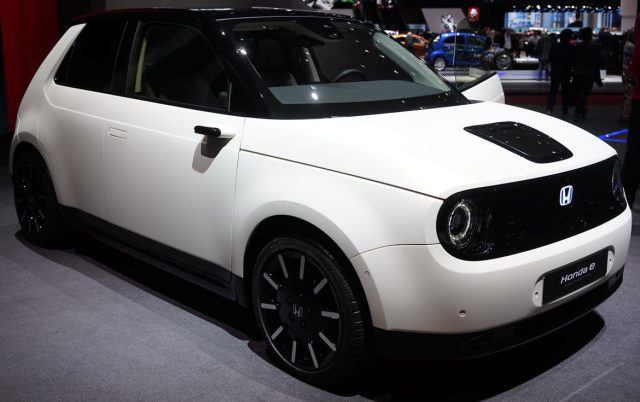 If Wall-E's EVE was remade into a car, this is how she would look. Unveiled as the "Urban EV concept" two years ago, Honda's e Prototype has been modified from its initial design and is almost ready for production with pre-orders happening later this year. With a clean, minimalist look (the side cameras replacing mirrors), this compact electric car can last 200km (124 miles) on a single charge, requiring only 30 minutes to charge from 0-80% capacity.
Sadly though, the e Prototype is only for the European market.
---
Fiat Centoventi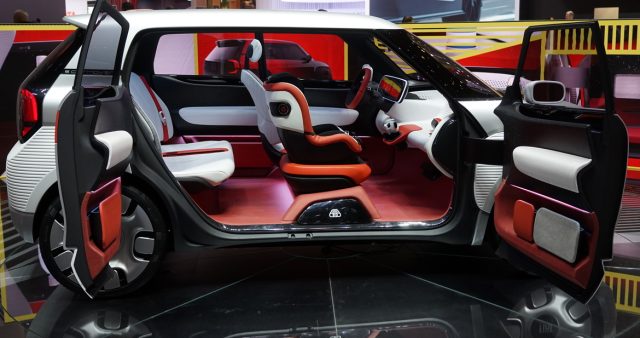 After modular phones, we now have modular cars. Fiat's Centoventi (named after their 120th anniversary) is fully customisable so you can have a "new" look as often as you wish. You start with a choice of 4 roofs, 4 bumpers, 4 wheel covers and 4 external wrapping before going on to personalise the interior of your car with 114 accessories to choose from.
It's almost a bit like assembling Lego since the dashboard and door panels have small holes to fit components of any shape and function. What's also interesting is that some of these parts can be bought online or printed at home with a 3D printer and assembled at home. This car is definitely not for those who suffer from decision fatigue.   
---
SEAT Minimó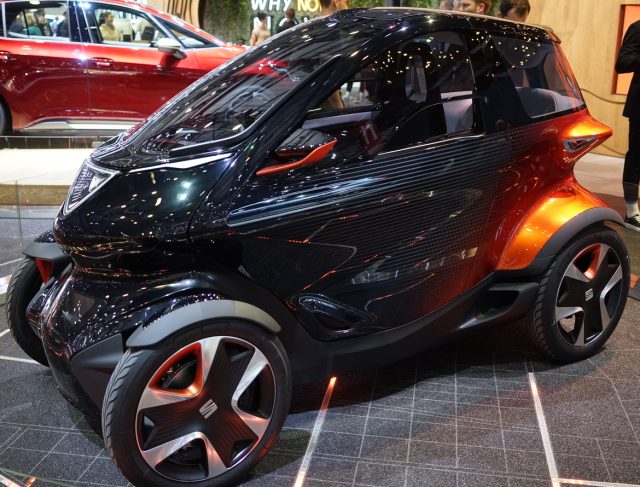 Ultra compact cars, such as Renault's Twizy, have been around for a couple of years and are gaining popularity in some cities. SEAT hopes to boost urban mobility further with their new Minimó concept.
Measuring 2.5m in length and 1.24m in width, the Minimó seats two and can be parked in a motorcycle parking spot. It has built-in 5G technology with Google Assistant on Android Auto and is also electric (of course). Currently on pilot schemes in Barcelona, SEAT hopes the Minimó will be the answer for car-sharing programmes and large cities.
---
Volkswagen ID Buggy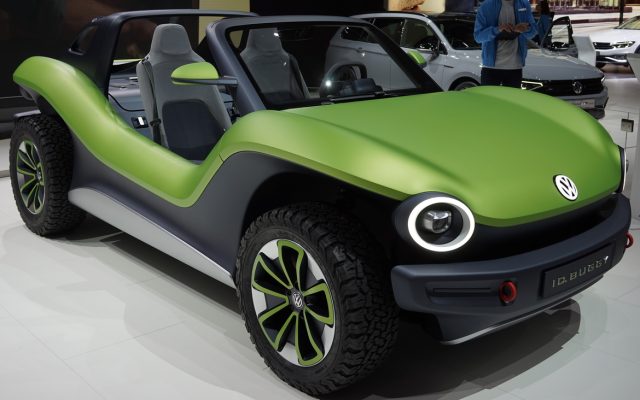 Volkswagen jazzed up the hall with their bright, light green ID Buggy. Bringing back the classic dune buggy from the 60s and 70s, they have modernised it to show off the new Modular Electric Toolkit (MEB), VW's platform for electric vehicles.
The objective of the MEB is for it to be adaptable to any car shape or form, thereby making it easier for smaller car companies to produce a range of niche cars. There are no plans for VW to put the ID Buggy in production although hopefully this would lead to more innovative car designs in the future.
---
GFG Style Kangaroo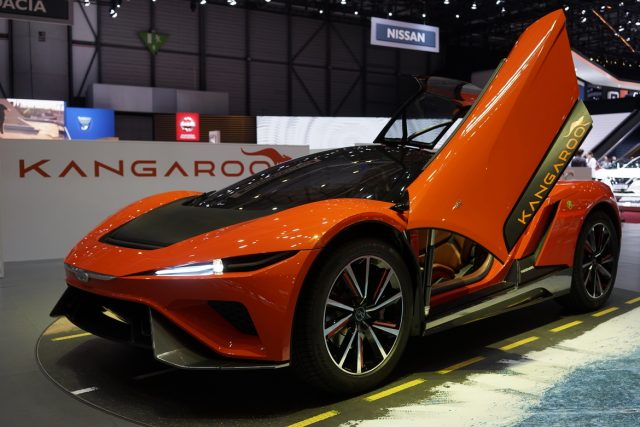 Electric SUVs are not the only highlight here at Geneva. Famed car designer Giorgetto Giugiario and his son, Fabrizio have designed the "hyper-SUV" under their own company, GFG Style. With 4-wheel drive and 4-wheel steering, the electric 2-seater promises to take you across all terrains thanks to its adjustable hydraulic suspension system.
Other unique features of the Kangaroo worth noting are its gullwing windows, the "scissor-like" doors and the huge turn signals over the rear grille. The GFG Style Kangaroo seems to have elements of everything (the SUV, electric car and supercar) and time will tell if this "hyper-SUV" concept will catch on.  
---
Engler F.F Superquad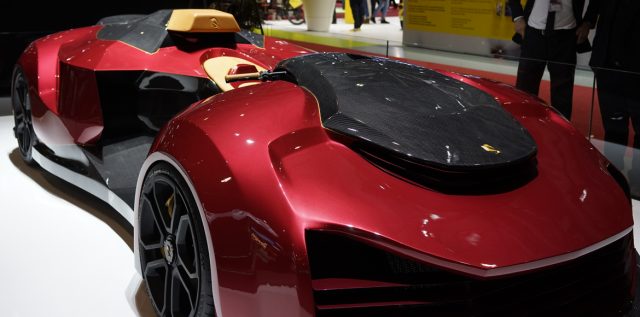 This car is so unique that it creates its own category, the superquad – a cross between supercar and quad bike. Take a closer look and you'll realise the Engler F.F has handlebars instead of a steering wheel, no windshield and no room for companions. Created by Victor Engler, founder of Engler Automotive in Slovakia, the Engler F.F hits 100km/h (62mph) in under 3 seconds and has a top speed of 350km/h (217mph).
At only 850kg and with 850 HP, it boasts of a 1:1 power to weight ratio which is a claim not many can make. The Engler F.F Superquad looks like it would be right at home in Bruce Wayne's personal collection.
---
Renault EZ Ultimo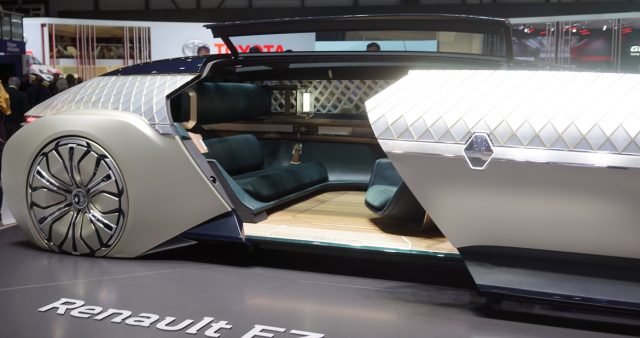 Renault's concept car is more of a self-driving pod, which it calls "a mobile lounge for modern times". The EZ Ultimo is envisioned as a luxurious shared vehicle for hire. This electric car is really more like a mobile apartment, with wooden flooring, leather armchairs and marbled surfaces.
The upper part of the car consists of 600 diamond-shaped facets which also functions as a one-way mirror for privacy. As large as the EZ Ultimo is, it only accommodates 3 passengers. It will be interesting if and when the EZ Ultimo appears on Uber or Grab.
---
Pal-V Liberty Pioneer Edition
Move aside electric SUVs and make way for the flying car. The Pal-V was first conceptualised 20 years ago and now the Liberty Pioneer Edition marks the first flying car that would hit the streets (and air).
As a car, this 3-wheeler has a 100 hp engine with a top speed of 160km/h (99mph). In flight mode, the Pal-V has a maximum speed of 180 km/h (112mph) and operates at a maximum altitude of 3500m. It requires a distance of at least 330m (1080 ft) for take-off, flies up to 500km (310 miles) before needing another 30m (98 ft) for landing.
You can bring along a friend for the ride but you'll need both a driver's and pilot's license to operate this vehicle. We can expect to see the Pal-V on the streets and in the air sometime next year…if we're lucky enough to spot it since only 90 units are being made for its first release.
---

Drop a Facebook comment below!