Notable for its hard disk drives (HDD) and solid-state drives (SDD), Western Digital has made its name in the industry by offering PC users a wide range of quality data storage options and with the recent gaming industry boom and demand for storage to hold those massive games, Western Digital has gone and released an array of products under the WD_BLACK portfolio, dedicated to gaming.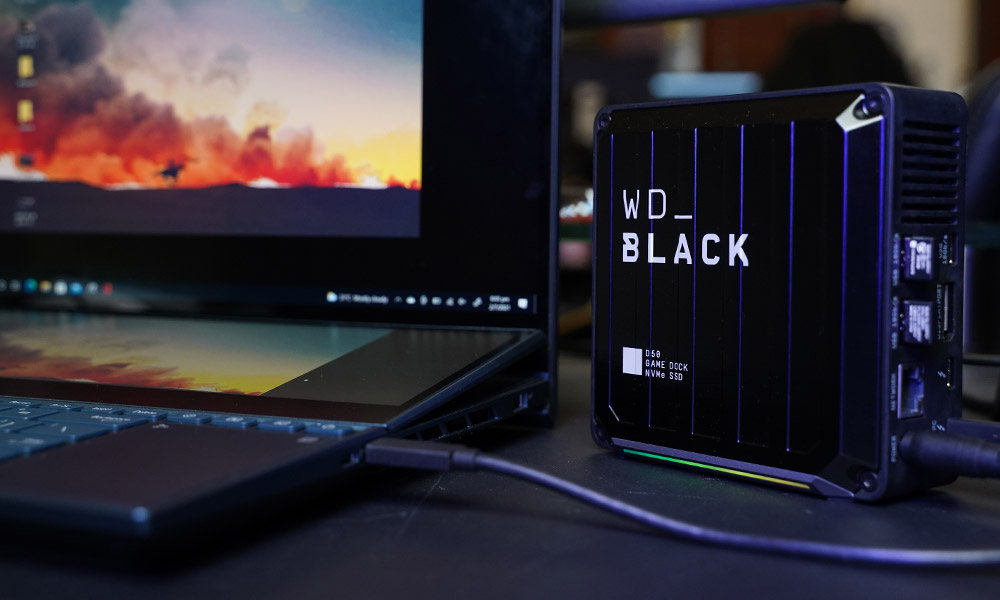 The WD_Black line-up is a series of HDDs and SDDs catered for desktops, laptops, and even console gaming. While the desktop and console lines are specifically made for quick load times and additional storage, the laptop products offer a whole new level of functionality as external drives for gamers on the go.
Its latest, the WD_BLACK D50 Game Dock, is essentially an external NVMe SSD dedicated for laptops, while extending its functionality as a dock, with a slew of ports and features.
Out of the package, the WD_Black D50 rocks a black (hence the name) metal finish and a container industrial design that looks quite impressive even as a desk accessory. Unlike most flat external hard drives, the D50 measures 4.72 x 4.72 x 2.17 inches and sits upright on your desk in a considerably bulkier form factor.
The D50 has three editions, 0TB (a dock just for ports without the SSD storage capability), 1TB and 2TB, and each comes decked out with a variety of ports: three USB-A ports, two USB-C ports, one display port, two Thunderbolt 3 ports (one with 87 watts of pass-through for charging compatible laptops), one audio in/out jack, one power jack, and one Ethernet port.
And that's essentially the D50 Game Dock – a full suite of ports for your laptop, should you need it. The dock's functionality is a mixed-blessing though because it comes at the expense of an additional power source, so expect yourself to be slugging around another power brick to power up the D50. As if your laptop and its power brick isn't heavy enough, now you have twice as many cables and power bricks to bother around with.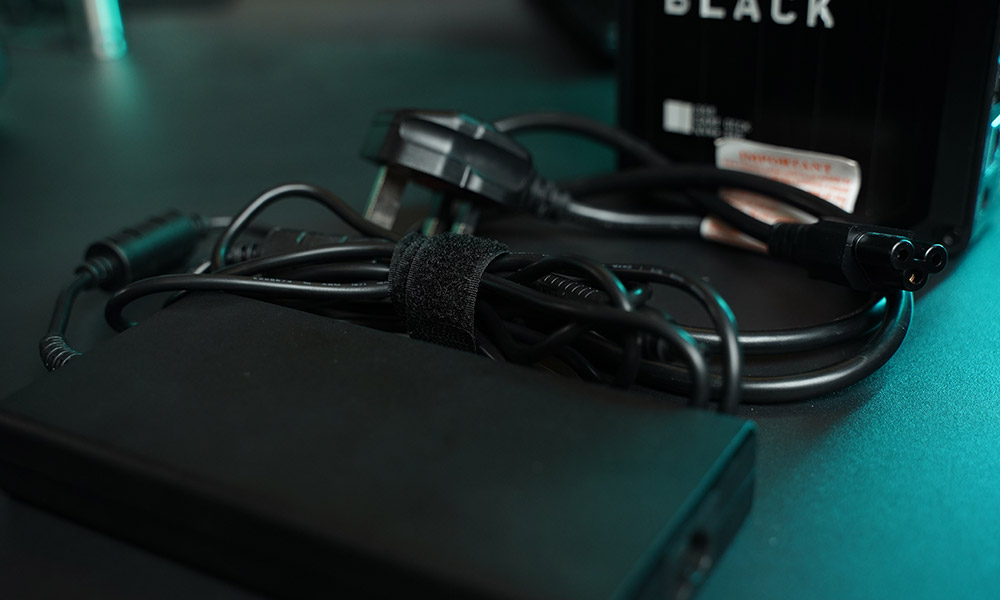 Once the D50 is powered up, all you need is simply to plug and play. Take note that the gaming dock only supports Thunderbolt 3 (cable provided) connectivity though, so if your laptop doesn't support Thunderbolt 3, it won't work.
The gaming dock runs similarly to any other external hard drive, where once you're connected to your laptop, you can drag and drop files, backup data, or install your Steam games as per normal.
What the D50 boasts tho is its ultra-fast NVMe SSD writing speed. Using CrystalDiskMark, the D50 delivered the following results below: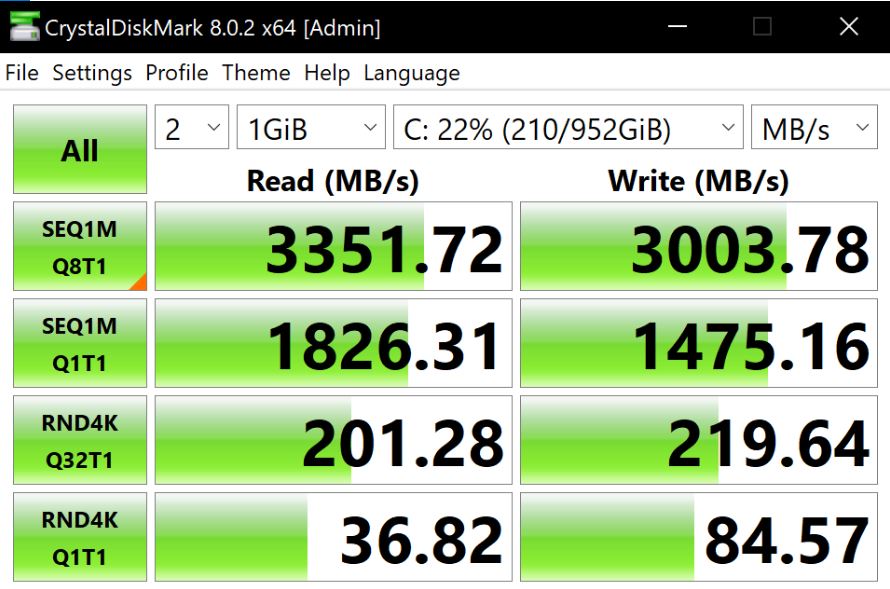 As for the Thunderbolt 3 connectivity, we transferred some files from the laptop (ASUS ZenBook Pro Duo 15) over to the dock and it was writing up to 1000 mb/s with an average speed of 700 mb/s. 
Whether it's installing new games, porting your entire Steam library or loading them up, everything feels like a breeze with the D50. Running games installed on the dock is a surprisingly uneventful affair, as it doesn't make any sound nor does it get too hot.
As for the other ports, they'll definitely come in useful for gamers who have a bunch of peripherals to connect to. Since not many laptops come decked out with USB-A ports, it might be a delight to see the additional three ports on the D50.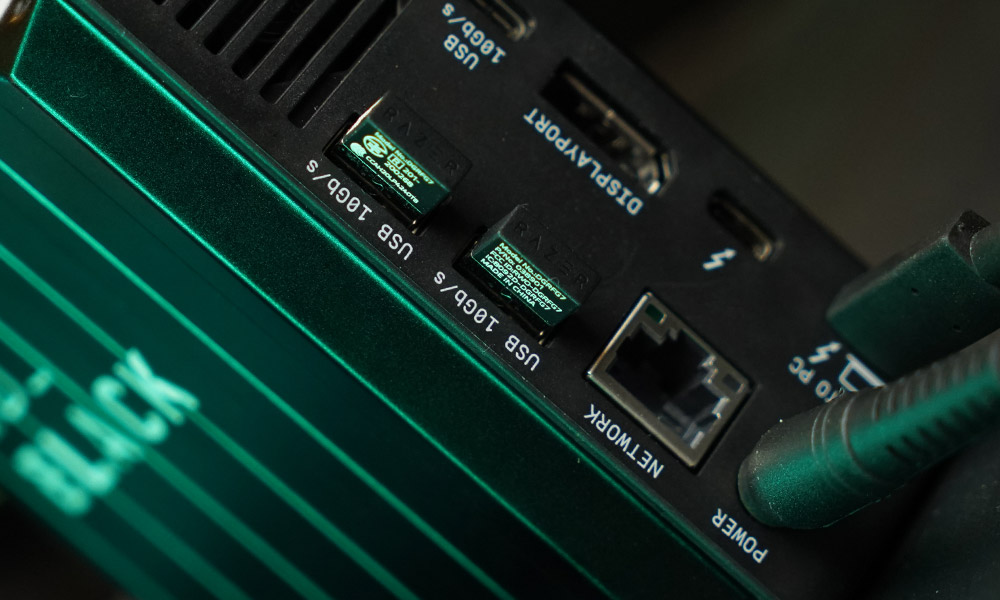 The other USB-C ports and Thunderbolt 3 ports are also a great addition to older laptops that do not support connectivity yet. Whether it's charging your phones or plugging into a compatible monitor, all these ports are quite a wonder to have, and can definitely help improve productivity.
Besides that, the additional DisplayPort 1.4 and Gigabit Ethernet port would be beneficial for gamers who need productivity and connectivity. Since it's uncommon to find these two ports for most laptops, it would prove helpful for gamers who want to set up their laptop with an external monitor back at home and stay a hundred per cent connected.
WD also offers their very own SSD Dashboard that provides a whole lot of details including capacity, temperature, interface speed, performance, and even an estimated lifespan of the SSD itself. It even has a Gaming Mode toggle which will optimize performance for gaming.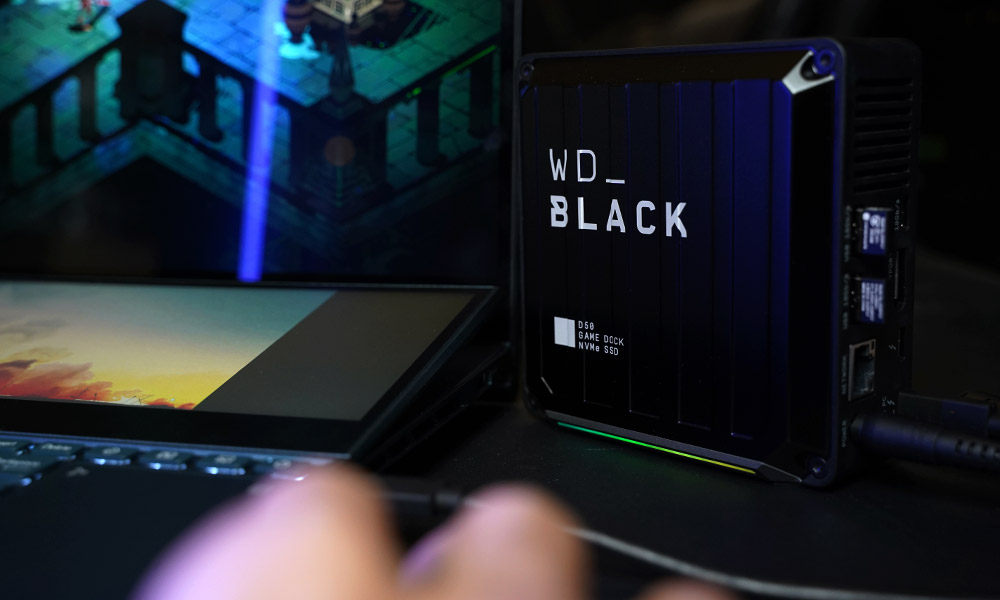 However, take note that the installation file that came with the D50 might be outdated and won't work, so you'll have to download it from their website manually.
Last but not least, under the front of the dock is a subtle strip of customizable RGB lighting you can personalize under the dashboard. The lighting can also be integrated with your existing RGB software like the Razer Chroma, MSI Mystic Light, ASUS Aura Sync, and GIGABYTE RGB for a synchronous RGB set-up.
However, all that doesn't come cheap. The WD_BLACK D50 Gaming Dock 0TB, 1TB, and 2TB are available for a premium of S$459 (US$319.99), S$699 (US$499.99) and S$899 (US$679.99) respectively, and this is a huge investment even for serious gamers. They also have to consider the additional weight, as the chore of lugging the dock and power brick around might be another setback for gamers who are looking for portability. 
Still, the D50 delivers what it promises to do and offers plenty of ports to add to your gaming laptop set-up. Whether the performance and functionality are worth the premium price tag will solely depend on your needs for these ports.
The WD_BLACK D50 Game Dock is available now on Amazon, Shopee, and Lazada.
GEEK REVIEW SCORE
Summary
While the additional ports may offer gamers plenty of functionality and productivity, the premium price tag and weight it carries might not be too convincing for portable gaming.
Aesthetics -

8/10

Build Quality -

8/10

Performance -

8/10

Value -

6/10

Geek Satisfaction -

7/10