Have you seen Thor's hammer? And I don't mean the real, mythical weapon that supposedly grows in size (go read the folklore), though I reckon that the one used in the film isn't the real one either.
I'm talking about the magnificent piece used by Chris Hemsworth in this film. That massive tool that one cannot help but stare at. The ginormous, all powerful weapon that you don't want smacking you in the face. Left. Right. Left. Right. And bam.
That one that all guys wish they had. That one that all women probably want to hold. But only if you're worthy. And most of us are probably not.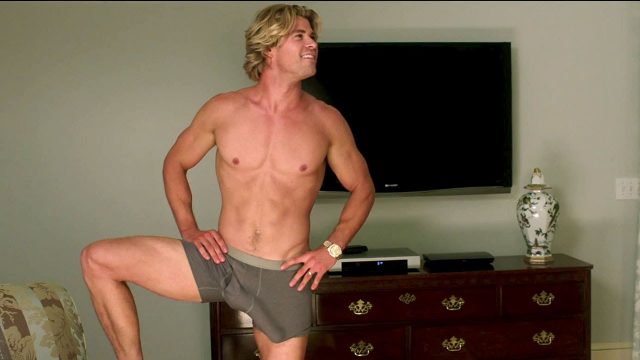 To be honest, I've always thought of Chris Hemsworth as pretty much a bore. His four turns as Thor weren't particularly memorable, especially when in three out of those four blockbuster turns, his co-star practically stole the show.
But in Vacation, Hemsworth really shines. His is a stand up performance that is really in your face. You've probably seen bits of his standout scene stick out in the red band trailers, and the filmmaker and studio are milking it with all the excitement they can muster.
The moment Hemsworth appears, you simply wait in silent anticipation. You hope for a sneak peek to see what's been hidden and when the scene, that money shot comes, it'll leave you with a huge smile on your face.
That's not to say that the rest of the film, which he's sadly not in, isn't worth the price of admission, but that has always been the case with these American slapstick comedies. There's no grand satisfaction derived from watching them. There's no huge climax once the film ends. Vacation is made up of some really cheesy moments that don't make for a stronger whole, though each do trigger some laughs.
In this loose reboot and remake of the National Lampoon Vacation series, Ed Helms plays Rusty Griswold, a pilot from a budget airline who skips the traditional family vacation for a road trip to Wally World, the place he loved as a child.
His wife, Debbie Griswold (Christina Applegate) is all for it, since she can no longer stand the cabin that the family rents each summer, and that's all you really need to know, not only about this movie, but of the entire series as a whole.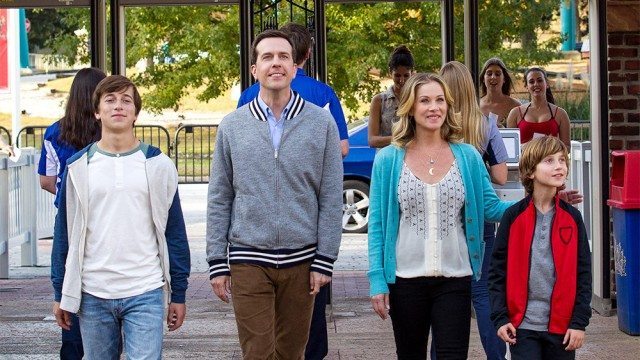 Naturally, their kids are somewhat of a Thor's hammer and under this premise, the beginnings of the film show plenty of avenues of accidents to happen. I mean, if you want to rent a car that is only famous in its country of manufacture, maybe it's a sign that something is going to hit the fan.
Hijinks ensue and several guest star pop by, read their lines and leave, never to return. Some of the gags are also pretty weak, so let's hope the filmmakers leave them alone, and never return for a visit.
Once an object of lustful objectification, Applegate has now been relegated to motherly roles and I did wish the directors gave her more to do. Applegate was a gem in her short lived series, Samantha Who, and her fans know she has a gift for comedy.
Vacation 2015 is no longer the cultural giant it once was, and if you've seen Horrible Bosses, Identity Theft and The Hangover, then get prepared for massive amounts of eye roll. There are still some not-subtle-at-all attempts to elicit a laugh at everyone, but the earnest portrayal of the Griswolds is easily the best element from the film.
And because of this, I won't mind taking a short vacation with them again.
GEEK REVIEW SCORE
Summary
No one can be worthy… to live up to the original National Lampoon's Vacation. But Ed Helm tries, with a lot of help with Thor's prosthetic hammer.
Story -

5/10

Direction -

6/10

Characterisation -

4/10

Geek Satisfaction -

9/10
---

Drop a Facebook comment below!