In the golden age of the internet, one thing sure to rile users up would be slow Wi-Fi speeds, especially so for gamers. A dip in the ping – in which the time taken for information to get from one's computer to the server and back is the amount of latency one has – can easily translate to an in-game loss in high tension first person shooter titles, where speed reigns supreme.
Network routers have thus evolved to cater to more demanding tastes, switching up the traditional formula with mesh systems that increase Wi-Fi coverage and overall performance.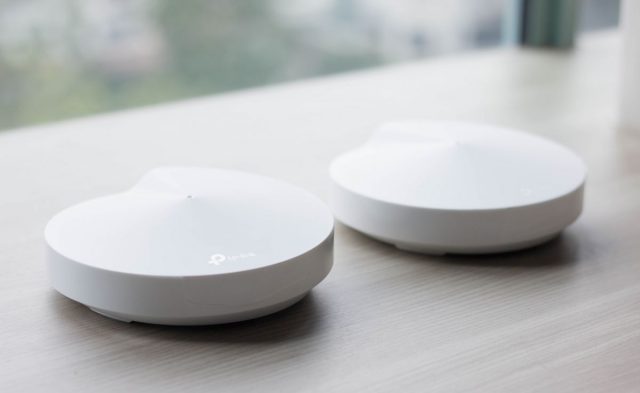 The TP-Link Deco M9 Plus is one such example. Built upon its Deco M5 predecessor, the disc-shaped device comes decked out in a sleek, white body a la the former, measuring 144 millimetres and 65 millimetres in diameter and height respectively. The comparatively large base means it would take up more estate, but its short stature allows for inconspicuous blending into the surrounding environment, which is ideal for non-objets d'art as such.
With the design appeal being its minimalistic aesthetic, the router would be a welcome addition to individuals of the minimalist palette, so those seeking darker colour hues or additional frills may wish to take this into consideration.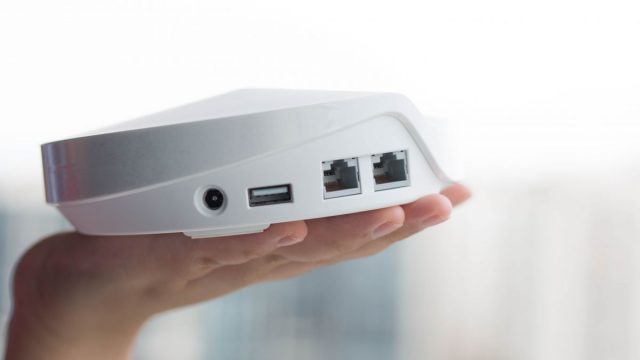 Adhering to industry norm, the mesh system also bears two Gigabit Ethernet ports on its rear. That's a fairly standard feature, but that doesn't mean it's necessarily sufficiently equipped, especially since one has to be dedicated to the existing modem connection. While more slots would definitely been welcome, a cheap Ethernet switch easily serves as a solution to the issue, so this is more of a slight inconvenience than a significant flaw, really.
Accompanying the above is an additional USB 2.0 port, though it's designed for some internal function, thus rendering it largely unusable. Guess it's goodbye to an easier way of file sharing and video streaming.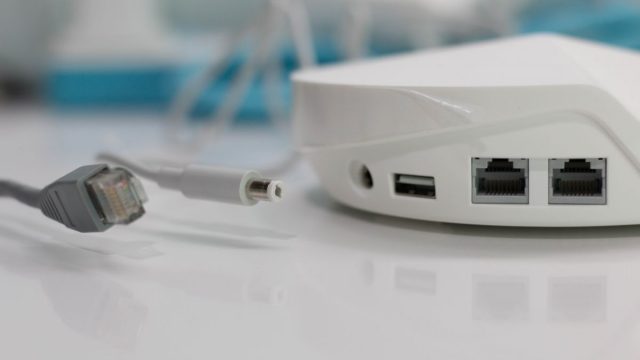 Wi-Fi systems, and by extension, mesh routers, are known for their elaborate set-up time, and the Deco M9 Plus changes up the field by implementing a user-friendly, simple set-up experience. It operates on the same basis as the usual mesh gear: hook it up to a broadband modem, replace the existing router, and voila, the job's done. As part of the process, users can refer to TP-Link's smartphone app – available on both Android and iOS devices – for a concise step-by-step explanation that sees the creation of a new account, alongside the keying in of one's SSID and password details for the network.
This same ease carries over to the addition of a new node as well, where it's as simple as tapping on the Connect button once detected, making it a prompt and easy affair for everyone, especially more so for the neophytes. On the flip side, that'd mean advanced users will be restricted to the router's initial controls, with no access to more sophisticated options like private VPNs and DNS server changes.
An element worth noting from the app is the HomeCare Package, which provides built-in antivirus protection, as well as a Parental Controls feature. A nifty, thoughtful tool for the parents, it grants great flexibility in managing their children's internet access, including a list of predetermined filter levels that block out websites based on the selected category. For instance, 'Teens' will bar access to adult and gambling sites, while 'Pre-teen' extends the ban to social networking sites, in addition to the two aforementioned sources.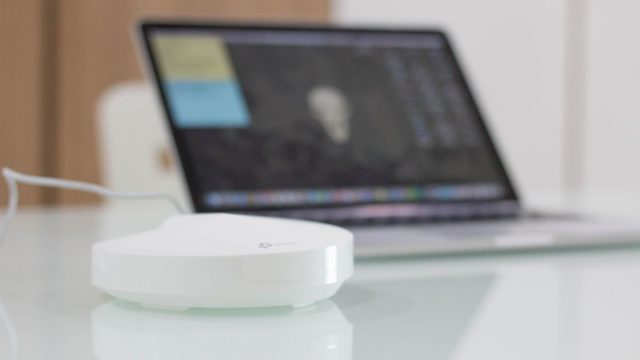 Performance-wise, the Deco M9 Plus delivered an all-around satisfactory experience, with some flaws to boot. On paper, the numbers promise an improvement over its predecessor – 802.11ac AC2200 Tri-band: 2.4Ghz: 400Mbps, 5GHz-1: 867Mbps, 5GHz-2: 867Mbps; 4,500-square feet coverage; quad-core CPU with 512MB RAM and 5GB eMMC storage – and they appear to have translated well to real life.
Each small disc boasts eight antennae in total, which is doubled from the M5, that sees an average download speed of around 405Mbps over a 10-metre mark when a 1GB file is being transferred (5GHz band). An impressive showing, the node outpaces other brands when placed farther as such, but loses out at closer distances, where it clocks comparatively slower speeds. Its score, nonetheless, still leans towards the top of the board.
While the Deco M9 Plus did a fine job above, it falters where upstream speeds are concerned. In comparison to the download speed of 405Mbps, it comes in with a disappointing 200Mbps – about halved of the latter's. It's also observed that the overall upload speeds take a dip when the networking coverage increases.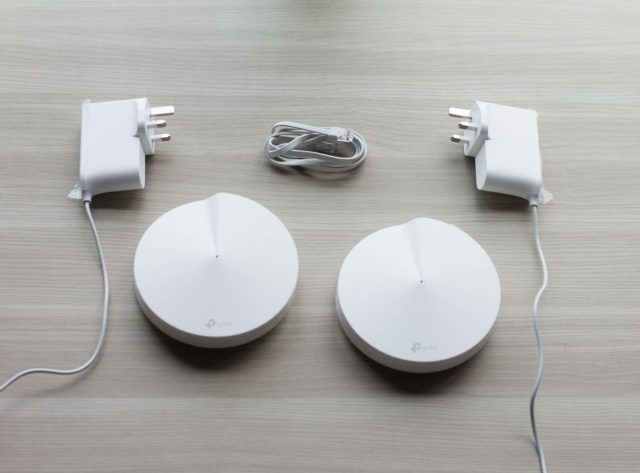 The solution to that would be to place another node or two, which is why the mesh router also comes in a two-pack. With that, both the upload and download speeds sport respectable numbers, although the latter's performance can be a bit of a mixed bag when there's a second or third storey involved. As for distances across the same floor, everything is maintained fairly consistently.
But perhaps the greatest strength of the Deco M9 Plus is its coverage of Wi-Fi dead zones. Spread across two nodes, the mesh system's signal has remarkable reach, and can be registered even at the most remote parts of one's house – when taken out for a spin at a university hostel, the connection was able to carry through to the toilet a couple of units down the corridor, albeit expectedly flaky, extending to the shower stalls as well.
The Deco M9 Plus may not be marketed as a gaming router, but its slick, consistent frames-per-second (FPS) and ping performance would most certainly win the favour of gaming enthusiasts. In Overwatch and Destiny 2, there was nary a hint of latency spike at all, complete with a comfortable 60fps and 15-millisecond ping, alongside the lack of dropped frame rates.
Priced at S$568 for three nodes (S$369 for a two-pack, S$199 for a standalone), value definitely comes in numbers with the Deco M9 Plus. It's, in essence, quite the competent mesh device, although its upload speeds and occasional erratic displays can do with some improvement. Depending on what one's looking for, these flaws may be overlooked in favour of better networking coverage and enhanced app features, but its slightly costlier price tag takes a little shine off the overall appeal.
GEEK REVIEW SCORE
Summary
What you pay is what you get, and the Deco M9 Plus is quality packed into a small disc. A commendable upgrade from the Deco M5, it's a neat little addition to the lineup of mesh systems in the market and one's home – price tag and small gripes aside.
Aesthetics -

9/10

Build Quality -

8/10

Performance -

8.5/10

Value -

8/10

Geek Satisfaction -

8/10
---

Drop a Facebook comment below!