Imagine if the post-apocalyptic video game Fallout 4 had a story focused on a series of vague and linking unfortunate events, but nothing revolving around house-building, violence, and survival. Oh, and add in long panning lingering shots to highlight the beauty and ugliness of the world that our "heroes" are stuck in.
Does that sound like a sackful of fun for you to sit through?
If so, you'll enjoy Bad Batch, the latest arthouse-style mashup from Ana Lily Amirpour, the woman who directed the 2014 Persian-language American vampire western, A Girl Walks Home Alone At Night. For the rest of the world expecting something pulse-pounding when you hear the words "post-apocalyptic", "desert", and "cannibals", you might want to dial down your expectations.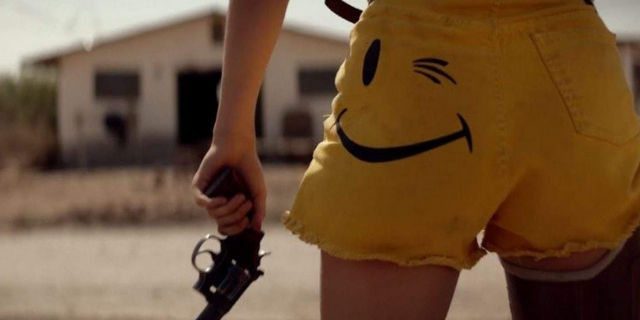 Waste Wonderland
In a future American dystopia, bad rejected folks get thrown into a giant desert wasteland where cannibals and free people roam. Our protagonist, Arlen (Suki Waterhouse), gets her right hand and leg chopped off, and eaten by cannibals who imprison their food. After a timely escape involving a literal mess, she holes herself up in the town of Comfort, run by a kindly mayor of sorts, The Dream (Keanu Reeves).
Meanwhile, a muscled cannibal/sketch-artist-extraordinaire, The Miami Man (Jason Momoa), tries to live out a normal life with his kid Honey (Jayda Fink), but the kid ends up getting taken by Arlen through unfortunate circumstances. Amidst all of this is a roaming hermit played by Jim Carrey, who sorts of ties these vague plot threads together.
The film starts off incredibly disjointed, and its transitions are as smooth as an ATV offroad ride downhill a rocky path, but as soon as you realize that the long panning and drawn out shots help set the dystopian yet semi-colourful mood, you begin to realize over the hum of the arthouse hipster soundtrack, that its thin thread of the plot isn't the point.
It's a movie where you have to soak in the experience. The problem is that you need to also have characters you want to root for, and like to give a damn about. Bad Batch does not really offer that much incentive to care, as Arlen is a survivalist who has a hard-on for Miami Man muscles, despite his dietary preferences. Miami Man cares for his daughter and sorts of keep Arlen alive just because. The Dream is a narcissistic but kind soul, yet there isn't much done with him aside from a hostage scene with one of his mistresses, than just feels like a drive-by scene.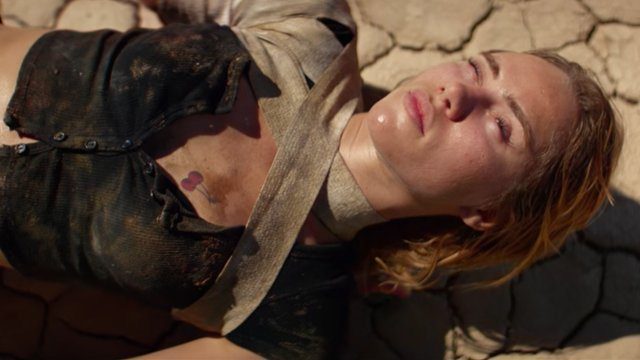 It tries to hammer home the message that misery loves company, but some of the decisions made by the characters here are rather ambiguous, and don't really make much sense. I get that when films portray themselves in this independent manner, we as an audience should just piece everything together and understand the director's narrative. But all I'm getting is a series of flimsy narratives masked by the director's trademark drawn-out style.
Dystopia, Or Dhatopia?
Still, Bad Batch isn't a complete waste of time. The cinematography is great though can get a tad overbearing. Jim Carrey as the hermit has his moments, while the campfire scene between Arlen and Miami Man is one tender and genuine character-building moment that somehow ends up getting drowned out a few scenes later, with the director slapping her trademark editing schtick that wears out its welcome. The earlier few scenes of gore and dismemberment will keep some folks awake, before they realize what a crawl the film can be.
Proceed to watch The Bad Batch with some dialed down expectations. This is a fraction of a Mad Max film, with pretentiousness turned up to 11. You might find the premise interesting, but only with a right frame of mind.
GEEK REVIEW SCORE
Summary
Beautiful shots and aesthetics can't mask a barebones script and vague narrative. Stay for the shots, don't bother coming back for seconds.
Story -

4/10

Direction -

7/10

Characterisation -

4/10

Geek Satisfaction -

6/10
Jonathan is an avid self-proclaimed connoisseur of films, video games, music & comics. Prefers screwdrivers over martinis. Fears oblivion.
---

Drop a Facebook comment below!