Sushi is one of the most popular eats in the bustling nation of Singapore, and for good reason. Just ask anyone who's lived here for at least 1 month, and they can name you at least one sushi joint near their place.
But the question to ask, then, is: which ones are the good sushi restaurants? Well, there's a new contender in town, but for sushi fans, the name is extremely familiar, as famed Japanese chain Sushiro may yet be one of the best sushi places to consider for those of you who really, really must have their sushi at peak freshness.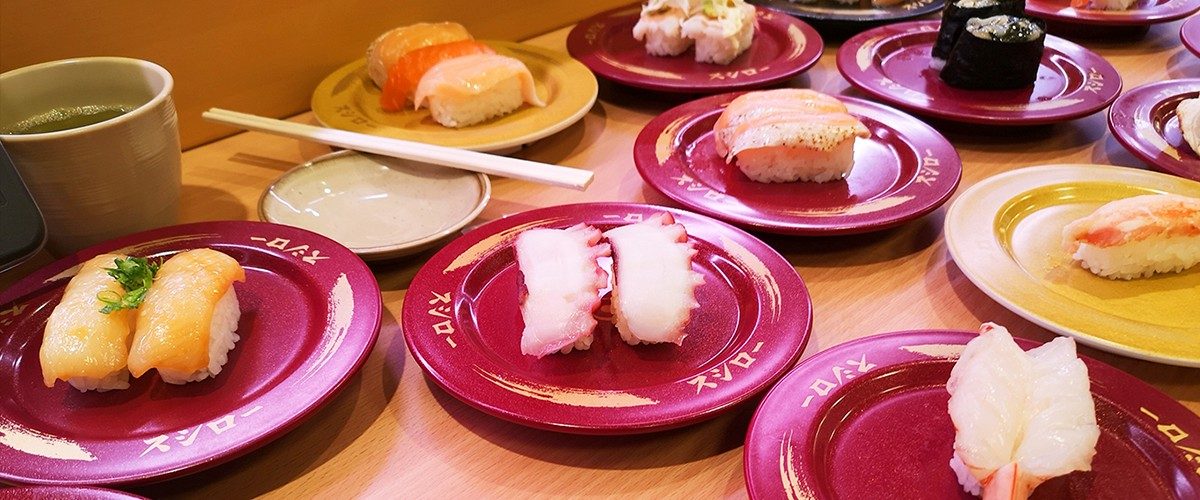 Kaiten (conveyor belt) sushi restaurants are quite the fad in Singapore, and even more so in Japan. Sushiro claims the top spot for the largest kaiten sushi chain back at home, selling roughly 1.36 billion plates of sushi per year, and boasting roughly 530 outlets across Japan, Korea, and Taiwan. To bring it to Southeast Asia starting with the sushi fanatics in Singapore is definitely a good idea, as the sheer amount of variety one can enjoy here is more than enough to whet one's appetite.
The sole Sushiro outlet in Singapore is in Tiong Bahru Plaza. From afar, the entrance to the place looks rather inconspicuous, but its simple outlook belies the throng of rows and rows of conveyor belts that line up the interior.
Regardless of where you're seated at, you'll be accompanied by a moving kaiten, which is constantly filled with plates of fresh sushi. When we say fresh, we literally mean it, thanks to special tracking system located under each plate, which tracks how long each plate has been on the belt.
And speaking of freshness, the ingredients and rice are all flown in from Japan on a weekly basis. Preparing each roll of sushi are friendly staff from Japan, as well as locals that have been trained, so your sushi is always made with the highest of quality. And with plates as low as S$2.20, you're well-assured of some top, top sushi. Granted, other sushi joints such as Sushi Express (S$1.50/plate) and Nihon Mura (S$1.80/plate) are obviously cheaper, they just don't compare to the superior overall quality and customer service provided by Sushiro.
Each sushi is made with hand-rolled chunks of Japanese vinegared white rice, which absorbs the flavour of each topping, on top of your soy sauce dip, really well. Also, unlike any other regular white rice, the one at Sushiro seems to have a fluffy, airy texture to it that keeps it firm for long periods of time, but you're always encouraged to eat it right away, of course.
If you've had enough of sushi, fret not; you can order other a la carte dishes via the tablet right in front of you, or via the (free) Sushiro app on iOS or Android. These non-sushi dishes will then be served to you via a secondary conveyor belt right above the regular one when it's ready. Talk about convenient!
But of course, you're here for the stars of the show — the sushi — so we shan't keep you waiting any longer. Here are some of our favourite offerings that you should definitely consider when visiting Sushiro.
---
Tuna Sushi (S$2.20)
A Sushiro fan-favourite in Japan, the fleshy red tuna slices in contrast with the white rice to make it really stand out among the other plates. But looks are but one part of the equation here, as the thickness of the tuna is really felt with every mouthful. Even so, it breaks down really well when you bite into it, making it super easy to consume in just one or two bites. It's no surprise that the tuna is one of the most popular dishes in Sushiro.
Salmon with Basil Cheese (S$2.20)
If sinful had a proper Japanese term, this would be it. This sushi screams savoury, with the flame-grilled basil-infused cheese seared onto the fatty of the salmon. One bite of this decadent bad boy, and your tastebuds will be screaming with delight, as the richness of the basil kicks in with the umami flavour of the salmon, to sublime effect.
Roasted Pork with Green Onion (S$2.20)
While fish and other seafood make up the bulk of the sushi offerings at Sushiro, there are some meat ones as well. One of these includes the roast pork with green onion, which sees a sizeble slice of melty, chewy pork, drizzled with teriyaki sauce, a copious amount of mayonaisse, and some chopped green onion garnishing. The result? One lip-smacking, moan-inducing good time.
Yellowtail Sushi (S$3.20)
Yellowtail isn't as common as tuna in most other sushi restaurants, so whenever you come across one, you'd expect it to contain that rich, silky-smooth and light-flavoured goodness. The one at Sushiro carries those attributes well enough, especially when you dip it in some wasabi-infused soy sauce. That said, we're a little disappointed to find out that the yellowtail feels a little too light, and requires more soy sauce and wasabi to really bring out its flavour. That said, it's still an interesting prospect to consider at Sushiro.
Salmon Roe Sushi (S$3.20)
The salmon roe sushi in Sushiro packs quite the salty punch. A mouthful of this stuff will cause a burst of salty goodness in your mouth, thanks to the fat, juicy bits of salmon roe. A single cucumber wrapped in nori (seaweed) helps to balance the saltiness, which is nice.
Premium Grill Conger Eel (S$3.20)
Unagi, or eel, is another staple in any self-respecting sushi joint, and this particular unagi in Sushiro is flame-grilled. It allows the unagi to keep its natural colour, and it doesn't even require any teriyaki sauce to bring out its flavour. The rice works just fine, and with that you have yourself a force to be reckoned with in its rich yet sweet taste.
Sea Urchin (S$4.80)
One of the more premium choices here, the uni (sea urchin) sushi offers a sharp tang of salty, silky Chilean uni, coupled with some crunchy cucumber, nestled on top of that soft, fluffy white rice and wrapped in a crisp strip of nori (seaweed). However, as much as we wanted to say it lived up to its pricing, we found that it wasn't as tangy as it looked, nor was it as smooth either. You'd have to douse it in quite a healthy amount of soy sauce before getting some good taste out of it, which is unfortunate.
Fatty Tuna (S$4.80)
If the smaller tuna sushi didn't cut it for you, then the otoro (fatty) tuna most certainly will. The serving size for each otoro tuna is ridiculously huge, and may require more than one bite in order to be consumed fully. This shouldn't detract you from just how incredible it tastes — just the right amount of brininess and juiciness from the pinkish-white fatty lines that streak across the dark pink flesh will leave you cross-eyed with mouthfuls of pleasure.
If you're feeling too overwhelmed by the sushi and want to take a break from it, you'd typically want to wash it all down with a nice warm bowl of Miso Soup with Seaweed (S$2.50), or even try something more exotic, such as the Cold Chawanmushi (S$3.50). Regardless, the side offerings are quite sumptuous here as well.
As for desserts, we've found the sweetness of either the Mille Crepe (S$3.80) and the Matcha Parfait (S$6.50) to be the more prominent way to round off your savoury expedition to Sushiro.
---
When all is said and done, Sushiro has indeed proven to us Southeast Asians why it is one of the leading kaiten sushi chains in mainland Japan. Like we said before, Singapore is arguably one of the best places to start expanding beyond its Japan's borders, and rightly so.
And in case we haven't said it yet, this place is a definite recommend from us.
Also, in celebration of Sushiro's inaugural opening on August 19, they'll be holding a special limited-time offer on the following sushi at attractive prices (while stocks last):
Fatty Tuna sushi – S$2.20
Swordfish sushi – S$2.20
Ark Shell sushi – S$2.20
Sea Urchin sushi – S$4.80
And finally, here are the address and opening hours for Sushiro:
Address: 302 Tiong Bahru Road #02-118 Tiong Bahru Plaza, Singapore 168732
Operating Hours: 11:00-22:00 (Last Order 21:30)
Soft Open during 19 – 25 August 2019: 11:30-21:00 (Last Order 20:30)