Street Fighter T.N.C. 01: Ryu is Hong Kong-based BigBadToys' first officially licensed product finally launched early this month, and I've been lucky enough to receive one earlier this week. Time to free up some shelf space for it!
To my knowledge, this is the first of 8 figures, and BigBadToys is bringing toy craftsmanship to a level that Street Fighter fans can appreciate. This stylized Ryu sits on a custom diorama representing his Street Fighter II: The World Warriors stage and is depicted with his iconic Hadouken stance (what else!). At US$89.99 (via Play-Asia.com), it isn't cheap. So I'll leave you to decide if it's worth the investment after you've gone through this review.
Its all in the Details
The toy (with the diorama stand) measures at approximately 170 mm in height and 230 mm wide. Materials-wise, its a mixture of PVC and ABS. The overall paintwork for the Ryu figure is top notch. Nothing irks me more than having muddy and inconsistent paint, especially when stray paint strokes are smeared on a character's face. BigBadToys has done a great job in this respect, and their attention to detail is admirable.
As for the backdrop board and base, I was initially fearful that the manufacturer would use stickers. Once again, I am pleasantly surprised to discover they didn't. In fact, I can't tell what application the manufacturer used for the base. All I know is, I won't ever be worried about cheap stickers peeling or cracking over time for this piece. Even the "Street Fighter" logo print on the button is placed below the transparent plastic button, so no worries about wear and tear from constant pressing there too!
One other nice touch if you've noticed, is that the backdrop visual is only half of the stage, showcasing only Ryu's life bar with the "K.O." cut off on the right end. So looks like one would need to buy a second character to complete the diorama.
For a closer look at the details I've mentioned, have a browse at the photo gallery below:
LED-powered Hadouken
I'm a big sucker for toys that have light-up effects. This one not only has an LED-lit hadouken, but at a press of a button, we're even treated to an official sound clip of Ryu shouting "HADOUKEN!" There's also a subtle and nice touch to the LED, it fades off smoothly after a few seconds instead of shutting off abruptly. The light and sound are powered by 3 AAA batteries (sold separately). Don't forget to remove them if you're planning on leaving it on your shelf for an extended period of time!
Drag the image below to the left and right to see the "Hadouken" effect!

Want to hear Ryu's shout? Then watch the video below.
Who's the Next Challenger?
Guess who's going to be No. 02? It's none other than Ken Masters doing a "Shoryuken", according to BigBoysToy's official Facebook page, and he's about 80% done. I'll definitely be setting aside some money for this, just so I can complete the diorama, and give Ryu a worthy opponent on my display shelf!
I wonder though, how the backdrops would join up, since Ken's stage will be different from Ryu's, the transition might end up rather abrupt, unless the manufacturer decides to include multiple backdrop options with subsequent releases? Guess we'll just have to wait and see.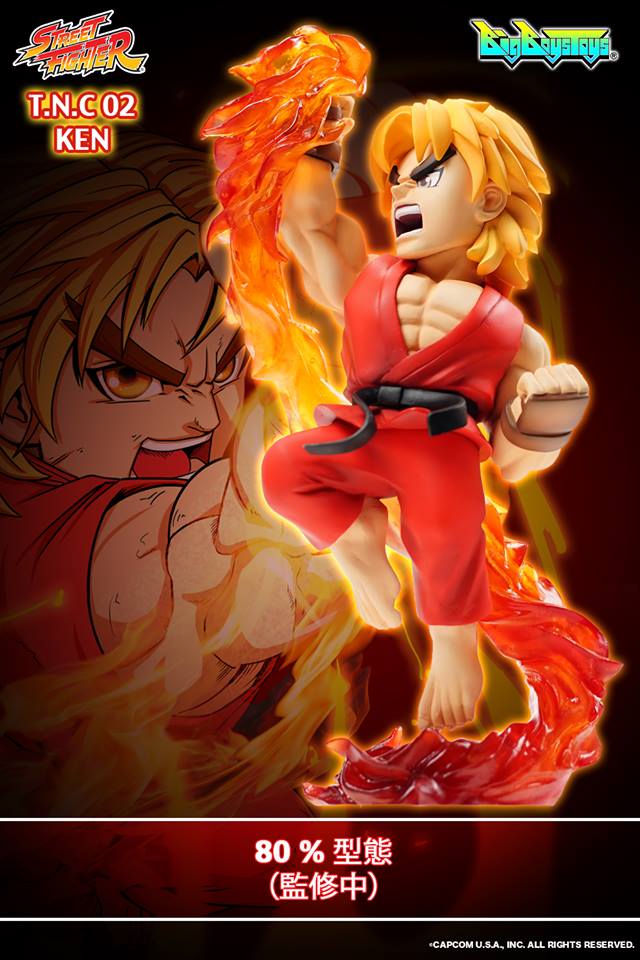 More Shelf Space Please
According to the manufacturer, quantities are limited, so be sure to grab yours via Play-Asia.com to avoid disappointment! US$89.99 might be quite an investment, especially if you're a die-hard Street Fighter fan and plan to get all 8 pieces (totaling US$720!!). And for some, limited shelf space is the bigger problem. Us geeks could sure use bigger homes and deeper pockets!