Moving into a new place means being able to buy all sorts of new gadgets for the home and much consideration has to be put into the placement of all your new toys.
One of the biggest bugbears often with a home audio system is having to contend with a multitude of wires but thankfully there is little need to mess around with wires with the new Sony HT-RT5. I had initially designed my new home so that it would be able to fit a wireless soundbar that I would eventually purchase. This meant having power points installed nicely into the bookshelf and a separate powerpoint away from the main console itself for the subwoofer. With all these in place, all that I needed to do was to pick the perfect one.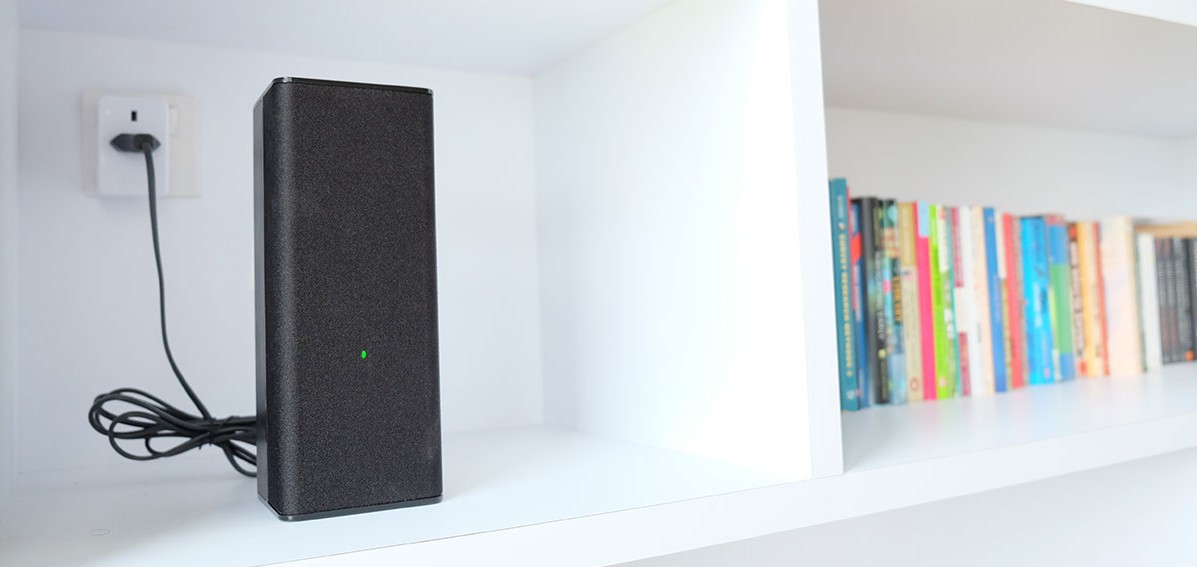 The Sony HT-RT5 is a 5.1 system with a subwoofer and two rear speakers. Only one wire needed here apart from plugging your new speakers into their own individual power sockets would be a HDMI cable (not included) to connect the television to the soundbar itself via the HDMI ARC port. This allows you to grab all your TV's audio and project it out of the soundbar without having to change channels repeatedly if you are swapping between various sources on screen.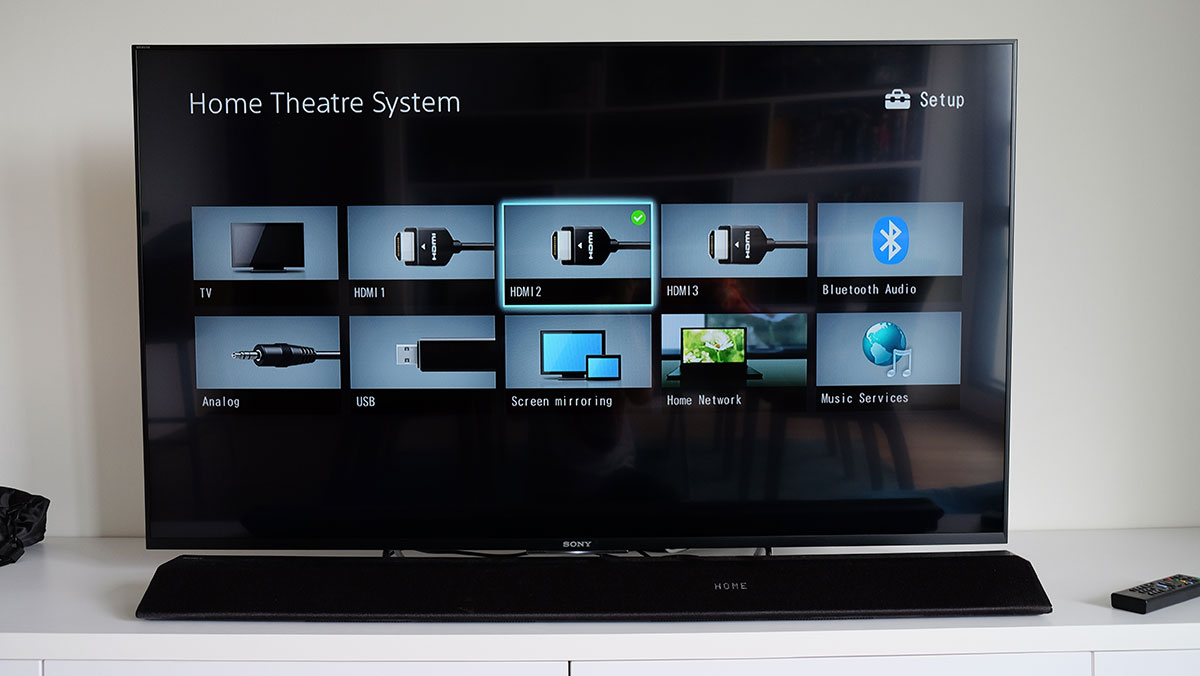 Once you've placed all your speakers in their desired locations and using the supplied calibration tool, the soundbar will assist you in tailoring the best audio based on the positioning of the speakers. One thing that stood out for me was that despite using a Sony television, there was no real synergy between the devices when it came to set up. The soundbar actually had its own setting and UI page to help first time users along. It would have been better if Sony could integrate their devices and improve user experiences when setting up complementary products such as a TV and soundbar.
All things factored in, it took me roughly about 20 minutes to go from box to giving the HT-RT5 its first test drive.
The first movie that I reviewed on the HT-RT5 was Ridley Scott's Gladiator knowing that I would be able to reach a major battle scene early in the movie to give the soundbar a good test run. And I certainly was not disappointed.
As far as audio went, it felt as though I was transported back to the late 90s where I first watched the movie in the cinema. The sound was rich and full as the audiotrack of the battle clearly rung out amongst the clash of metal and bone. It felt all new to me once again and I certainly was pleased that the system was able to recreate the atmosphere of the cinema in the living room.
It seems that Russell Crowe seems to be in many an epic movie and with Master and Commander it was another awesome experience. To save all the superlatives, it felt as though I was actually within an actual storm at sea. I'd very much like to turn the volume levels up but as much as I'd love to show off my sound system, the potential complaints from the neighbours would be something I would very much like to avoid.

Complaints from the neighbours would be something I would really should get used to because, frankly speaking, this is one audio system that I would really love to crank up. Sony has pretty much thought about everything here and positions themselves as the man that everyone should turn to. Providing support to possibly every source and with 3 additional HDMI ports available together with an optical audio port, there's plenty of room for expansion here.
The greatest feature here would be the ability to play your music from the various web services out there from Googlecast supported devices to the current king of the streaming roost, Spotify. Admittedly, the initial setup was rather puzzling as I could never get Spotify to actually steam on the HT-RT5 itself. What I found out was that the soundbar worked best was if everything was on wifi instead on a direct connection (which was the initial setup). The soundbar seemed unable to calibrate itself to be on the same network which prevented me from casting Spotify directly on the soundbar itself. After hopping onto the wireless home network, everything worked as it should and the world was set into balance once again.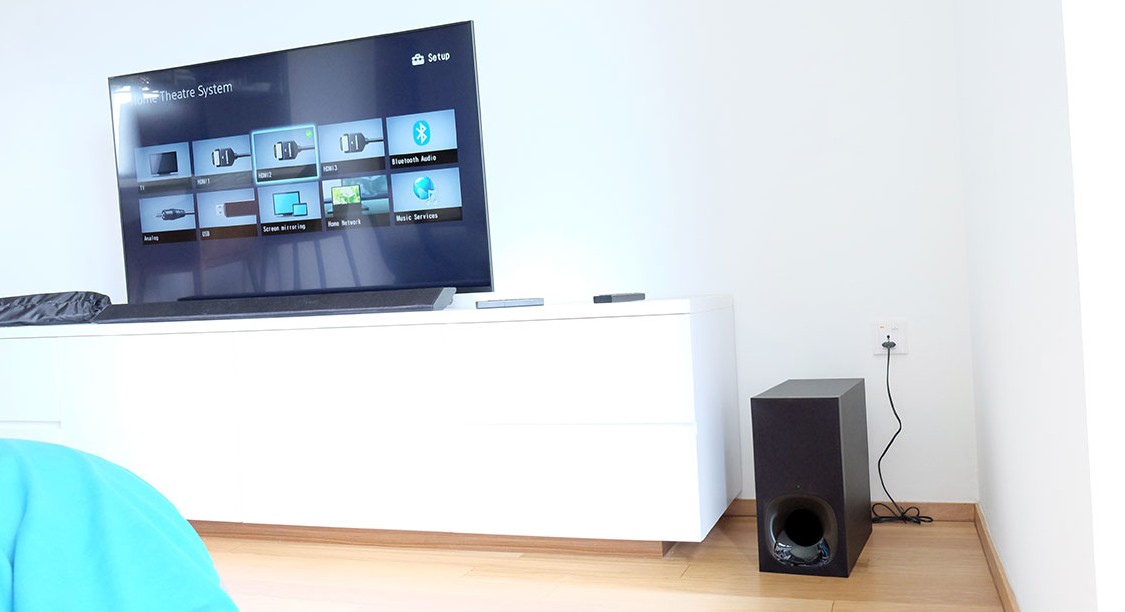 With Spotify, I brought the soundbar through its paces with the following audiophile test track playlist and the sound, once again, sounded great. Tried and tested with a few other friends who visited the home, they too were convinced that the audio was detailed and crisp. The bass does get rather heavy especially when listening to Radiohead's "High and Dry" but it sounded perfect for White Stripes "Seven Nation Army".
In my final test, at the recommendation of an audiophile friend, I grabbed a copy of Diana Krall's "Live in Paris" in FLAC. I had played the file via my computer connected to my television set. Initially, I was concerned of the file going through so many filters would affect the audio quality but my fears were unfounded when I started off with "Just the Way You Are". I then finally realized why FLAC files were so huge in the first place. Every note and word uttered from crystal clear and it was all natural sounding. If anything, it was as if you were right front and centre in Paris itself for the concert.
Home Sound System Comparison
| | | | | | | | |
| --- | --- | --- | --- | --- | --- | --- | --- |
| Sony HT-RT5 | S$999 | Sonos Play Bar | S$1,299 | Sony HT-NT3 | S$999 | LG HS7 | S$699 |
| | | Sonos Play 5 | S$769 | Sony SRS-X99 | S$899 | LG H5 | S$449 |
| | | Sonos Play 3 | S$559 | Sony SRS-X88 | S$699 | LG H3 | S$299 |
| Total | S$999 | | S$2,627 | | S$2,597 | | S$1,447 |
While it might not be an apples to apples comparison, the above table gives you a rough idea how much each brands wireless audio set up might cost. With the HT-RT5 you might lose the expandability when it comes to multi room set ups as the audio system considers itself as a entire unit by itself. There's no broadcast via a single channel speaker with the HT-RT5.
At the end of the day, the Sony HT-RT5 delivery great value and equally awesome sound for it's price. I would heartily recommend this to anyone looking to get a new audio system for the home. The math and ears agree that this audio system is the ideal place to start with.
GEEK REVIEW SCORE
Summary
Perfect for home owners who would love to dip their toes into owning their very first home audio system. No wires, no fuss.
Aesthetics -

8/10

Build Quality -

8/10

Performance -

8.5/10

Value -

8.5/10

Geek Satisfaction -

8.5/10
Gerald currently straddles between his love of video games and board gaming. There's nothing that interests him more than trying out the newest and fanciest gadget in town as well. He dreams of publishing a board game sometime in the future!
---

Drop a Facebook comment below!

---