When it comes to review units, most brands love to send their biggest and brightest to dazzle the media, and on this front, Samsung has definitely provided their best in the form of the Samsung S95C 77-inch OLED TV, the brightest television we've reviewed in a long time.
Interestingly though, at 77-inch, this isn't the biggest TV in the market or the largest that the Korean chaebol has ever made, but for practical reasons, which home needs or can fully appreciate anything bigger? It's either too ostentatious or impossible to be impressed with because it's an ill fit for most regular homes.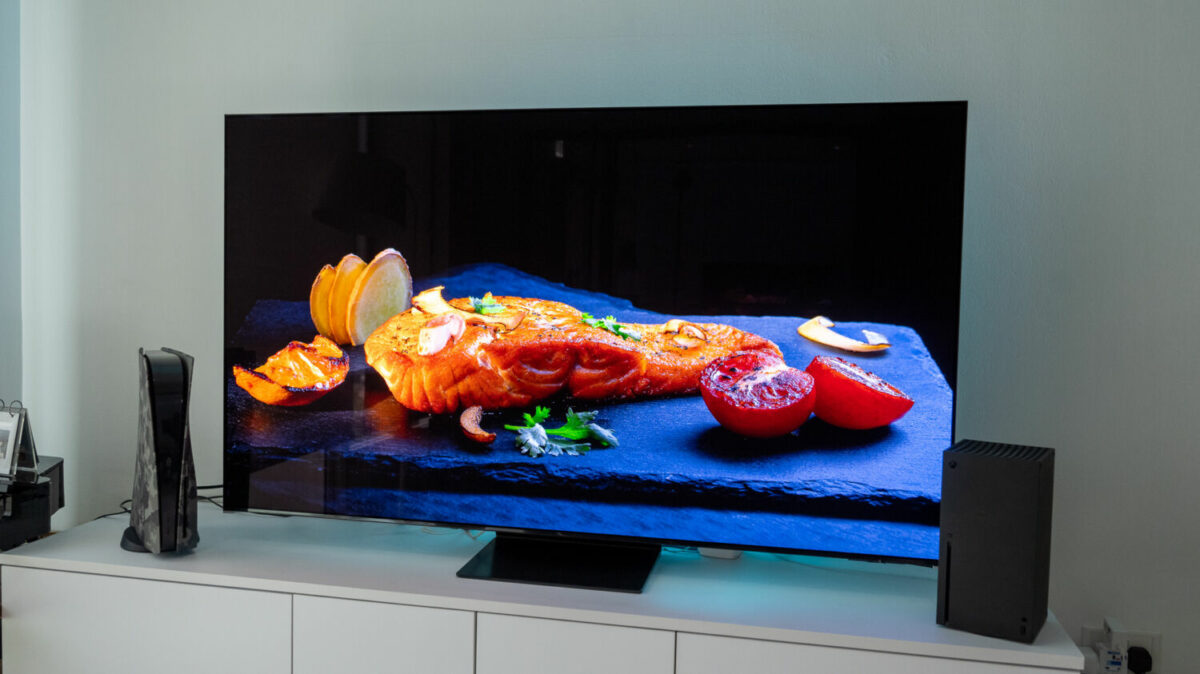 On paper, the Samsung S95C of this year has similar technical specifications to last year's S95B, which snagged the Geek Culture Gold Awards for Best Display. At the heart of the TV is the 4K Neural Quantum Processor which helps power the 3,840 x 2,160 4K display and AI upscaling for non-4K content. Samsung is still using its Tizen operating system as the UI of their TVs and while not the smoothest when it comes to navigating through menus, we've grown accustomed to it. The interface is still fluid enough to be dynamic, with quick load times and a speedy interface. Like we said, the annual upgrades are not the biggest, but it's where they have been upgraded that matters.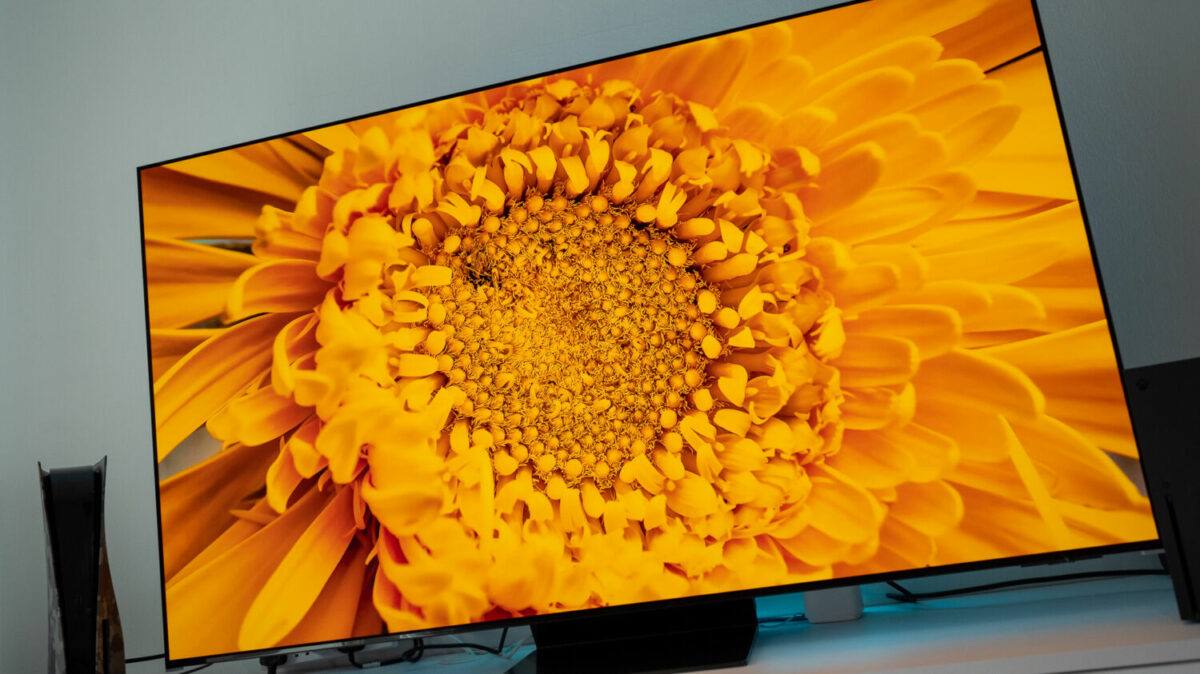 At 1,600 nits of brightness, this is 200 more than last year, and it shows. Coupled with the higher refresh rate of 144Hz compared to 120Hz from last year, the TV is practically a large spotlight in your living room, which shows when you're watching animated movies on Disney+ or the latest Korean dramas on Netflix. So why 77-inch as the largest? We can only hazard a guess but maybe the combination of display size and brightness offers a balance that can be met by the US$4499 price point, which is a new addition to Samsung's OLED range that only had 55" and 65" variants last year.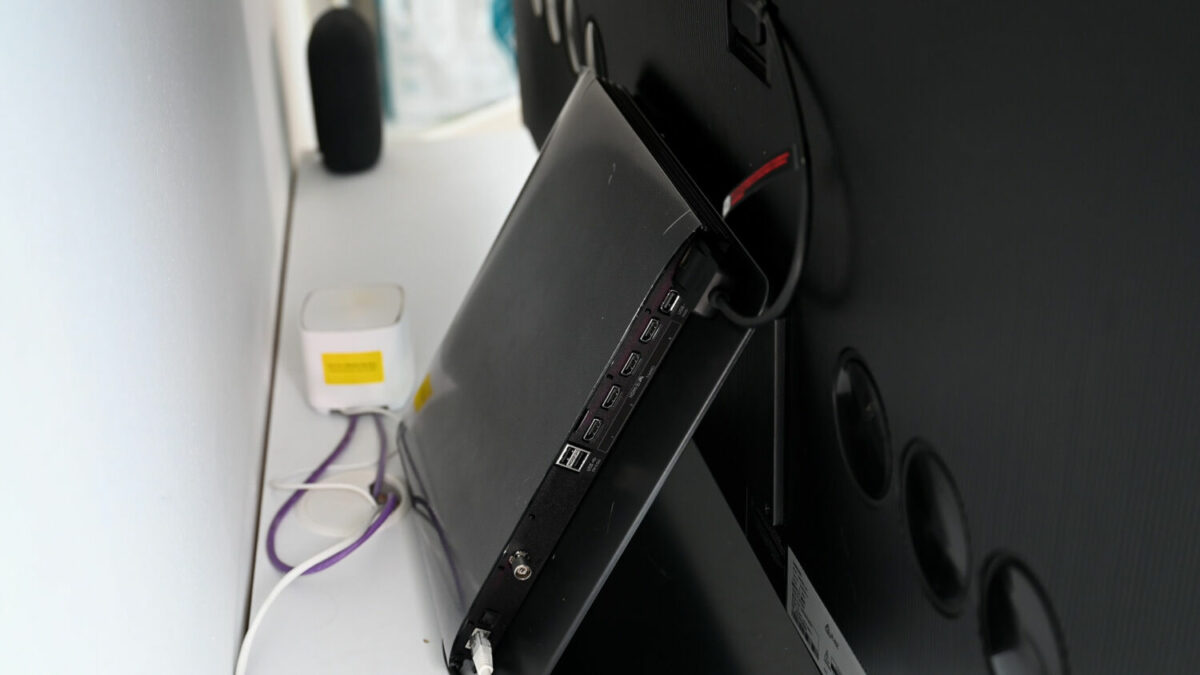 Design wise, Samsung continues to adopt its panel-only approach, where the heart of the TV is the One Connect box that serves as a hub for all your external hardware where you can plug in everything. Measuring approximately 300 x 30 x 300 mm, the hub is the brain of everything external to connect your gaming consoles to soundbar. The key inputs there are 4 X HDMI 2.1 ports, 3 X USB 2.0 ports, 1 X ethernet port, and an optical out port. These ports are located on the left side as one faces the TV and the box, by default, can be placed on the TV stand at the back.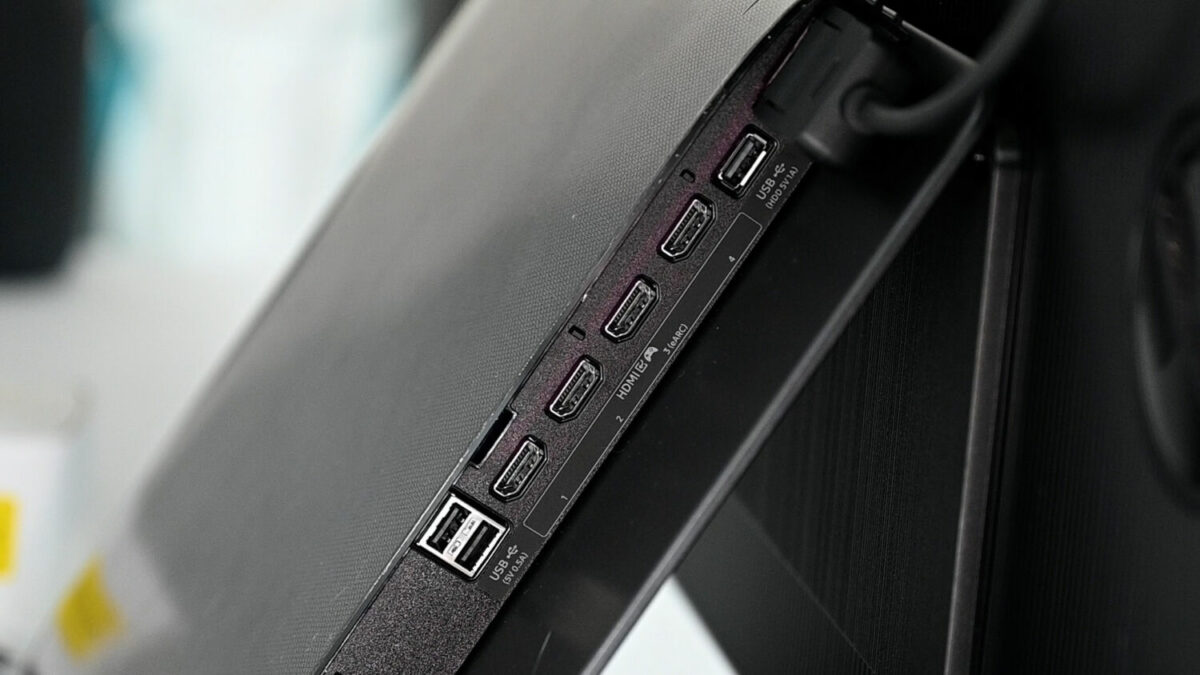 However, the key feature here is that the One Connect box can be adjusted accordingly now that all the key components are separate from the main TV. This means that the dimensions of the TV makes this display extremely thin, as the box can be repositioned accordingly on another shelf or display cabinet. The only drawback is that this box does generate quite a bit of heat, no different from the rear panels of regular TVs with components placed there.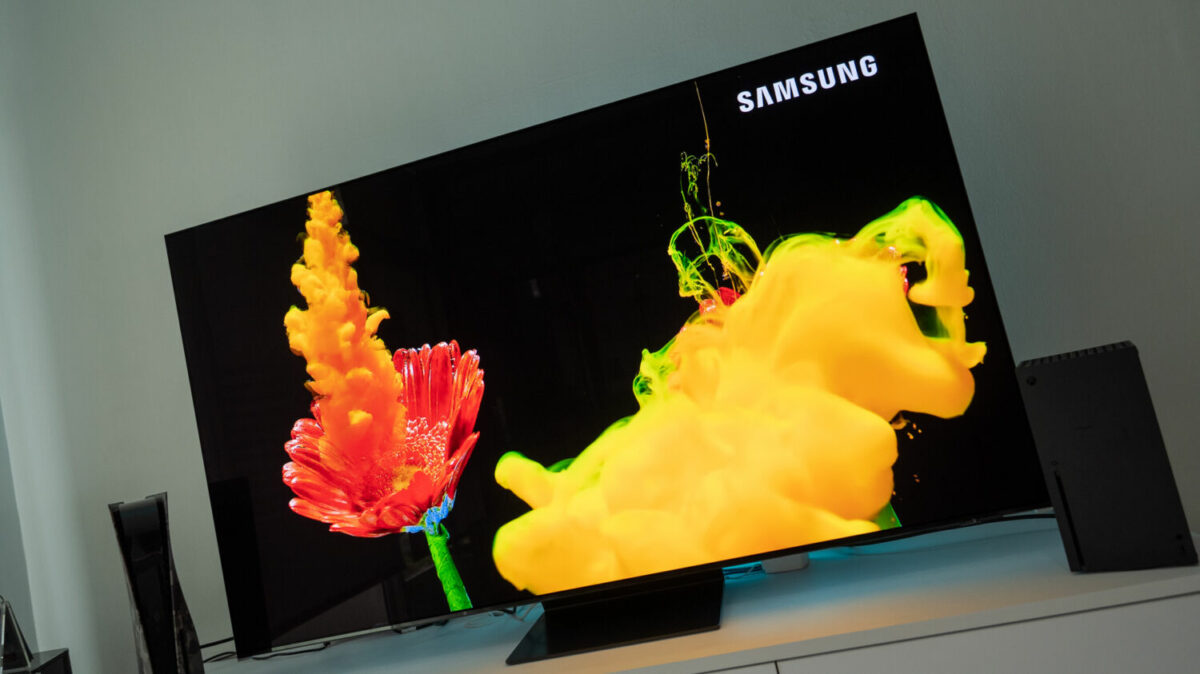 One common element OLED detractors tend to pinpoint would be how dim the panel is compared to MiniLEDs, for example. Thankfully, there's little concern with the Samsung S95C. In fact, 2023's refresh can actually get too bright and it affects your viewing experience in some circumstances, such as late at night and when the lights are off. While OLEDs will always command a premium over other alternative panel technologies, their high price keeps that out of reach for most consumers, especially the larger they get  To tackle the bright display, a suggestion would be to toggle the TV according to the type of content and situation you're placing on screen. This practice is largely personal but we found that "Dynamic" mode has been calibrated rather well for the S95C, and you can always tune the colours down to "Standard" or "Movie" mode for a more muted presence if that's the preference. Be sure to turn off Samsung's default intelligent picture mode to access the full range of options. The upside of having a bright TV would be the ability to see the screen under bright lighting conditions such as during the day. While glare is apparent from certain angles, it's something that will not be noticed once the content starts playing.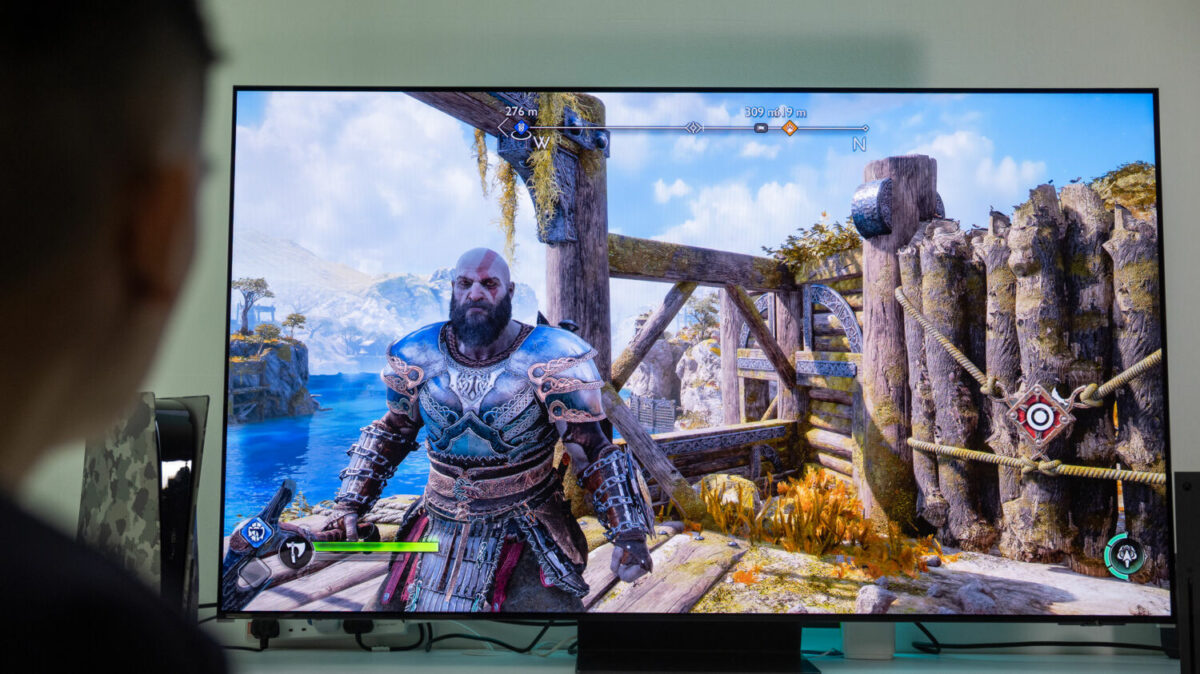 When we fired up our PlayStation 5 (PS5) on it and went through God of War Ragnarok, it became apparent that Samsung clearly knows that TVs these days need to be optimized for gaming. If the price makes sense, there's little need to pair a PS5 together with a Sony OLED TV when the Samsung S95C clearly does the job equally well. The main quest hub area in Ragnarok can be really glaring with all the water reflections, the Samsung S95C shines in the darker areas as we battle Dark Elves in The Below. The contrast between dark and brighter areas with the added splash of colour illustrates how amazing modern console gaming can be given the right conditions. 
Bright colours and amazing visuals were also strong with the latest  Forza on the Xbox Series X. It's a great place to show off Auto Low Latency Mode (ALLM) and Variable refresh rate (VRR) and there's little screen tearing taking place as the game is able to maintain a consistent 100 – 120 frames per second at high speeds. That said, we're still waiting for that one exclusive game to really witness next generation graphics on a cutting edge display.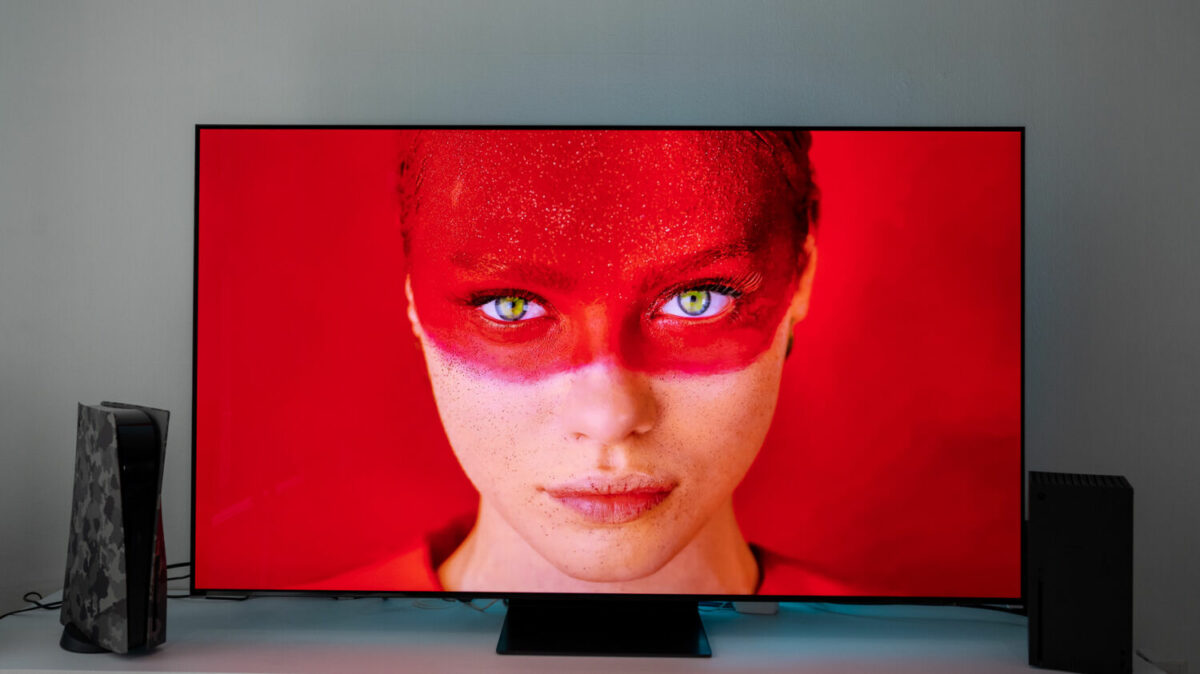 The Samsung S95C also offers AMD's Freesync if you're into PC gaming, an adaptive synchronisation technology for large TV displays that support a variable refresh rate. This is beneficial for making sure that content's frame rates match those of the hardware's, to prevent stuttering and tearing of graphics. While this TV does support 144Hz, there's no Display Port on this unit, which means that the higher refresh rate is hampered by the technical specs of HDMI 2.1, which maxes out at 4K 120hz.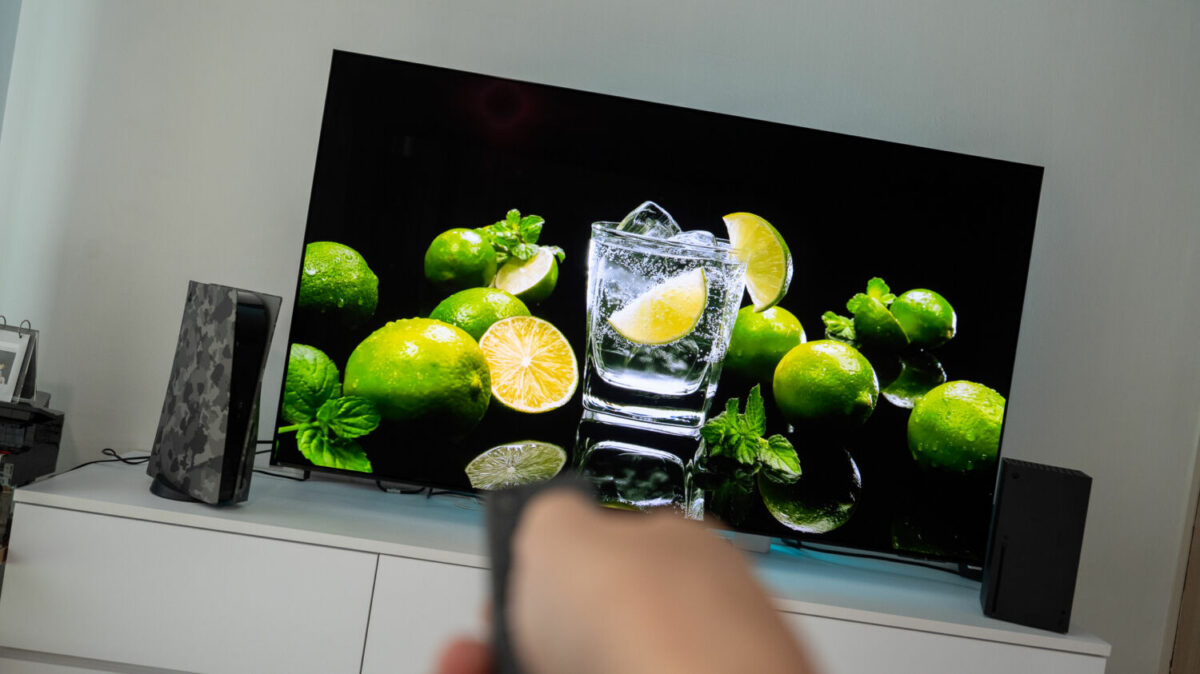 The sound system on this TV is also impressive, even with audio coming out from the rear. This means you can't really place the unit directly up against the wall, but allow some space for audio to bounce off the back. If you're pressed for space, do consider a soundbar, which Samsung has several of.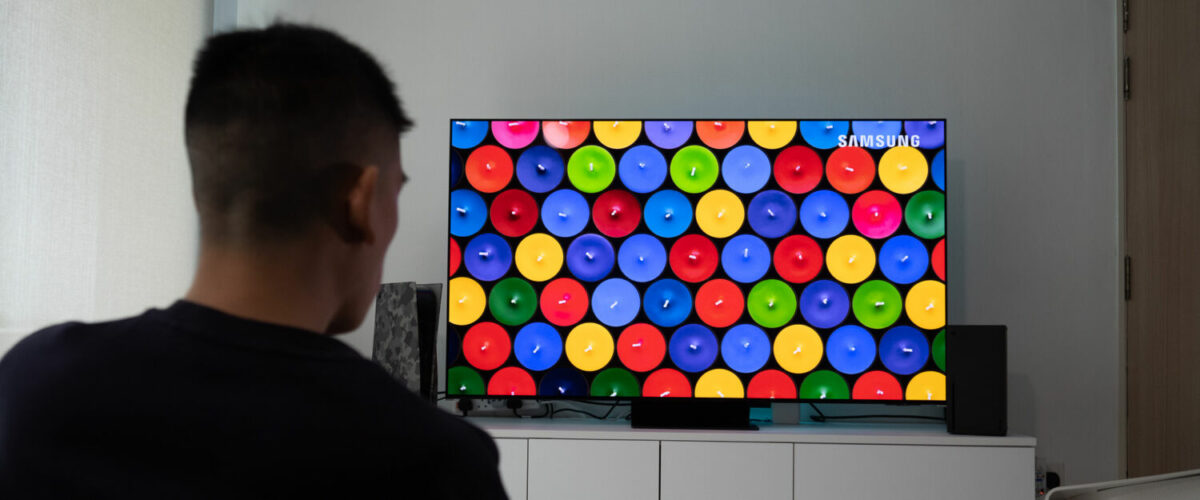 Overall, the Samsung S95C is a great television. It is definitely pricey but we can safely say that while you're paying a premium, there's actually little downsides with the display. If you're looking for a brand new TV and an OLED alternative, the Samsung S95C is the one to put on your list of considerations especially if you have the space for a massive 77 inch model.
GEEK REVIEW SCORE
Summary
The Samsung S95C is a rare product that scores well in all areas but is hindered by its hefty price tag. At this point, we would hold out to see if smaller screen sizes of this model will be available down the line at a better price point. Otherwise, 2022's S95B still remains a possible, solid alternative.
Overall
9/10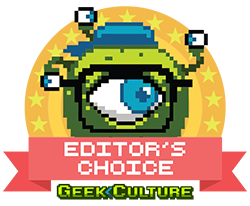 Aesthetics -

9/10

Build Quality -

9.5/10

Performance -

9.5/10

Value -

7/10

Geek Satisfaction -

10/10
Gerald currently straddles between his love of video games and board gaming. There's nothing that interests him more than trying out the newest and fanciest gadget in town as well. He dreams of publishing a board game sometime in the future!