In the past year we've seen how VR, AR and 360 degree photos have added a dash of flavour into our media hungry lives. While some might appreciate the injection of a new media format in our social feeds, truthfully, the above mentioned mediums have yet to solidify themselves in our everyday experiences.
That has not stopped Samsung from following up on their 360 solution with a new Samsung Gear 360. Having reviewed last year's model, it was a pleasant surprise to find an updated design for the 2017 version. You're looking at a Gear 360 that's smaller and much more comfortable to hold in the hand.
The detachable tripod is gone, replaced with a monopod-looking stem that is easy to hold. I'd say this new design is better at discreet street photography as you can now fire away while keeping the camera close to the chest. It's a pity that you can't remove and switch batteries anymore. On the bright side, it now uses a USB-C port so you can share your Galaxy S8's cable with the 360 camera.
For all the improvements, you're looking at a price of S$348 for the new Gear 360, a far more affordable option than its predecessor's S$498 launch price.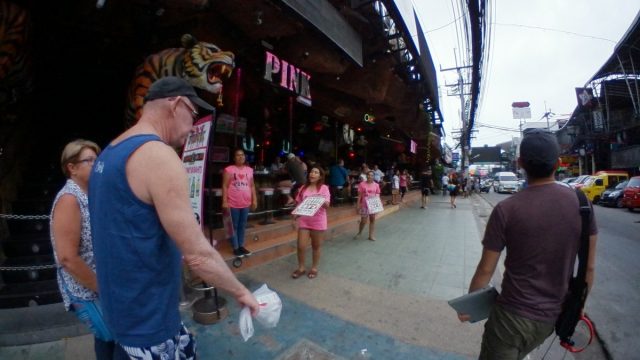 The Gear 360 works like all cameras – the more light it gets, the better its shots look. In this case, the aperture of the lens has gone from f/2.0 to f/2.2. While it might be a small change, such things do matter, especially if you're working under low light conditions where every single sliver of light counts.
Still image resolution has lowered from 30MP (two 15MP sensors) to a 15MP (two 8.4MP sensors). Does it make a difference? Looking at photos shot from the previous 360 camera, I found that the image quality did suffer a bit but with very minor differences.
One marked difference would be the lack of a significant "horizon" line that denoted where both halves of an image were stitched together. With the current model, there would be no concerns with framing as the software stitches both halves well together. Honestly, if you're looking for something with sharp image quality, you're better off with a smartphone camera.
Because of its extremely wide field of view, it'll be a waste not to take landscape shots with 360 camera. So it makes sense for the new Gear 360 to include a HDR landscape mode. Point to note, the said mode requires you to set up the device on a surface or a tripod. This is presumably to allow for a longer exposure time to allow more light into the camera for more details in the shot. The difference is significant with a HDR landscape shot looking brighter as compared to a normal photo mode.
Move the slider below to the right to see the photo without HDR and left to see it with HDR.
Another significant upgrade is seen on the video front, with the Gear 360 now shooting up to 4K video at up to 24fps in dual lens mode. If you're the type looking to do more action type shots, the camera can shoot 60 fps at full HD (1920 x 1080) in single lens mode. While 4K video might be alluring, having 60 fps should be the mode of choice as as the footage looks much smoother than at 24 fps.
Honestly, the real reason why anyone would want to get this camera would be to shoot live events and giving their audiences a 360 view of the action. Samsung has made it extremely easy for anyone to be a broadcaster and you'll be able to stream seamlessly to Facebook or YouTube with a few clicks through the menu. That's really all there is to it. Once you're signed in, you're ready to go. However, I found that at times I'd be broadcasting to my own personal page with privacy restricted to myself even though I had ensured the settings were all correct. If you're planning to use this camera professionally, you'd probably want to give it a few test runs before the actual day, just in case.
This frictionless experience is due in part to the intuitive and simple user design Samsung has created for the Gear 360. Once you're paired the camera for the first time, the device can be accessed directly via the notification bar upon boot up. This saves precious time having to scroll through pages of apps just to locate the main app.
Transferring files from camera to phone is easily done via the Samsung Gear app. Taking it a step further, the Gear 360 app also lets you upload straight to social media. However, if you're looking to grab the files direct from the memory card itself, you might run into some issues like I did where images were not in 360 format. In order to preserve photos and videos in its 360 format, I found that uploading my files to Google Photos and YouTube directly worked best.
Though Samsung might have made one of the best Android devices around, the company has opened up 2017's Gear 360 to iOS devices as well. Yet at the same time, the device still remains locked to mostly Samsung's top-of-the-line Galaxy devices for Android. One might say it's a way of rewarding its fanbase with more features for being loyal to the Samsung ecosystem. Or, it could be a shrewd play to lure some of the Apple folks over but that's sort of a stretch.
Overall, the latest Samsung Gear 360 is a decent 360 camera at best. If you're the type that could potentially make full use of the entire range of functions offered and yet live with average image quality, this could be a worthy consideration.
---

Drop a Facebook comment below!