[UPDATE 25 December 2015: Winner Announcement! Congratulations to Simon Lim, Quek Hui Xin and Muhammad Hanif! You guys won a copy of Rise of the Tomb Raider each! Please check your email for prize collection details. ]
Usually when you say that a sequel is more of the same, you mean that in a bad way. But when the gameplay was awesome to begin with, that's not exactly a bad thing. Look at Batman: Arkham City. It's basically a bigger version of Arkham Asylum, with all the beloved gameplay mechanics kept intact. Rise of the Tomb Raider is much like that.
After playing through it for an hour or so, I thought to myself that this feels very much like the Tomb Raider reboot I played a couple of years ago. The rock climbing action is there, the bow is there, the zip lines are back, but I was feeling anything but bored. They've taken what made that game good, and added little things that might not drastically change the gameplay, but still makes it better.
The combat has been made a bit easier as Lara is more bad-assed this time around. In the previous game, she was a regular person who was thrown into a fight or die situation and had to learn her hunting and killing skills as she went along. Well, she's gone quite far along now, so she steps into this game ready to open a can of whoop-ass. You start off by building your bow, and then there's a new scavenging mechanic that allows you to get raw materials from the environment like wood and herbs to make more arrows and poison, even in combat. Before long, you'll be combat-crafting molotov cocktails, explosives, and rigging traps on enemy corpses. It's quite exciting to empty your arrows, and then duck behind a boulder to quickly craft a poison arrow while bullets are flying around you.
For quieter combat, Lara has become really proficient at stealth take-downs. You can hide in bushes to jump them, kill them from above, and later in the game you can even shoot two arrows at different targets to score a stealth double kill. And of course, the above-mentioned corpse-traps are pretty efficient too.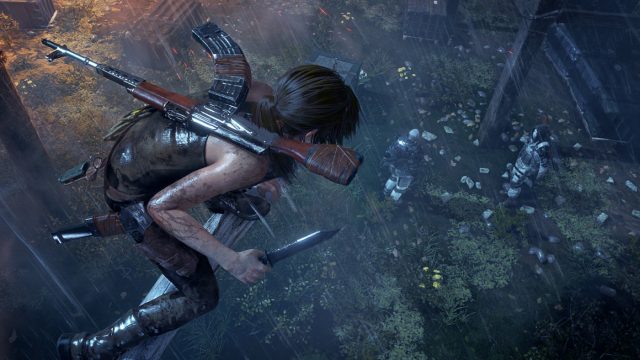 When you tire of the combat, you'll be able to go and find those Challenge Tombs that are a real throwback to the Tomb Raider gameplay of old. And these are really really good. They're not just there to pad out the game like some stupid radio towers that are difficult to climb, but they're outright gems that you'll look forward to. I personally zoomed in on every challenge tower that showed up on the map as soon as I could, even if I was in the middle of something else.
But the real star of this game is the story. Any appearance of archaeology in pop culture owes its very existence to Indiana Jones, because there wasn't anything exciting about archaeology in pop culture before that. Lara Croft is no different, and in this case it's almost Lara Croft and the Last Crusade. Lara's father was obsessed with finding the secret to eternal life, and lost his life to it. Now Lara is obsessed with uncovering the truth to redeem her father.
Luckily that's where the similarities end. There is a secret organization also hunting the secret, an ancient order of guardians to protect it, and Lara's own inner demons to face. It's best not to discuss it too much in a review to prevent spoilers, but it's good stuff and I wish there were more games that would put more effort into character-driven stories like this one. You'll get glimpses into Lara's childhood, find out what drives her now, and what she's willing to sacrifice for her quest.
It's a shame that this game was released against Fallout 4, the videogame equivalent of Star Wars: The Force Awakens in 2015. It's such an underdog game that deserves so much more acclaim and attention because it's a solid title that keeps this rebooted franchise really exciting. As long as they keep uncovering more of Lara's character (and covering up her body in realistic outfits), I'm going to keep going back for more.
---
Win a copy of Rise of the Tomb Raider for Xbox One!
Tis' the season to be gaming on your Xbox One, and we are giving you a chance to win win 1 of 3 copies of Rise of the Tomb Raider!
Here's how to win:
LIKE Xbox Singapore's Facebook page here ->
SHARE THIS POST and TAG a friend (or more) who would appreciate this giveaway too! ->
Fill up the form below.
[GIVEAWAY HAS CLOSED]
The contest is open to all who are currently residing in Singapore, and closes on 24 December 2015 @ 23:59hrs. 3 winners will be picked at random and announced right here on 25 December 2015 and contacted via email.
GEEK REVIEW SCORE
Summary
Usually when you say that a sequel is more of the same, you mean that in a bad way. But when the gameplay was awesome to begin with, that's not exactly a bad thing.
Overall
9/10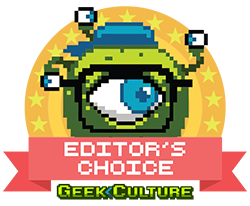 Gameplay -

9/10

Story -

10/10

Presentation -

8/10

Value -

9/10