Singapore's Razer is learning that there is no, One chair fits all, when it comes to premium gaming chairs and that's where its new Razer's Enki gaming chair comes in play, offering an entry-level product to accompany the company's previous Iskur model, sans some of its predecessor's more premium offerings.
But it's also a sign that the gaming chair market, which has several key players, is still growing and with the pandemic sticking around far longer than one would expect, what better way to pass the time than gaming and working all day, in a comfortable reclining seat?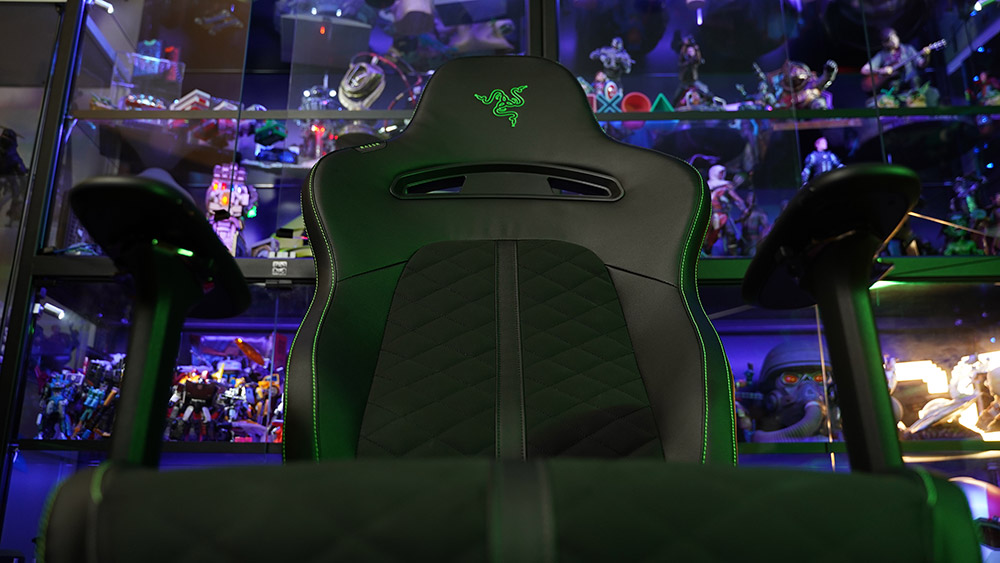 But unlike Razer's more flashy use of RGB, or its competitor's focus on an all-in-one massage chair, the Enki strips away all the gimmicks and focuses on the things that should matter more, namely comfort and support, with an added feature that is important to anyone and everyone on this Earth – it's eco friendly.
The Razer Enki is made with an eco-friendly dual-textured synthetic leather, highlighting the company's commitment to sustainability, while still keeping their products in tip top condition.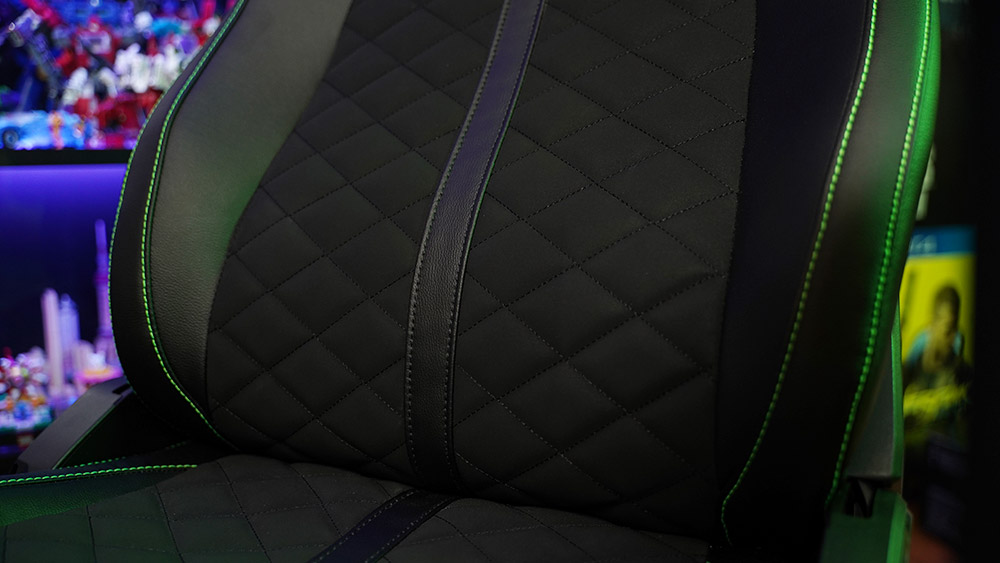 Fitted onto both the seat base and the backrest, the new eco-friendly synthetic leather is smoother to the touch compared with actual leather, but designed to last a long time under regular use, along with wear and tear. However, whether this chair lasts 12 months or two years depends on how you use the chair as well, and while Razer promises high quality eco-friendly synthetic leather for the right mix of comfort and durability, we have seen enough chairs in this category suffer from material peeling after extended use, especially under Singapore's more humid weather.
Everything has an expiry date, and whether the chair maintains its shiny and smooth eco-friendly leather depends on you.
Coming in black, the Enki still maintains Razer's iconic neon green, with green stitching on and around the sides of the chair, along with the company's snake emblem on the head rest. It is definitely a little bit more understated than the Iskur, with less green and more black in its palette, together with no slogan or texts on the chair. It does, however, have more of the brand's snake-designed diamond pleated leather padding on the backrest, adding a little bit of edge to the otherwise simple looking chair. What would be nice is if Razer allows customers to customise the colours of the stitching to give the chair an extra oomph.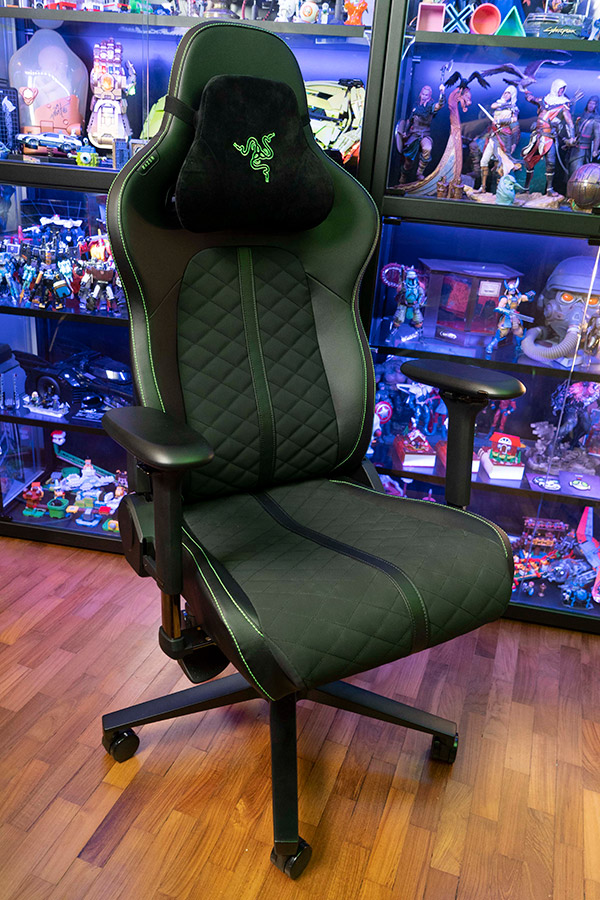 Instead of a full backrest on the Iskur, there is a small gap in the Enki's backrest that's more of an aesthetic fixture, but the biggest change between the Enki and Iskur is the noticeably smaller lumbar support on the Iskur, to help gamer support and maintain the right posture. Yes, it's still a built-in one but before you come at us with pitchforks, we are well aware that other brands have offered adjustable lumbar support, but this is a slightly different offering.
Unlike the Iskur, the Enki doesn't have vertical and horizontal lumbar support customisation but it offers a fixed, built-in one. This redesigned lumbar support doesn't protrude out as much, but it is still noticeable nonetheless. Depending on your body type, it can hit the sweet spot but without customisation controls, it can also be a hit-and-miss. Regardless, the lumbar support really forces the user to sit up and hold a better posture, whether they're playing Far Cry 6, or crying as they're finishing up work reports late into the night.
Continuing on the topic of backs, the Razer Enki has a reactive seat tilt so you can lean back effortlessly into the seat up to 152 degrees recline. The chair also features a weight-adjusted tilting mechanism that ensures you won't embarrassingly fall back when you lean back. This mechanism keeps you in your favourite gaming position – no matter how weird it may be. No judgments here!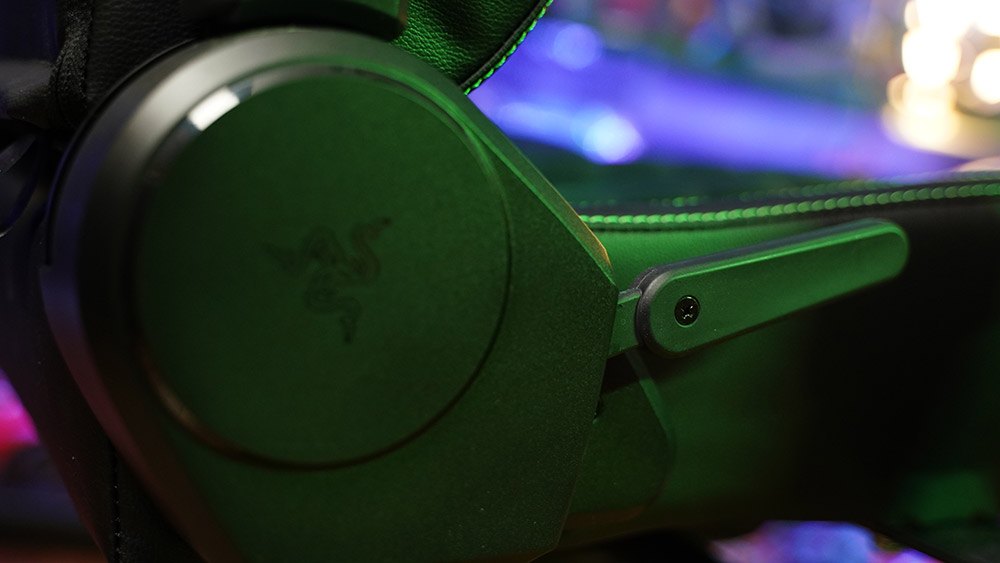 There is science behind the simplicity though, as these small adjustments help prepare the body for all-day gaming, meaning its primary focus is on comfort and back support. Speaking of positions, those who actually do enjoy sitting cross-legged on a chair will come to embrace the Enki, as it has a 54cm wide seat base with a little bucket dip, giving more than enough space for you to comfortably sit cross-legged. Pairing the wide base with the weight-adjusted mechanism in the chair, where your weight will be optimally distributed across the chair so that you don't feel pressure and stress on your lower body as you sit.
If you've been shopping around for a while, you would realise that wide bases with bucket seats are in right now, but if you're looking for a chair with a proper bucket seat however, we'd suggest getting an office chair over a gaming chair. Razer attempts to sit between a gaming chair or an office chair when it comes to the Enki but it still doesn't live up as much as the Iskur.
The Enki also features a 110 degree shoulder arch which hugs your back, and if you're small enough, even envelops you in an embrace. The curved arch is meant to comfortably hold your back and your shoulders in a healthy position when you're gaming, but if you've got broad shoulders, there's unfortunately little to no effect.
Similarly, the Enki has a memory foam head cushion that conforms to your head shape and cradles your head while you game – if your head fits that is. Without the head cushion however, the headset feels extremely flat and doesn't provide any support or comfort on the nape of the neck. Alas, the pillow uses a dual elastic band system which wraps the pillow around the headrest and through the chair's cut-out slots, so it doesn't give much leeway to users who are short, unlike say a movable magnetic pillow.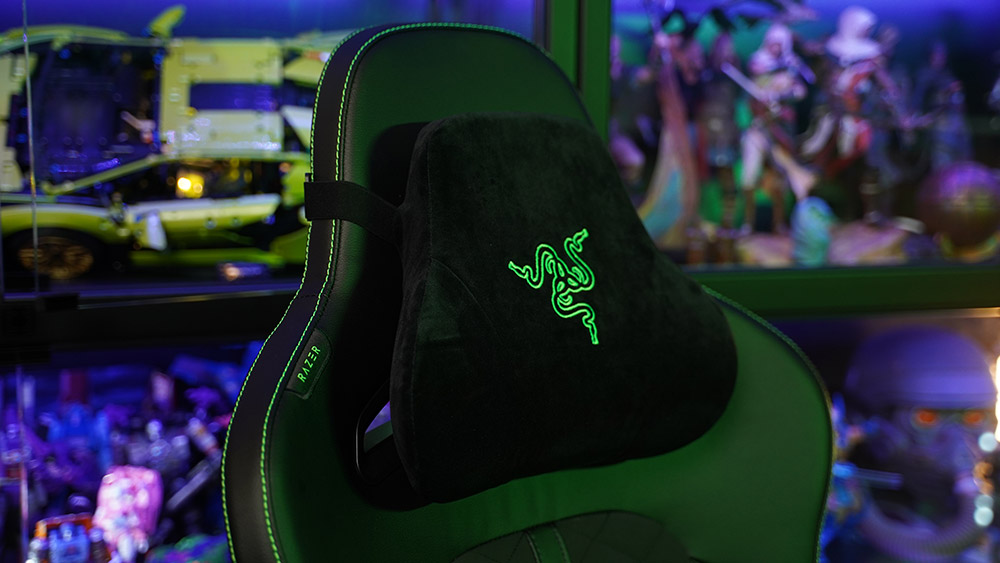 Another downside, which almost all gaming chairs have, is that they all come in various dimensions to cater to folks of different heights and body sizes, and the Enki is designed to support gamers, it may not fit every body size.
The Enki holds a recommended weight of less than 136kg and is height of 166cm – 204cm. Despite these recommended specs, anyone who is likely 180cm and above may still find the need to stretch their long legs under the desk every once in a while. Likewise if you've got a plump behind, don't expect those buns of yours to be cradled even if you're able to cross your leg atop the 54cm wide seat base.
An adjustable feature that we can celebrate are the 4D armrests, offering fully customised positioning. They can be raised and lowered, brought in towards your body, moved further away and even twisted diagonally. This way, you're able to sit and place your arms however you'd like, whether you like your forearms rested on top of the rests or have it comfortably tucked behind your elbow. Either way, you'll figure out what works best for you.
That said, the 4D armrest mechanics here are almost identical to those found on many other gaming chairs that you can buy, and aren't entirely unique. Material-wise, it is a tad rigid and hard, especially if you've gotten your elbows on the Secretlab Titan EVO 2022 series and it's now beloved Secretlab Technogel Premium Armrest Top that offers a comfortable memory gel experience, which helps improve pressure relief and weight distribution.
For S$699 (US$399), the Enki is priced on the steeper side, albeit slightly more affordable than the S$749.90 Iskur. With plenty of other chairs in the market that have a similar design for a cheaper price (minus the built-in lumbar support), the Enki is likely to appeal to fans of the brand, those passionate about sustainability and of course, gamers who put back support as a priority when gaming or sitting on a chair for long periods of time.
In all, the Razer Enki may not be the perfect fit for every gamer, but it is without a doubt a comfortable chair that gives the lower back support you need.
GEEK REVIEW SCORE
Summary
It's one of a small handful of Razer products without RGB, not that it's a bad thing. The Razer Enki is a decent chair offering amongst the sea of many, though at this point, there aren't any stand out features. But if you simply want a comfortable chair with some level of lower back support, take this out for a spin to see if it matches your body type.
Aesthetics -

8/10

Build Quality -

8/10

Performance -

8/10

Value -

7/10

Geek Satisfaction -

7/10